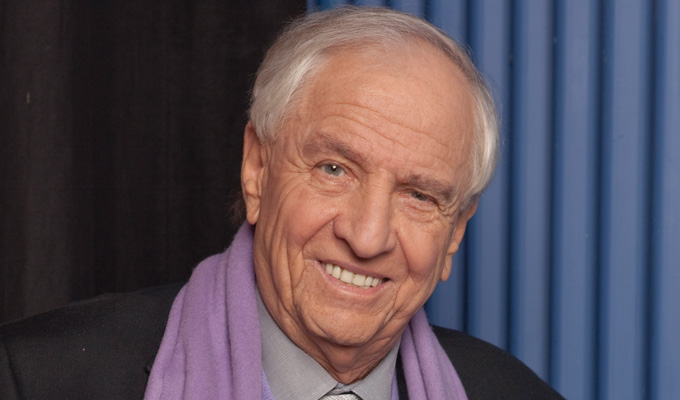 Happy Days, Louis CK and 'jumping the shark'
With the sad news of the death of Garry Marshall yesterday, at the age of 81, we reprint this interview that Chortle conducted with him last year to coincide with a new musical version of Happy Days...
Garry Marshall has created some of the most popular sitcoms in television history, including Happy Days and its spin-offs, Mork & Mindy and Laverne & Shirley. He went on to direct films including Pretty Woman and Frankie and Johnny, and as an actor has appeared in Louie, The Simpsons and The Sarah Silverman Program. As Happy Days: A New Musical tours the UK, with a book by Marshall, he talks about his career, intimidating Louis CK, drumming for Lenny Bruce and 'jumping the shark'.
This week marks the 40th anniversary of Happy Days first airing. Why has it remained so enduring?
Who knows? Luck? I've always been a part of showbusiness but I've had hits, I've had flops. I've had things work out and this one worked out, no doubt. I saw the musical last night, it's terrific. They're funny, they dance their hearts out. The theme of friendship and family is universal and people like to see it, not some edgy, dark piece on the stage. It's light fun and an idealistic family which many people dream about. Today, dysfunctional is the norm in comedy. But this is not a reality show - I made it up.
Henry Winkler is the musical's creative consultant. But initially, you weren't sure about him for The Fonz were you?
He was tremendously important in developing the character because I was looking for a very tall Italian boy who spoke like an Italian. I got a very short Jewish boy who went to Yale, not from the streets. But Henry Winkler is such a fine actor he just made it come alive. I based it on a character I knew growing up in The Bronx who made a lot of guttural noises and didn't say much. But soon Henry got so big that we had to give him lines to say. But I kept the guttural sounds in just to make him interesting.
Studio executives have a reputation for meddling in comedies. But it was them who suggested adding a Fonzie-type character wasn't it​?
Well, nothing is easy. The original pilot of Happy Days did not sell, the network said 'who cares about the 50s?' But then shortly afterwards came Grease, American Graffiti, and they realised 'we have that! Lets get Garry's thing!'
But Graffiti had gangs, so they wanted me to put a gang in it. I told them: 'We don't have room for a gang but I'll give you one guy who represents the other side of the tracks'. Fonzie was that gang member. The gang I was in was called the Falcons in The Bronx in the '40s. We were a very bad gang, we got beat up all the time. So we stopped and became a sports team.
You had the idea to feature Fonzie water ski jumping over a shark. How do you feel about it becoming a byword for gimmicks used by a failing show to chase ratings?
Well, I'm honoured that they named something after the show. I'll be honest, it wasn't our greatest episode but we did our best. And the show went on for years after and was still successful. When he jumped garbage cans, no one mentioned that and it was one of the highest-rated shows we ever did. But two jumps is not good. I made a mental note later, don't jump twice.
Louis CK cast you in his sitcom Louie as a brutally pragmatic studio executive who gives him a shot at hosting The Late Show after David Letterman retires. Were you recalling any specific meetings recording that scene?
I have a very small range as an actor and play a lot of intimidating bosses because I've had a lot of intimidating bosses. And I do channel all those difficult network people, all the studio people I've worked for. Louis was great, I had a good time. But he gave me four pages of dialogue! While he just sat there and said 'hmm'.
You're about to guest star in Two And A Half Men. How do modern sitcoms compare to the ones you created?
Well, the big thing is censorship. We couldn't do anything too risqué, we couldn't do political. I remember one episode of Happy Days, Potsie and Arnold went to march in the [civil rights] march in Selma, Alabama. We weren't allowed to say 'Selma, Alabama' though, all we could say is 'march'. There's no censorship like that now, they do everything. Two And A Half Men has a lot of risqué stuff.
You gave Robin Williams plenty of scope to improvise his lines in Mork & Mindy at a time when he was a heavy cocaine user. Did that feel like a risk?
He was a genius. Happy Days happened to be a cast of people who were basically secure and nice. And so when I brought on guest stars, they gave them a lot of room to work. When I brought my sister Penny in and Cindy Williams, they gave them room and that ultimately led to Laverne & Shirley.
When I brought Robin in as an alien, we filmed in front of a live audience and after the show 300 people stood up and clapped for him, even though they didn't know who he was. And I thought, 'this could be good'. He was just terrific. We had some good years in Mork & Mindy, he was very special to work with.
I remember one night he improvised so many great things. I said to him, 'you know we do a lot of silly stuff, do you think we'll ever grow up?' To which he replied, 'if I grow up I won't be able to make a living'.
You've described making Laverne & Shirley as your worst working experience. Why?
Well, Penny is wonderful and as funny as ever. But she's a perfectionist. A lot of times when you run a show you say, 'alright, we'll fix it tomorrow'. But Penny used to follow me home. And you can't throw your sister out of you house, you've got to talk to her. So it became very, very difficult. I never got a break from her.
My other sister Ronny [Hallin] was our producer, she's the one who helped find Robin Williams and did casting for me, while Penny was the perfectionist, the crazy one. We never fought but we argued constantly on Laverne & Shirley, it was the most difficult.
You began your career writing for comedians like Joey Bishop and Phil Foster. What did you learn from them?
Phil Foster used to have a newspaper, he would go over my material and hit me on the head with it. 'Don't do that, it's three, why would you do it twice? Three times is funny!' They were very heavy taskmasters.
Joey took me to Hollywood and Phil Foster got me my first interview for a job, on The Tonight Show. They were hard but they brought me in and Carl Reiner and Sheldon Leonard became mentors too. I grew up in the nightclubs with some of the toughest people to work for, so once I got out to Hollywood it was almost easier.
As a director, were you ever tempted to hit Julia Roberts with a newspaper?
No, I was more of a hugging and kissing kind of a director, 'come on, let's do it! We can do it!' Because I grew up with sisters and have daughters, so I like working with women. I understand them in some ways. Nobody understands them altogether. But I have a lot more in common with them than men.
Do you think that after the success of films like Bridesmaids and The Heat, Hollywood is becoming more open to female-led comedies?
People are finally realising what I've always known. The reason I went into comedy was my mother was the funniest person I knew. And now they're doing more and more female comedy. Penny directed Big and A League of Their Own. I'm Italian, and as I say, I have sisters, I have daughters. I've always worked well with women.
Is comedy still unfairly overlooked at the Oscars and other award ceremonies?
Definitely. I don't think its getting its due. It's harder to do but nobody wants to admit that. And the women are really coming. Melissa McCarthy! She lives next door to me in LA. She's brilliant. Tina Fey, Amy Poehler MCing the Golden Globes, I think it's women's time. And I must say, in the Happy Days musical, Mrs Cunningham coming out as much more than just a housewife was one of the biggest laughs we got last night [in the musical].
She occasionally rebelled in the original series and threatened to get a job. Has the musical moved with the times?
Yeah, she has a dream last night that she was more than a housewife. It's a lovely song written by Paul Williams. Of course, the audience really lapped it up.
One of your first jobs was adapting The Odd Couple into a sitcom. Was that intimidating given that the play was such a hit?
It's strange how one's youth reflects later. Growing up in The Bronx, I went to the same high school as Neil Simon. He was certainly one of my idols in those days. To do his work was not so much scary because I loved it, he wrote two great characters in Felix and Oscar and helped me learn how to write characters.
The Writers Guild Award that I'm getting this year, [The Paddy Chayefsky Laurel Award For Television Writing Achievement, whose previous recipients include Larry David, Carl Reiner and Cheers creators Glen and Les Charles], well, Chayefsky went to my high school, and Arthur Miller too. The key was that it was an all-boys school, there were no girls. We developed a lot of writers because there was nothing else to do.
You were briefly Lenny Bruce's drummer, what was that like?
I was stuck in Miami, he was down there in a club and used me on drums to do a couple of routines. He was the craziest guy. But he was really, really funny before he started becoming a lawyer and just did his act about his legal issues.
What are you working on next?
I'm finally getting back into TV with a pilot I created with my son Scott, a bit like Bugsy Malone. It's a sitcom about adults in law and order but they're all played by children. It's for Nickelodeon.
And I'm directing a play by Mike Bencivenga about Billy Wilder and Raymond Chandler working on the film Double Indemnity. They never worked together before and they never worked again, they didn't get along. It's all set behind the scenes and we're in the process of trying to take it to New York, off-Broadway.
Published: 21 Jan 2014
What do you think?