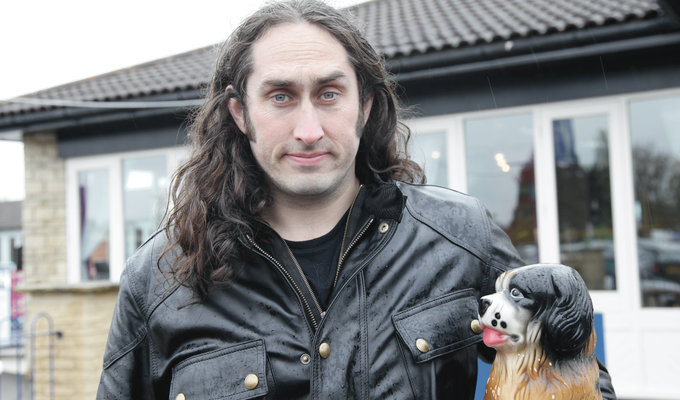 'I ended up in Paul Daniels's shed'
But for Noble, what makes the show so special is not so much the unplanned nature of his adventure, or the social media tie-in which many a broadcaster has sought – but the very way it was commissioned and made.
In short, they trusted him to do what he's proved he can do in countless gigs on stage – improvise mad scenarios and run with them – rather than try to squeeze him into an ill-fitting format.
'This is why Dave have been so amazing' he said. 'When the idea first came up, they said, "But you are going to plan stuff, aren't you? You are going to have stuff in reserve you're going to work out?" And I went, "No, it's all going to be whatever happens, that's what we are going to do....
'I explained that it would be better. And after they thought it through, they went, "Brilliant. Do it!"
'In telly at the moment people are so risk-averse, so worried that they are going to lose their jobs, that nobody wants to take a risk on anything. Whereas Dave – and I think it's true for me, or other people like Dara O'Briain or Dave Gorman – I think they are in this unique position of being able to take a risk.'
'From what I gather they did exactly the same with Gorman's new show: they said, "You know what you want to do, and how you want to do it, so do that" instead of trying to fuck about with it and give it a safety net and make it go through all the levels of management.'
There is,after all, an advantage for Dave to put their trust in established stand-ups like him, beyond just securing stars with the promise of artistic freedom. Comics such as Noble have a proven fan base; and if everyone who saw Noble on tour tuned in to Freewheeling, the ratings would be respectable for Dave, if not for a mainstream channel.
Noble agrees with that theory, but thinks as TV 'flattens out' the power will increasingly fall back to comedians rather than the suits. 'There's something going on here that could be quite exciting for comedy,' he enthuses.
'There's a difference between Dave and BBC One or a lot of channels where you are basically fitting into what they want. There they say we need someone who can wear a suit, is going to stand in front of a set that looks like this, and insert this element, that element.
'I'm not slagging that, but as telly flattens out, [there will be more chance for] anyone who's not just fitting in to what's required.'
Talking specifically about Freewheeling, Noble is keen to dispel the idea that simply going where Twitter followers tell him requires little talent.
'Some people have gone, "Oh you get the Twitter thing - then it writes itself!" It doesn't. From an invention point of view, it's an improv thing.
'Twitter is really just the key the reason to go somewhere, but then when I arrive I've got to make the show.
'I'm also trying to deconstruct the shows you see on telly, not just by avoiding doing stuff in the same style as them but also showing the way telly's made. Basically it's a show about making up a TV show as you go along.'
He admits that sometimes finding inspiration from his followers wasn't always easy.
'There was this one time when was in a bank vault in Cardiff and I'd done a Derek Acorah style ghost hunt. It was amusing but I felt it was a bit flat...
'After that I was just sitting there and all the tweets that were coming through were just "Come and have a pint with me", "Come to my house", "Come to Weatherspoons'. I was just going through them thinking "These are all shit. These aren't exciting me".'
But eventually he did find a way out of the vault, and admits: 'A lot of the best ones were the real mundane ones. I didn't specifically choose the "Ooh I've got a crazy llama outfit"-type tweets.'
Noble stuck true to the vérité-style of the show, except for one scene that had to be omitted because the participants wouldn't sign the release forms needed.
'There were some Jehovah's Witnesses who I met in a Little Chef car park,' he explains matter-of-factly. 'I went back to their big country house, and I try to convince them to join my own religion. But the owner of the house wouldn't sign a release form. 'So I wanted to pixellate absolutely everything except my face... but in the end the episode was about 5 or 10 minutes over, so we cut the scene. It worked without them. That was the only bit that we actually lost from the show.'
ROSS'S SIX FAVOURITE FREEWHEELING STUNTS
1. I organised an urban fox hunt in the middle of the West End where I get a girl called Andrea Fox – 'A. Fox'. Using Twitter I got Rufus Hound, and he and I tracked the fox, with people tweeting, 'She's in Leicester Square' or whatever and us chasing her.
2. I turned up for somebody's wedding and just took over, I decided to do the speeches and all that. The bride invited me, but the groom had no idea.
3. I went round people's houses tweeting if anyone had typewriters, then I found some monkeys and got them to try to writers the complete works of Shakespeare. Getting the typewriters was the bigger problem - we had monkeys galore! We had a monkey sanctuary and a zoo, but typewriters were really hard to find.
4. I ended up in Paul Daniels's shed.He asked me to lift down one of his old illusions, and I asked if he could do it. And he went, "Debbie!" Debbie comes out of the kitchen and he performs this proper, brilliant full-scale illusion in a tiny room. That was amazing.
5. I started my own religion, that was a bit of fun....
6. I did a thing called Combat Archaeology when I turned up to this lecture and took over the slides, saying the only reason to do archaeological as to be Indiana Jones. We brought a teapot of this lad, then got a big mound of peat from a garden centre. Put the teapot in it, and got the archaeologists to excavate it, but it's Combat Archaeology, so I had the rest of the archaeologists with paintball guns shooting at him while he was tying to do it.
And one that didn't go to plan...
I get this 3kg bag of custard powder so I go 'where can I get some milk?' I could have just gone to the shop, but I tweeted it. I was in Cardiff, and someone tweeted back: 'My dad works at a dairy farm, he'll give you some milk.' So I thought that's going to make better telly than going to the shop, so I drive from Cardiff to Kent, fill up a bin with milk. As I'm struggling with it one of the farmhands comes out and says, 'What are you going to do with that then?' And I said, 'I'm going to make it into custard' and he went 'That's not pasteurised, you can't feed that to anyone.' So I just had to chuck it away.
• Ross Noble: Freewheeling starts on Dave at 10pm tonight. Interview by Steve Bennett
Published: 29 Oct 2013
Ross Noble's new TV venture, Freewheeling, starts on Dave tonight. Part-travelogue and part comedy show, the programme sees him zipping around the country on his motorbike, taking his lead as to what to do next from suggestions made by his followers on Twitter.
What do you think?