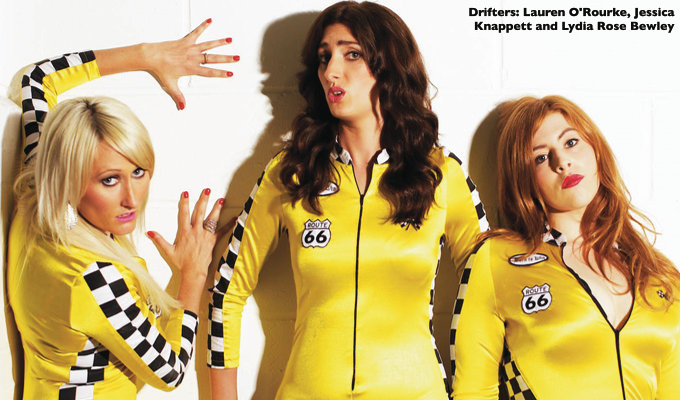 'The Inbetweeners movie changed my life'
Jessica Knappett, the former member of the Ladygarden sketch group, who played Neil's love interest Lisa in the Inbetweeners movie, has just written and stars in her first sitcom, Drifters, starting later this month on E4. Here, she reveals more about the show...
Who are your comedy inspirations?
At the moment, it's Tina Fey, Amy Poehler and I just saw Bridget Christie recently who was great. And I was just watching Mike Myers the other day, and I'd forgotten how much I loved Wayne's World and Austin Powers. I admire anyone who's a writer/performer and has written something and their vision comes across. I watched Harry Enfield a lot growing up. And I loved Shooting Stars – that's why it was so amazing having Bob Mortimer in the show.
Not only that, but Bob Mortimer is playing your dad, with Arabella Weir as your mum...
Yeah! It was so surreal, because he's one of my comedy heroes. I felt like I was floating above myself. Just to be in a room with him – actually shouting at him quite a lot of the time or getting shouted at by him. In character, I should add. It was brilliant. We got to argue the entire time. To have him saying words that I'd written was bizarre. He's such an incredible talent, it was so flattering that he ever wanted to do this.
So what's Drifters all about?
It's about three girls in their mid-20s who have been mates for a long time; they've just come out of education, and are going through what can only be described as a 'quarter-life crisis'. They're getting their first taste of reality, and realise that they're not just going to get their dream jobs. Their lives are not going to start automatically; they're going to have to do something about it. They're in their drifting, waiting-around period.
You play the lead Meg; what's she like?
Meg is a naïve optimist, but she's quite bright and sarcastic. She has a tendency to get things spectacularly wrong. She's fairly socially inept. With her friends, she's the sharp one, the accidental parent among them, which says a lot about the other two, really.
I think Meg wants to achieve something, she just doesn't know what she wants to achieve quite yet. She's got the brains; she just hasn't got the common sense to back it up.
How autobiographical is the series?
They say "write about what you know", and in lots of ways I suppose I am Meg. I took some humiliating incidents from my life that I thought would make quite good premises for episodes, and then I exaggerated them and took bits out for legal reasons.
It is quite autobiographical, but obviously I've made quite a lot of it up, too, because that's writing – you do have to use your imagination somewhat! It's not a documentary.
Meg and her friends do awful work like promotions where they have to stand around looking daft. Did you do that in your past?
Oh yes, all of that is true. I spent years handing out flyers dressed as a banana or a mobile phone. And then I go and write this and find myself back in that situation again, only with two different mates. It was slightly better this time, as it was for TV. The worst job I ever had was being a vending machine assistant.
Vending machines are supposed to be a self-sufficient entity, but they employed someone to stand next to it to help people use it. So that was my summer job one year when I was a student. That was probably the most meaningless job that I've ever had.
But you've got to go through that time in your life when you're going through those demeaning, humiliating, meaningless jobs. The awful thing is, now even those jobs are hard to come by, you've got to beg for them.
You worked on this with Iain Morris and Damon Beesley, the writers of The Inbetweeners. What was their role?
Initially it was just getting me to write something. I worked with them on the Inbetweeners movie, and they asked me if I wanted to work on a sketch show or something. Just sort of backing me initially was the massive break for me.
And then I had this idea for a sitcom about girls at this stage of their lives ever since I was going through that time myself, thinking, 'This will be hilarious one day… in hindsight.' And they were really hands-on with the script, developing it and getting it to a stage where we were able to show broadcasters.
I suppose they've had a script-editing role, really. They're my sounding board, and they've just massively coached me. They always say about The Inbetweeners - that they never wrote anything, they just remembered things. I think that was good advice.
Did it increase your profile a lot, having been in the film?
Yeah, it did. It completely changed my life, because I met Iain and Damon and got a lot of work out of it, it was fantastic.
It's kind of up to you what you do with it, really. I just wanted to use the opportunity to get my head down and write something. But I'm quite private; I don't really want to go in to the big fame thing anyway. So I think I kept a bit quiet after it. But of course it helped.
Prior to that, you were part of the Ladygarden sketch group. Was that useful experience?
Definitely. I learned everything about comedy that way – writing, performing, what audiences like. You discover things when you're performing in front of an audience three or four times a week, which was what we were doing. Sketch-writing is such a brilliant grounding for writing sitcoms. A lot of the scenes in this feel like sketches. It was massively helpful.
And learning to collaborate with five other people was really useful as well, because when you get to making a sitcom, there are so many people involved in the process, you have so many opinions to take on board.
• Drifters debuts on E4 at 9pm on October 31. Here is a clip:
Published: 16 Oct 2013
What do you think?