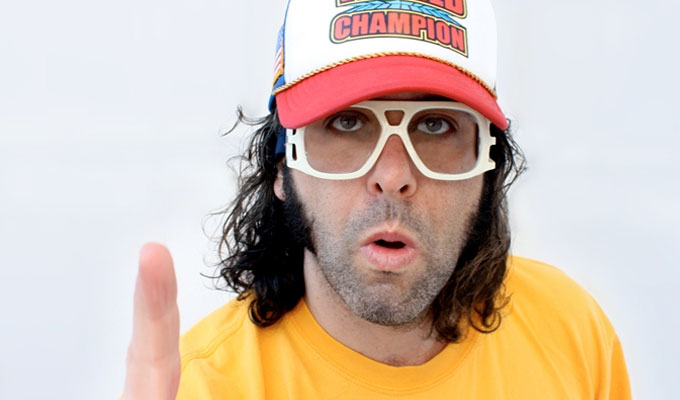 TV makes mediocre comics look good, and good comics look mediocre
Best known for playing slobbish, trucker cap-wearing comedy writer Frank Rossitano alongside Tina Fey and Alec Baldwin in 30 Rock, comic Judah Friedlander is in Europe for a series of stand-up dates in his persona of The World Champion – including gigs at this weekend's Cat Laughs festival in Kilkenny. Here he discusses playing high-status on stage, ping pong with Susan Sarandon and 'retarded' with Larry David.
You were working eight months a year on 30 Rock from 2006 until it finished this year. Do you feel liberated or do you miss it?
I was happy doing the show and happy when it ended. I knew it had a chance of being a big hit but I didn't think it would get to seven seasons. I don't think anyone on the show did. It was cool that instead of getting cancelled, they got to end it the way they wanted. I'm excited now though because I've so many of my own projects I've been wanting to make for years and I have more time to focus on them.
How would you describe your stand-up?
I'm always looking for the non-obvious angle. It's what I like to do the most, the most relaxing, the most fun and what I'm best at. I may not be best known for it but some day I hope that'll change.
A lot of my material is in the persona of the World Champion, the greatest karate hero and athlete, the sexual desire of every woman in the world. The World Championships are basically karate death matches for charity. That doesn't mean I only get to talk about World Champion stuff. A lot is just whatever I want to talk about.
How did the persona develop?
A long time actually, close to 18 years ago. New York used to be a rougher, tougher city than it is now. Anyone visiting, no matter where they came from, were a little intimidated just being there. I used to do this one club that was almost all tourists. Most comics just tried to buddy up to the audience, tried to bond with them, relate to them, talk about things that they've experienced. I decided to take the opposite approach, act like I am so cool that I can't relate to anyone and their regular, everyday problems because my life is so easy and everything works out perfectly. Completely not true for me in reality but it's a fantasy.
Also, since I was a kid, I've been obsessed with the Guinness Book of World Records. I went for the pogo stick record at eight. So at 16, I started writing jokes about these outlandish world records I'd broken. And for about 18 years, I've also been making my own hats. I did a lot of art as a kid and I've always been a hat guy. Why wear a hat which someone else has already made with their logo or their artwork?
Before The World Champion persona kicked in, my act was always very joke-heavy, one-liners, all kinds of jokes, and also very audience interactive, playing off the crowd. My favourite comics were Steven Wright, Don Rickles, Rodney Dangerfield. And when I first started out I was a mix of their styles. Jokes and audience interaction.
But then I started finding my own voice. With all these world record jokes I was writing, and the arrogance thing, I thought a hat that said 'World Champion' but not of what would be funny. And it worked well because it drew the audience into me. It made them ask questions, which lead me to come up with stuff on the spot.
Has the World Champion changed over time?
Some people think he's bragging but they're incorrect. He really is this incredible and he's actually quite humble. There's many great things he's done that he doesn't bother to tell people. Saying he's slept with 40 women a day on a regular basis isn't bragging because the numbers are substantially higher than that. He's like a real-life superhero. There wasn't one 'a-ha!' moment where I thought here's my character, it was just something that built naturally over the years.
Right now, I'm working on an album and a stand-up concert movie where I'm taking the World Champion in different directions. Maybe he'll lose his title and all his money, lose his power with the chicks, go rock bottom and build himself up again. I don't know, I've been playing around with it a little bit.
Can you tell me about the movie, because you've rejected a few offers to film specials for Comedy Central?
The past few months I've been doing random test shoots at the Comedy Cellar in New York and another little club. I'm trying to get the right look. I turned down Comedy Central because there are some legal ownership of material rules I don't like. But ultimately, I find stand-up filmed on television often makes comics who are mediocre look pretty good and comics that are very good look mediocre. So I'm trying to figure out a way to film it that I like, that's not just showing the performance but is actually cinematic, that has an artistic point of view.
There seem to be fewer comics in the UK adopting arrogant, high-status personas than in the US. And when they do, they invariably undercut it with flashes of vulnerability. Would you agree?
I do that as well a bit. But you have to realise that The United States thinks of itself as the leader of the whole world and we're very self-involved. And with social networking now, it can seem like everybody has become a bragger, a self-centred, gloating person. 'Look at what I'm doing'. On a subliminal level, a lot of my act is making fun of that stuff. But at the same time, the reason I've got American flags all over me is because I'm World Champion and I'm representing!
I can't think of many stand-ups who give as much thought to their appearance...
Everything I wear has a history behind it. I don't always discuss it in every show but I think it's important. I'm also a fan of professional wrestling. One thing I've learned from watching wrestlers and listening to their interviews is that they can tell a whole story without dialogue. There's a good guy, a bad guy and if they're a really good wrestler, they're telling it throughout the whole match. I'm not really a storyteller comic but as far as having a persona and getting things across, wrestling has definitely had an impact on me. As well as singers like Elvis and Tom Jones. Or even Tammy Wynette.
Stage presence and showmanship are very important. It should never dwarf the stand-up and simplicity is ultimately what I love about the artform. Just a microphone, you, and the audience. But anything else you can bring to add depth to the performance is great.
Basically, I think everything when you're coming on stage, your whole aura, everything about you, what you're wearing, how you're walking, should be a part of it. A guy on stage just reciting jokes is not stand-up comedy. But that's so often what happens in TV shows, at least in America. They go over your act and they make you change jokes around. 'Go to Joke A, then Joke B'. That's not stand-up.
It felt like 30 Rock was always just about to be axed in its final few seasons, especially with Alec Baldwin repeatedly hinting that he was leaving.
Yeah, it seemed like Alec was threatening to quit every season. The first time I was a little concerned. Who could replace him? Then I realised he's doing this every year so I stopped worrying about it.
It was fun. But I wasn't a writer on the show so there were times when I felt like my hands were tied. Some episodes I'd have a lot to do, others barely anything, some nothing. I like to work, I don't like to sit around. So I'm happy to have more time to do my own thing.
You made all of Frank's trademark caps yourself. Wasn't that a ridiculous commitment?
It was. I'm a person of extremes and don't always think things through. I basically told [the producers] that I have to look like me because stand-up is still my main thing and I'm doing that most nights. We were recording till 10pm at night, you had to be on set next day at 7am and I was still out performing. But they were cool with that, because in the original script I didn't fit the description of the character anyway.
When I'm watching something, especially comedy, I like to watch it again and find a joke I didn't see the first time. That's how I viewed the hats on 30 Rock, a little extra.
Sometimes they were straight up jokes, sometimes they were references to something going on in the scene. Sometimes I'd be making the hats a week, a month beforehand. Other times, I'd be making them right up until we rolled. It was to add to the scene, not distract from it and I censored myself. I couldn't have a hat with 'Grave Raper' on it for example, or anything too similar to something later in the scene. You don't want it too obvious. Every day of Frank Rossitano's life he made a different hat and some episodes required four or five, so that was tough. I should have been learning my lines and I'm up at four in the morning trying to finish another hat.
What was it like performing with Susan Sarandon as the teacher/sex offender who seduced Frank at 14?
I've always been a fan of Susan and got to know her before 30 Rock. I play competitive ping pong and in the past two years, she's really gotten involved with the game. She co-owns a big fancy ping pong nightclub in New York called Spin, they're trying to franchise worldwide.
I remember when they wrote her part, they asked if I could get her to do it. And I'd only talked ping-pong with her before. She's awesome, a great actor, a great person, very loose and down-to-earth, so it was a real treat working with her. I liked it when they made my character do different things. The one where I turned gay for an episode ...
And the one where you could have been a lawyer...
That's my favourite, the one where my father had been a lawyer for the Mafia. I quit TGS, shaved my beard, pulled my hair back in a ponytail, switched my glasses, no hat, just suits. Just trying to be like Jack Donaghy. On set, people didn't recognise me. I had a lot of scenes with Alec and that was always fun.
Frank is based on a couple of Saturday Night Live writers. How close is he to reality?
When I auditioned, I thought it was based on just one, a guy I know a little bit, Frank Sebastiano. I've never written on SNL but I know some people who have. So I knew the general type of guy they were going for. Most people on the show in the past ten years, they're well-educated and come from pretty good backgrounds. But with Frank, they were going for more of a blue collar, wise-cracking kind of vibe.
But then I found out that it was actually based on a couple of guys and that some of the storylines really happened. That episode where my character is peeing into jars in the office? I said to Tina Fey 'don't tell me this really happened, you've got to be kidding me'. And she was like, 'oh no, oh no, that happened' and told me of several different guys doing it. I mean … I'm known as a guy who's not the most sophisticated and who can be kind of gross but that's just … I know the SNL offices and they have a bathroom that's a 15-second walk down the hallway.
Do you hope to run your own show in the future like Tina?
No, I don't. Before I wanted to be a stand-up, I wanted to be a filmmaker. As a kid, I wanted to do animation, then I wanted to do special effects. A George Lucas type. Then I saw the movie Diner in 1982 and that blew me away, it was just so naturally funny and real. So I wanted to make comedy movies. And maybe sci-fi movies too.
But I like the immediacy of stand-up, just you and the audience going for it with that instant feedback. Making a film can take years and it's only when you finally show it to a crowd that you find out if it's funny or not. Stand-up you know in less than a second. I don't like sitting around. And making a movie is like waiting for the bus all day.
Stand-up gives you much greater creative control too...
Yeah, I think so. I've done some movies where I've been a piece of clay and done whatever the director wants. But I've had ones where I've completely disagreed with them comedically and then it's a struggle. Because you know what they want and you know it's no good. I like collaborating with people where I can learn something and grow as a performer. And without wishing to sound pretentious, whatever helps as an artist, helps me in my stand-up.
What was it like playing a mentally handicapped person in Curb Your Enthusiasm?
That was weird. I happened to be wearing my World Champion hat but I didn't want to wear it in the show. I thought I should wear something different, maybe shave my sideburns or something. Because at that point, the World Champion character was pretty new, it was early in the persona's development. It was more of an idiot, bragger role, he hadn't morphed into a superhero at that point.
But Larry thought I looked retarded in my own clothes. He told me 'it's perfect, I love it!'
A couple of your fellow actors in that episode were actually mentally handicapped. How did you find improvising with them?
I didn't know at first! I filmed that episode for two days. The first day my scene was with Anton Yelchin, who's a big star now, he plays Chekov in Star Trek, and with Larry and Larry's wife. He's showing me a card trick, I'm able to figure it out and Larry isn't. They don't give you a script, they just tell you the scene, how it starts, how they want you after. They film it several times but you've just got to figure it out and make it up as you go along.
So I'm hanging out on set and I'm by the director [Larry Charles]. I notice he's a little nervous. This guy has been working with Larry for 15 years on different projects, he's been doing this show for three years, what is he nervous about? He's like 'well, tomorrow you're going to have to act with real mentally handicapped people'.
I thought he was kidding. As an actor, there were two thoughts in my head. One, it's super-challenging. I'm going to be acting with people who are what I'm trying to portray. So that's a lot of pressure to get it right. And two, throughout the day while we were filming I'm going in and out of character. We're also trying to figure out what level of mental handicap I'm at. Do you take it up a notch, take it down a notch? I don't really want to be doing this in front of guys that are mentally handicapped. It just seems rude.
So I'll do a scene where I'm acting completely mentally handicapped. After we cut, I go back to my regular voice, 'Hey Larry, how was that?' Meanwhile, they're still as they always are. They did not have the mental capacity to realise I was going in and out of character.
One scene, we were washing Larry's car. Larry comes over and explains the scene and he's like 'you guys got that?' And they're like 'uh-huh, we got it'. I was with them all day and they didn't get it all. I had to tell them about ten more times. But they were so nice and it was so much fun to do do. They have a good lifestyle and were playing basketball in the breaks.
What's next for you? I read that you have another book in the pipeline.
The book is further away. Things keep coming up. My stand-up album and stand-up concert film, that's first. The album will definitely come out this year and hopefully the movie too.
Judah Friedlander is at the Cat Laughs, Kilkenny, this weekend, then at London's Soho Theatre on Tuesday to Thursday next week and The Stand Edinburgh on June 7 and 8.
Tweet
Follow @chortle
Published: 31 May 2013