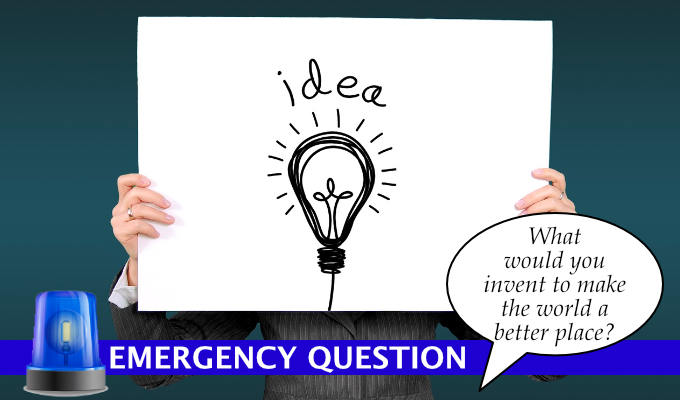 Emergency Question: What would you invent to make the world a better place?
Every day until the end of the Fringe, we're asking one of Richard Herring's Emergency Questions from the RHLSTP podcast to comedians. Here's today's batch of insights... RHLSTP is also at the Assembly Rooms at 13:00 until August 14. Tickets.
---
I reckon every car should have a SIM card in it so if it got pinched you could phone it and turn it off. Justin Moorhouse whose show Stretch & Think is on at Gilded Balloon at 7:30pm
Individual sound-retaining Popemobile-style pavement vehicles for those with loud children. Marcel Lucont whose show Marcel Lucont Etc. - A Chat Show is on at Just The Tonic at 6:30pm
A car that runs on carbon dioxide emissions. Rebecca Kaplan whose show Arielle Dundas and Rebecca Kaplan: Parfait is on at Laughing Horse @ City Cafe at 12:05am
I wouldn't invent anything, I'd start taking stuff away. Emmanuel Sonubi whose show Emancipated is on at Underbelly Bristo Square at 6:10pm
I think we are due for a new sauce. Something fun and fresh to put on fries. Jake Cornell whose show Man & Woman is on at Assembly at 6:15pm
Quiet zones on trains that are actually quiet. Please, I beg, I just want to sit in peace and read my little book where someone in a small town is murdered, or listen to my little podcast where someone in a small town is murdered. I do not want to listen to your argument over the phone or your kid playing Beepity Boopity Bing Bong Bang at full volume on their iPad. Lauren Pattison whose show It Is What It Is is on at Monkey Barrel at 12:30pm
Hats but big (wear as outfit) Cory Peter Lane, Jeremy Elder and Hunter Saling whose show Business Casual: Feral is on at Gilded Balloon at 8:20pm
Nuclear Fusion Tony Law whose show Tony Law A Now Begin in Again is on at Monkey Barrel at 12:00am
Gun control Mary Beth Barone whose show Silly Little Girl is on at Pleasance Courtyard at 8:30pm
A Jesus so people could finally SHUT THE FUCK UP about him. Tom DeTrinis whose show I Hate New York is on at Assembly at 6:20pm
From where we're standing, the world's pretty much perfect as it is. No, wait - a lemon the size of a melon. Nothing else. Fine after that. The Awkward Silence whose show The Awkward Silence's Big Break is on at Gilded Balloon at 2:20pm
Condoms for dogs. We're always cutting their bits off and there must be a better way. Luke Rollason whose show Bowerbird is on at Monkey Barrel at 12:30pm
An equitable tax system. Alex MacKeith whose show Thanks for Listening is on at Underbelly at 2:45pm
An app that pings you when you start telling a story your friends have already heard. Kylie Brakeman whose show Linda Hollywood's Big Hollywood Night is on at Gilded Balloon at 7:00pm
Manners. I know they exist, but they need a rebrand as everyone has forgotten how to use them. It would certainly help with fellow comedians looking over your shoulder to catch the eye of a producer at 2am in the Edinburgh Loft Bar. Brennan Reece whose show Crowded is on at Pleasance Courtyard at 8:20pm
A telephone service where you are called up every month or so by a kind voice that says 'it will be OK.' . And if that voice could send you £1000 a month, I think we'd be alright. So basically, Universal Basic Income and a nice chat. Tom Mayhew whose show Trash Rich is on at The Stand at 9:20pm
A sense of perspective, in pill form. Garrett Millerick whose show Just Trying to Help is on at Monkey Barrel at 11:25pm
An app that at any point can tell you someone else in your area having a much worse day than youSean McLoughlin whose show So Be It is on at Pleasance Courtyard at 7:55pm
A mute button that doesn't work on TVs, but actually works in real life. The Fremonts (Stephanie Dodd and Justin Badger) whose show The Failure Cabaret is on at Underbelly Cowgate at 9:05pm
Published: 4 Aug 2022
What do you think?