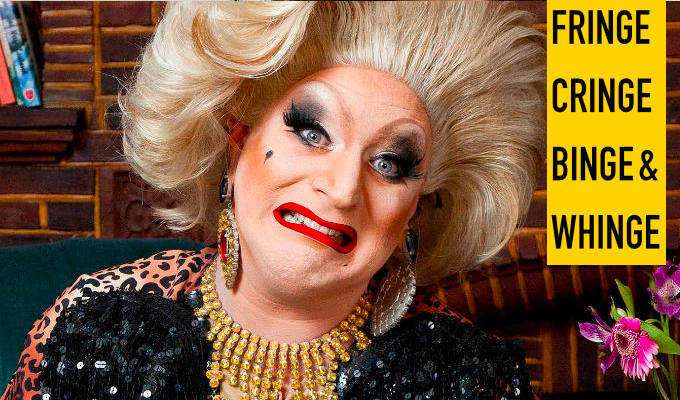 The Fringe is a sort of cultural Deliveroo...
Myra Dubois recalls her most embarrassing Edinburgh experience; what she can't get enough of at the festival; and the worst thing about the Fringe. Apart from the cost of accommodation, obviously...
---
Fringe cringe
All those silly little edgelords who claim to be the only right-wing comedian at the Fringe. There's so many of them! It must be terribly lonely, being that unique in such quantity; all of them doing each other's little shows in their little jerk circle. How embarrassing.
Fringe binge
The absolute highlight of every Edinburgh Fringe Festival, for me, is seeing all those gorgeous performers that exist out there across the globe, handily packed into the same city for one month.
I've seen some performers I absolutely adore at the Edinburgh Fringe, from Neil Hamburger to Red Bastard to Murray Hill to name just three who aren't usually on my doorstep but during the Fringe? They're brought right to me!
I suppose that in that way, the Fringe is a sort of cultural Deliveroo, bringing contemporary performance to the expensive doorstep I've rented for the month.
For me, it's a month-long companywide office Christmas party for we in the entertainment community. It's absolutely gorgeous bumping into your co-workers whilst you buy a nice little coffee or popping out for a paper (to scan for your own name in reviews).
And everyone in town shares a passion for live art, theatre, culture, comedy and music so we're all happy to chat for hours about the things we love. It's such a gorgeous warm atmosphere up here, oh I I'm so happy to be back!
Fringe whinge
I'm going to have to put my serious hat on for a moment and say it's the exploitation. I don't have the data to hand, but we all know that it's quite an economy, an awful lot of cash is turned over, and yet most performers walk away with nothing.
I've been offered venues before where even with a 100 per cent sold out run we'd be set to lose money. That can't be right, can it? Sadly, I don't have the answer, I'm simply an endearingly vulnerable and internationally beloved chanteuse with a love for her public, I don't pull the strings.
The free show movements are doing what they can with venues, but then there's the explosive cost of accommodation. And what impact is all of this having on rent for residents of Edinburgh? I don't think us Fringe visitors give enough consideration to the people whose land we're on, quite frankly.
I try to be a respectful guest. But I fear that if things go on as there are the Fringe will become completely inaccessible to all except the already wealthy. Perhaps it already is?
• Myra Dubois: A Problem Shared is on at Underbelly Bristo Square (Dairy Room), 7:45pm (not 16th)
Published: 3 Aug 2022
What do you think?