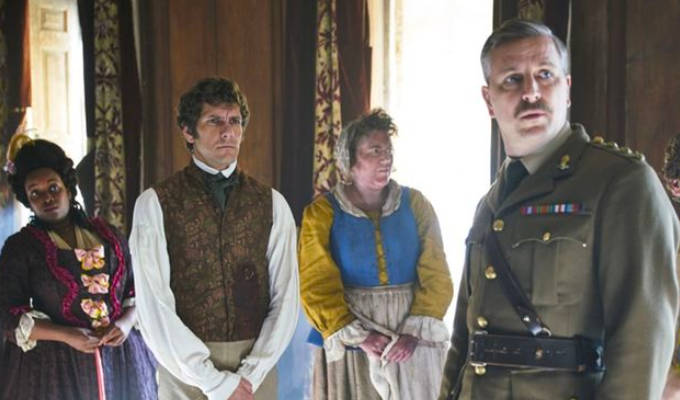 How Ghosts could have been a very different show
It's one of the BBC's biggest comedy hits – but Ghosts could have been a very different show, two of its creators have revealed.
In a pilot episode, the haunted mansion was home to hundreds of spirits from down the ages, not just the handful that are in the finished show.
Writer Mat Baynton, who also plays lovelorn romantic poet Thomas, said the original idea was that 'every episode would be a new room with a new ghost you had never seen before. We were going to play hundreds of ghosts.'
In that tester film, when homeowner Alison realised she could see the dead people, she was greeted by a room full of them, with the cast playing multiple characters all superimposed with special effects.
But Bayton said that would have robbed the show of its key dynamic: 'If there are endless ghosts then they can escape each other, you can just keep away from the people you don't like.
Co-creator Ben Willbond, who also plays The Captain, added: 'There has to be conflict all the time. They literally can't go anywhere; they cannot leave the house and they all rub up against each other.'
He added that it took them a while to find the winning formula, saying that after the team made the Sky fantasy comedy Yonderland 'one of the first ideas was "haunted house" But we thought there's no jeopardy. They don't have to worry about their jobs or even what they have to eat because they are dead. They can't even touch anything
' Then we suddenly realised that it's BECAUSE they can't do anything, that's the thing - all these people are interminably stuck together. That's why they make a mountain out of a molehill, it's about boredom. If hell is other people how do we create conflict we can drag them into?'
And he likened the show to an exaggerated version of the traditional Odd Couple-style houseshare sitcom. 'If one's tidy and one's a slob, in our version that's a starchy Edwardian mistress and a caveman.'
Despite that, Bayton insisted that the show's premise was 'not original' - as everything was in the execution.
Giving 'one piece of advice' to aspiring comedy writers, he said: 'Let yourself off the hook of thinking you have to come up with something original. The value of the pitch is not in having the most original idea.'
He cited the example of someone suggesting to him a sitcom drawn from their real life about 'some dads who go cycling and have funny banter'.
'The idea counts for nothing,' he said. 'Have you written something funny? It's the talent that matters, the execution, not the idea.'
Incidentally, that pilot tape for Ghosts remains firmly under wraps. Even star Keill Smith-Bynoe said: 'They'll not let you see that taster I've been trying for four years!'
He also explained how the fact his character, Mike, couldn't see the ghosts made filming a strange experience. 'These are talented, funny people I don't really get to work with,' he said, 'I'd love to do some scenes with these guys…'
The stars were appearing at the inaugural BBC Comedy Festival in Newcastle last week, where they discussed their careers from the Edinburgh Fringe through to the Horrible Histories – or origins in online videos in Smith-Bynoe's case.
Willbond said the looseness of the CBBC series was an excellent grounding in TV, and a reminder to be playful. He said: 'It can get really sanitised when you have a full production around you. The framework of a professional production can really wring the chaos out of what should be anarchic.
'On a children's TV budget we were trying to do things that were too expensive, so the one thing we never had was time. Then you realise that what we could do within that framework was really play because they didn't have the time or money to tell us not to do to that.
'It sounds as if we were self-indulgent but what I'm saying is keep the mischief in your eyes. The more time and money you get, that can slip away. We have to remember to disrespect our own material as we did with the writers of Horrible Histories.'
Baynton added that almost everyone involved wanted to make a proper sketch show, not a kids' programme.
'In the first series there were some very "childrensy" bits, but the bits that worked were not that,' he recalled. 'It was so clear that by the time we came to the second series we were making a comedy sketch show and while the audience's age meant there were no-go areas, we weren't making a children's show, as such.'
He said Horrible Histories became what they wanted because they applied the principle of not trying to second-guess what an audience might find funny, even a young one.
And he added he had seen several scripts over his career where there was a 'gag on every page that I don't think the writer thinks it's funny, Tgey think they've done their job just by putting a joke on the page.'
Willbond added that the secret to a hit comedy was not just about the audience finding it funny buy 'enjoying it and wanting to be part of the gang'.
He and Baynton also said they and co-creators Simon Farnaby, Martha Howe-Douglas, Jim Howick and Laurence Rickard, were happy to let the producers of the American version remake Ghosts as they see fit – again for fear that any intervention would be second-guessing a foreign audience.
Baynton added that the US version was 'probably less dark… because we're bitter, twisted people and they're not.'
Published: 16 May 2022
What do you think?