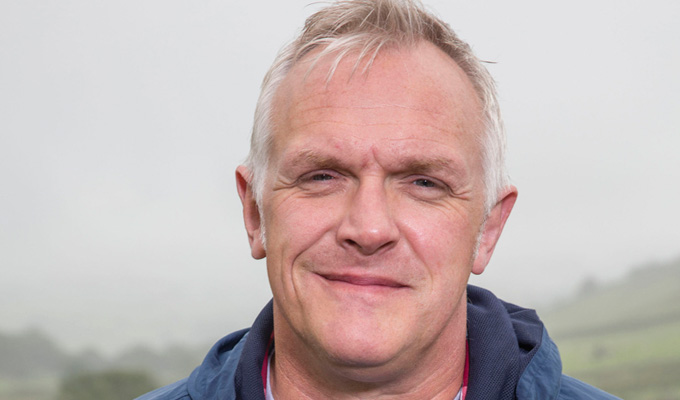 Writing comedy made me so angry I smashed up my flat
Greg Davies has admitted to trashing his home out of the sheer frustration at trying to write comedy.
'I hate it,' the comic told the BBC Comedy Festival in Newcastle. 'I've smashed up my flat on numerous occasions – smashed things I care about.
'It's important for young writers to hear that because when you feel like you're losing your mind – that's normal. It's a madness, writing. I've yet to meet someone who likes writing.'
He said he found the discipline of structuring a script particularly challenging as he doesn't lay claim to having a logical mind. 'There has to be some order to a script,' he said. 'You have to be incredibly disciplined and my mind ping-pongs all over the place.'
Given the sheer amount of work he puts into his scripts, one review that called his Channel 4 comedy Man Down' lazy' still sticks in his craw. 'For five years, that was my whole existence,' he said.
Davies now often works with co-writer Stephen Morrison to counter his outbursts, saying: 'I now know that I can't be on my own… it's dangerous. I always have to have someone I know I can offload to. He's brilliant, too, but having him in the room calms me down and stops me breaking stuff.'
Explaining his process, he echoed the words of American comedy writer Megan Ganz from a previous session when he said: 'I don't write a word of script until the story is done and the core comedy ideas are down. Things have to be meticulously planned out - the beats, the big comedy ideas, and exactly where the story's going – first.'
Despite the agony of writing, he remains committed to it with a second season of BBC One comedy The Cleaner and a forthcoming series for Sky called Safe Space in the pipeline. That's because 'outside of live stand-up, there's nothing like something coming out of your head and being realised.
'I can't believe it when proper actors say things that come out of my head. Helena Bonham Carter did The Cleaner! Saying words I'd written.'
He said that he thought writing the show was 'going to be a piece of piss' as it was based on a long-running German show.
'There were seven series, so I thought I could just steal the scripts, add a few jokes and take the credit. But it became a full-on task, even though I borrowed very heavily from the original.'
Davies suggested his work ethic might come from trying to catch up with lost years. Although he always dreamed of a career in comedy, after dabbling as a student he went into teaching and forgot about his ambition for 13 years.
When he finally did take up stand-up, his ease at public speaking was a godsend. 'I came out of the traps really quickly because I was confident,' he said, adding that meant he won a competition ahead of Nina Conti even though she was '100 times better than me'.
His breakthrough came through the anarchic sketch group We Are Klang alongside Steve Hall and Marek Larwood, a hit phenomenon at the Edinburgh Fringe that was turned into a flop BBC Three show.
'We shouldn't have done it,' he told interviewer Ash Atalla. 'The boys might disagree, but, with hindsight, we shouldn't have made it so anarchic.
'Television is so different [from live performance]. If I got up now and threw myself into the audience and you all caught me you'd all leave with some very unhappy – but visceral – memories of the time the fat comedian jumped on you. If you were watching on TV, you'd feel like you were watching someone else have fun rather than being part of that fun.
'It was my first knockback, really,' he added of the critical reaction. 'It was ever so hard. Everyone who's performing knows that the hardest thing is putting your head above the parapet and saying, "I'm good at this; I think I'm funny." And if someone says you're not, it's a blow. You put so much of yourself into it, and if you're drawn to seek the approval of strangers, you're oversensitive as it is.'
Davies got another huge career boost when he was cast as Mr Gilbert in the Inbetweeners – having already been an acquaintance of creators Iain Morris and Damon Beesley.
'We had a mutual friend in Tim Kirkby, the comedy director,' he said. 'I was actually in the pub with Damon, who wrote it, when the news came through [that they'd got a series] and he said, "Hey, you can be the teacher!". We were very pissed.'
Davies also recalled working with his comedy hero Rik Mayall on Man Down. 'The first time I met him he threw his arms around me and whispered in my ear, "Comrade",' he remembered fondly.
'He had an awful accident in the 1990s so he was a bit removed sometimes, but still highly passionate and hugely opinionated. The biggest praise I got from him was him saying, "You've got something". He was amazing force of nature – like a tornado, even in his later years.'
As for tips for other comedy hopefuls, Davies told them not to make the mistake he had in wasting time in taking the plunge.'I was a teacher and
miserable as sin until I was 33,' he lamented. 'Now I love it all. I'm a whinging prick about it sometimes, but deep down I can't believe I get to do it and the only reason I get to do it was because I started doing it.
'Stop pissing about and do it. I'm angry with myself for not having the courage to do it or having the nerve to ask how to do it earlier.'
Published: 16 May 2022
What do you think?