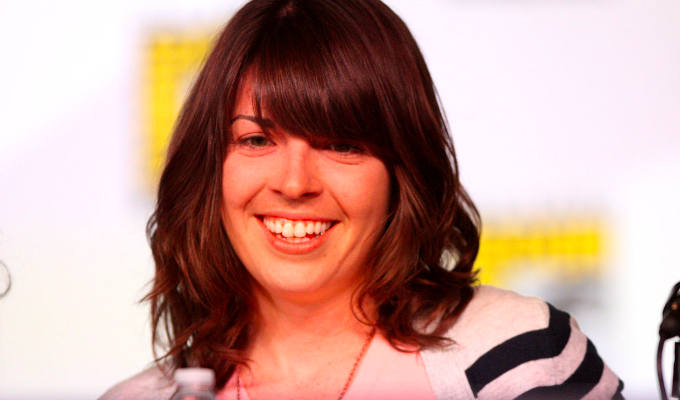 Want to write a sitcom? Forget about the jokes
What's the best way to start writing a sitcom? Forget about the jokes…
That was the perhaps unexpected advice that Hollywood writer Megan Ganz gave to those hoping to follow in her footsteps.
'If you're looking at a script and the only reason for a scene is because it's funny, that's not enough,' she told the BBC Comedy Festival in Newcastle yesterday.
Explaining that 'funny' was the very least to expect from a comedy, she said telling a compelling story was much more important.
She gave the tip: 'The best way is to write it out first with no jokes. Jokes are like the icing on the cake but you don't want to change the flavour of the cake after you've got the icing on.'
Ganz has worked on some of the biggest comedies on American TV, and said the writing process was different on any of them.
Her break came on Community, and recalled her interview with showrunner Dan Harmon was 'an hour and a half of me telling him how much I loved the show. If you want to be hired by a narcissus that's how you do it.'
She explained he was obsessed with his 'story circle'. ' This was my first job in sitcom so I though this was how it worked,' she told interviewer Holly Walsh. 'Then I went to Modern Family and they were like, "what is this?"
'They well all about the act breaks, what they called the "Hey, May" moments – when the husband goes, "Hey, May, you've got to see this" before the commercial break.'
'Then I went to Sunny [It's Always Sunny In Philadelphia] and they have no structure. It's all about what doe the characters want and how do they go about it. They would just stick commercial breaks in whenever they want to.'
And of her current show, Apple TV+'s Mythic Quest, which she created with Sunny's Rob McElhenney and Charlie Day, she said: 'We tend to talk about A and B storylines: we do the main story then see which characters are left and pair them up.'
But she also wryly observed that in all the writing rooms 'so much time is taken up with talking about the process… you spend all this time talking about how you should do the job rather than doing the job.'
Ganz - who is married to British comedian Humphrey Ker – also spoke about not being a slave to the script when it came to shooting episodes.
'There's a sort of magic that happens in comedy,' she said. 'You have to find a space [to allow] the joke in the moment
'We've always told actors they don't have to be too precious about the scripts and they can say lines in their own words,' she added. 'It's more natural and they have more ownership overt their characters.'
She said that the wisdom among Hollywood writers about their relationship with actors was: 'First season they work for you; second season you work together and the third you work for them'.
'You would think the biggest stars have the biggest egos and it's not usually like that way,' she added. 'It's often a surprise. I make of actors having egos but I want the to be invested in the show.'
Ganz also talked about budget constraints, revealing that the first series of Mythic Quest should have had ten episodes but 'we only did nine as we ran out of money – which is funny when you're working for Apple which is a trillion dollar company.'
And she recalled coming up with a gag on Community when they wanted Dean Pelton (Jim Rash) to be stapling papers and singing Come On Eileen, but with the lyrics changed to: 'I am the dean, and my hands are so clean…'
She recalled the shock in the writers' room when they learned that would cost them $24,000 (£20,000) for the rights - but they decided it was worth it.
Ganz also acknowledged that good notes come from any source - even much-maligned network executives – and bemoaned the death of the 'table read'. Logistical problems and cost of getting actors together to go through the scripts before shooting has led studios to abandon the process, exacerbated by Covid.
And asked about what one piece of advice she would give to aspiring writers, Ganz said: 'Don't look for jobs, develop skills. A job can be taken away from you skills can't.'
Published: 13 May 2022