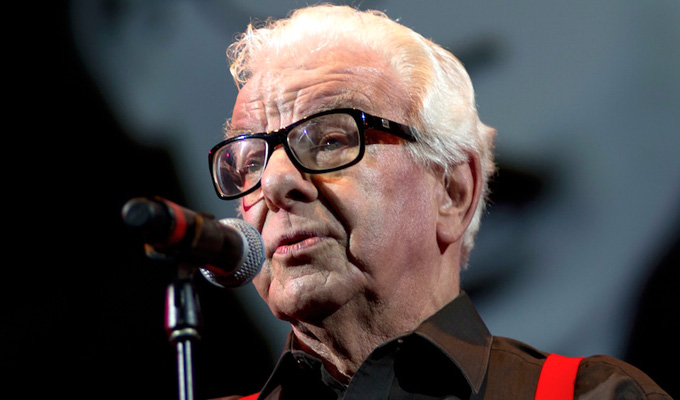 'He was cracking Archbishop Of Canterbury gags just before he died'
The family of Barry Cryer have released the following statement about his death at the age of 86.
---
It is our sad duty to inform you that idea that Barry (or Baz to his mates) died on Tuesday afternoon (25th January 2022) at Northwick Park Hospital in Harrow. However we're pleased to say that he died peacefully, and good spirits and with his family around him. He was 86.
Dad was a talented comedy writer and comedian in a particularly golden vintage. Incidentally, he never really liked the terms 'comedy writer'or 'comedian', instead preferring 'hack' and 'entertainer' and always thought the term "national treasure "men have just been dug up. He was, in his words, arrogant in his humility.
He had a gift for friendship as anyone who still has a landline will testify and a genius for putting people at their ease. Yes he made many people laugh. A lot. Over many years
Baz was, firstly, a loving husband for Terry for nearly 60 years and a gentle father to Tony, David, Jack, Bob. He was a friend to their partners Jayne, Matt, Garry and Suzannah. As a grandfather, Ruby, Tom, Evan, Archie, Hope, Martha and Connie all loved him and more recently, Ruby is a daughter Isobel, had the good fortune to spend time with him as a great grandfather.
'Never lose touch with silly,' he said, quoting his idol Humphrey Lyttelton – something we've all been very grateful for in the last few days.
The family want to place on record our thanks to the doctors nurses and consultants on Crick and Gaskill Wards for the compassion, dedication and skill and respect they showed to him at Northwick Park. We'd also like to acknowledge the care taken by Dr Denton and Liam and Nisan at MacMillan for their comforting words and guidance. It'll be of no surprise to those that knew and worked with him that he was telling an Archbishop of Canterbury joke to a nurse not long before he died. That was one of his gifts, making strangers feel welcome. Making them laugh.
A funeral of a close family and friends will take place in the coming weeks, as well as a more inclusive memorial service in the coming months. Don't worry, they'll be plenty of opportunities over the coming year to raise 'just the one' to the old man.
Details of both the funeral and memorial service will be posted on Twitter at @barrycryer80.
If you would like to leave a message, photo or video for Barry and his family you'll be able to access a book of condolence (are you can also donate to Barry's chosen charity. Details to follow on Twitter at @barrycryer80...
He leaves behind him a life of fun joy love and silliness and will be doing our best to maintain that legacy. He regularly told fantastic stories and anecdotes about others – that many brilliant and fascinating people he worked with and knew – but as he was loved and admired by so many - why don't we start telling some stories about Baz and his brilliant and mischievous life and career?
And to end, as Dad would say, "same time tomorrow?"
Published: 27 Jan 2022
What do you think?