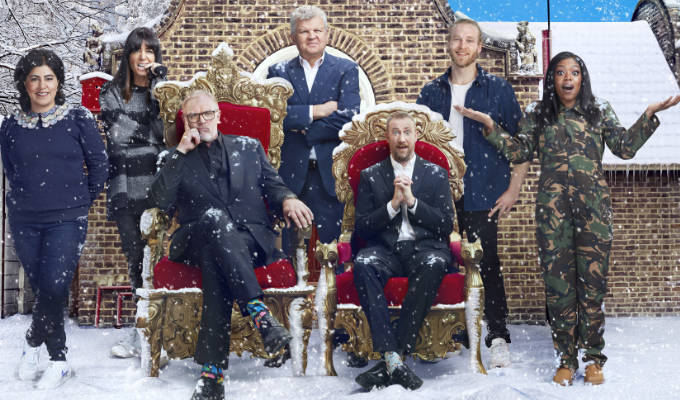 Taskmaster's New Year Treat: Meet the contestants
Taskmaster's returns to Channel 4 for a one-off New Year Treat special on January 1. Here Alex Horne and Greg Davies share their impressions of the guests, as they discuss their experiences on the show...
ADRIAN CHILES
Alex: There was a bit where Adrian really lost it and giggled like a baby for about a minute. I really enjoyed seeing him look so happy.. Normally, slightly older gentlemen get teased for being slow by Greg, but he bonded with Adrian a lot.
Greg: We bonded over being middle-aged men. Speaking as a man in his 50s I can confirm our lives are made miserable by gastric problems. He's my type of older gentleman. And I didn't expect him to be as hilarious as he was.
Adrian: I'm pretty poor at preparing for things. The more I prepare, the more I worry. So I watched a couple [of Taskmaster episodes] but then decided to turn up and hope for the best. There wasn't a lot to worry about really – the worst that can happen is you make a fool of yourself. But that's half the point.
For one task Alex said, "Oh, do it nonchalantly." That's not like me, I normally get frantic and panic. But I took his advice, stopped caring as much and just got on with it. It seemed to help. Trying too hard and overthinking things can always end badly, so there was a lesson there. I mean, that's my ADHD all over that.
And his views on Greg Davies: He's a gentle giant, he's really funny. There's a breed of comedian which doesn't laugh at other people's jokes – which is fine, it's a way of doing it – but Greg's very generous. It was interesting during filming when Alan said a couple of really funny things which didn't come across because I was talking, or somebody else was talking, and Greg went back to see what Alan said. There are plenty of comedians who wouldn't do that – remember how 8 out of 10 Cats used to be like a bear pit, you could never get your words out? – but Greg wanted to share it, which was really good. He wanted to make sure that everyone got the glory of what Alan had said
On Greg and Alex's relationship: It has sort of homoerotic mutual respect, but gently savage. It's very difficult to characterise, actually.
Random quote: don't know many middle-aged men who get as much pleasure out of descaling kettles as me.
Who do you think would be great at Taskmaster for a future series? Lee Dixon who played for Arsenal would be very good. He's resourceful, intelligent, funny, he's competitive. He'd be up for it. Denise Lewis would be good, the heptathlete. She's got grit, she's determined, she'd have a laugh – and she's from the West Midlands as well, so she'd be well-suited.
BARONESS SAYEEDA WARSI
Alex: She was very TV savvy, and comedy savvy as well. And she made jokes that weren't bad. She was probably keen to make sure the stereotype of a fusty old Baroness was destroyed. She was there to show what she's really like, which is good thing. I really liked her. I thought she was plucky and spunky.
Greg: She was feisty. The Bawdy Baroness! She accused Alex and I of flirting with each other.
Baroness Warsi: You try so hard in public life to never put a foot wrong, never say anything wrong, and always try and be the sensible one. Then I turned 50, and we just went through the last 18 months with the pandemic, and I started thinking, "Life's too short. I've got to learn to be me, live a little and relax a little bit." You're getting a much truer version of me now. I'm not sure that it's always going to go down well, but it makes me feel a lot better.
I know this sounds terribly selfish but first and foremost, this is about me. There was a lot I felt I was holding back because that is public life. This is something particularly about women coming of age, and turning 50, and being menopausal that means I don't care anymore. Taskmaster was a really uplifting, happy experience. Politics, as it is at the moment, is so depressing, so it's nice to be able to operate in happier, uplifting spaces.
Being in a different space sometimes makes me a more effective politician because it allows me the downtime to then do the serious stuff, and the hard work.
I think being a parent helps [with the tasks]. Being peed and pooped on is the first step towards not taking yourself too seriously.
On her love of comedy: Even at the height of when I used to work really long days, my husband and I would always try and sneak away and sit in the back of a comedy club, which in those days was really difficult. The whole point of comedy usually is to punch up against power, and when you're in the Cabinet you're usually at the receiving end of that. I'd go to events where comedians would use me as the butt of all their jokes, but that's comedy. I don't think you can take these things personally.We especially loved going in the winter, I could put on a hat and scarf, hoping nobody would notice me. We've always loved comedy clubs, it's our thing. It's where we go quietly and listen. Even at home, watching recordings of live comedy has always been a big part of what we do.
On Greg and Alex's relationship: When you first see them, if you don't understand them, it feels almost abusive. But eventually you realise that they are so close and so in tune with each other. You've got to understand their relationship to understand how they behave towards each other.
On a certain fan: There's a website, just photos of my bare feet. Obviously I take my shoes off a lot when I'm visiting temples, mosques etc and there's someone out there who just compiles all these pictures on a site. It's quite strange.
Which politicians do you think would be good at Taskmaster I think the PM would be good. I think he's really funny. He's very entertaining.
Radom quote: It's nice to be able to put away the political bitch and just be me.
LADY LESHURR
Alex: I'm not sure how much she knew about the show beforehand. She's one of our smallest ever contestants.
Greg: I thought she was fun. She doesn't really care what anyone thinks, and I always admire that, especially in a young person.
Lady Leshurr: I've always wanted to meet Greg because he's really tall. I'm only 5ft, so I've got this little section in my phone where I meet really tall people and take a picture with them. I love his energy, he's hilarious. He doesn't know it, but he can potentially be a rapper. I thought the show was so hilarious, but when I got there I couldn't believe what I had got myself into.
I'm a competitive person, I'm always trying to push myself. I don't want to go into anything in life half-hearted, so I always try to do the best I can.
On her fellow contestants: I didn't know anyone, but obviously I knew who Claudia was. I see her face all the time. She's a goddess. She looks like she's walked out of an advert. She literally came up to me like, "Hi, it's nice to meet you," and I was like, "Oh, my Lord!" I'm always going to have those moments because I'm that type of person. It was good to meet Sayeeda, she was really lovely. We got on like a house on fire. We're little shorties. Adrian doesn't know how funny he is. He says things normally and everyone is laughing. It's the Brummie banter.
On the relationship between Greg and Alex: They're like the Chuckle Brothers. Literally, they finish each other's sentences, they look in coordination, the energy is a match. That's why my cheeks were aching, because the way that they bounce off each other, the energy is so loud, it not only shows on the TV, it's in the room. The energy was on a high, the audience is so positive and laughing all the time. They're really a good act together, they really work well. They're like brothers.
Do you know anyone who would be good at doing Taskmaster in the future? I know exactly who should do it: Judge Rinder. I love him. He's up for a good laugh as well
Random quote: Adrian Chiles is my spirit animal.
CLAUDIA WINKELMAN
Alex: She was a bit like Mel Giedroyc, in that she was very keen to get in and do things quickly. She wasn't hanging around. She's a pro. She's done a lot of telly, and she's very, very funny. I'm still slightly in awe of her. It's Claudia Winkleman! She's got that star quality. Having her in the Taskmaster house was quite incongruous. It felt like we were in the middle of Strictly, so I didn't know what to do with myself.
Greg: I also think she's very used to being in charge. She did that thing that Victoria Coren Mitchell did, which is march into a room and say, "Right, let's get a few things straight right now. This is the way things are going to be." But then she remembers that she's the one being told to do things. I thought she was great. She entered into Taskmaster in the way you hope people will enter into it – without any clear plan for victory.
Claudia: I always like to nap so whatever I do, I want to do it at speed. That propels my entire life, really. I'm much older than everybody else on the planet, so I don't dilly-dally. I wouldn't ponder. On the day of the tasks, I didn't know what time I was supposed to finish, but I know I broke a record for getting through them all quickly. So it may not necessarily be a good trait and it may not have always led to points, but I am decisive.I don't have a competitive bone in my body. I should probably have flagged that up when they asked me to do it.
I'll tell you one thing I wasn't expecting. The house is tiny. On telly, I was always like, "I know those sorts of houses, they're like a labyrinth. They look small from the outside, but you go inside and it's room after room after room." No. I covered the whole thing in under eight seconds. I had enough spare time afterwards to eat all the crisps and all the chocolate.
On Alex: He's a magnificent human being. I don't know whether I'm supposed to say that. I mean, I'm a moron. But no, it was lovely to do it with him even though he wouldn't tell me the answers because he was really funny. here were many times when I said, "Stop talking," and then would ask him a question immediately afterwards which confused him. His confusion was excellent.
On Greg: There was one task which Greg gave me grief for, for not putting in enough effort, but I just had to get to nap-time. I think you have to go with his decisions outwardly, but inside you can be screaming. I still stand by my prize task choice. He hated it but he's wrong.
Who out of your friends do you think would be good on future series of Taskmaster? I'm allergic to famous people. I don't know any. I would highly recommend it, though, to anybody.
Random quote: We had such a great time. We ate a lot of Double Deckers.
JONNIE PEACOCK
Alex: He showed off his athleticism a couple of times. The Peacock family are big fans of the show, so I think he's done them proud, which is good. It's his mum's favourite programme apparently, so he was mainly doing it for her. He took it seriously. He took it like an athlete would, I think. He was competitive and ambitious. He had that thing that athletes do of being really focused.
Greg: I didn't meet Jonnie because I wasn't there during the tasks and he couldn't come into the studio as he was ill. [Alan Davies stood in] But watching the tasks I can see he was quite canny, quite cerebral. In a couple of them he thought, 'Oh, there must be another way of doing this,' which a lot of the other contestants didn't do at all.
Jonnie: When my agent mentioned it to me I was like, "Absolutely! It looks like so much fun." It was a long day, but a great day. So much fun. You've just got to try and think outside the box. Sometimes you need to think inside the box, actually, but apparently I don't have thought process there at all. I was worried about the mental stuff, to be honest. I thought I'd be standing there for two hours with absolutely no clue what to do. But I didn't have too many of those moments as it turned out, just a couple.
I don't really know how well or how badly I did, because I didn't get to do the studio show due to illness. When you do the tasks, you have no clue how you've done. You think, 'I've probably done the worst.' I do always try to stay relatively calm but when you first open the task, the brain farts come on strongly. You'd be sat there trying to think about it, and there'd be nothing coming to you because you'd have absolutely no idea where this has come from, or where it's meant to be going.
My job is an athlete, so I work out every day. It's fun, but it's also quite monotonous, so it's great to get the opportunity to experience completely different worlds and have fun with it. I don't get to be creative day to day, so it's fun to do something different.
On having Alan Davies stand in for him in the studio: I actually thought, 'That's the best situation.' To have someone who is funny, saying stuff about me. I've never seen a show where they've done that, so I'm intrigued to see where he goes with it.
Random quote: Alex is such a cool guy.
---
• Taskmaster's New Year Treat is on Channel 4 at 9pm on January 1.
Published: 23 Dec 2021
What do you think?