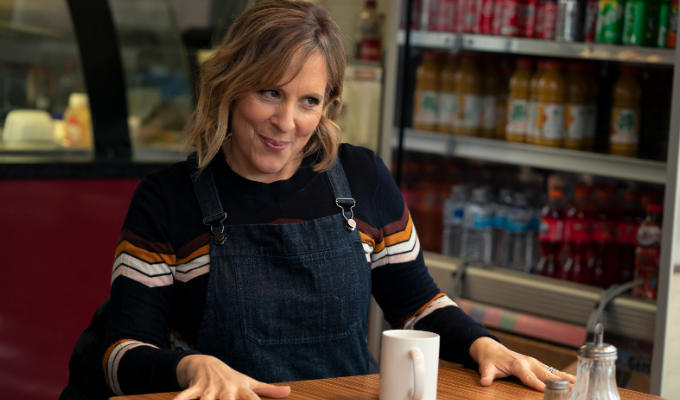 Mel Giedroyc: I licked David Bowie's cake
From Light Lunch to Bake Off to Big Zuu, there must be something in your contract that says great food has got to be involved?
I literally can't believe the career I've had so far, most of it involving food. Eating hefty amounts of it, having a laugh and then going home. It's genius.
It's utterly ridiculous. I don't even have to have any knowledge about it. That's the best thing! Look at Bake Off. Sue and I knew absolutely nothing about what was going on in the tent. We just ate the stuff, made the right noises, had a laugh and went home.
Was Zuu a bit nervous about cooking for you because of your expertise?
'Expertise'! I know nothing. My standards are very, very low, I will eat almost anything, and I'm not fussy at all. I love food. He had nothing to worry about.
Occasionally in the supermarket somebody will come up and say, 'I'm making a goat's cheese tart. Any idea what kind of pastry to use?' And I go along with it because I don't really want to say, 'I'm as much in the dark as you are.' But people are usually very jolly, they're very kind, so it's really nice.
Why did you sign up for this show. Was it because you are a fan of Zuu, or did you just want to stuff your face?
Look, I'm an oldie. I'm 52 years old, but I like to keep my finger on the pulse. I like to – via my nieces and nephews and my own kids – just keep vaguely up with what's cooking, what's good, and what's trendy. So I had heard of Big Zuu, and I'd caught some of series one, which I loved. So when I got the call, it was just like, 'Yes, of course. Sign me up!'
And he's a grime artist as well. Where do you stand on grime?
Well, I have to say that Zuu and I – and these are his words – lived in the same 'hood'. I lived literally around the corner from him for nine years. I'm 25 years older than him, so I asked him if I'd ever babysat him! We both lived on the High Road for a long time so I'm across any type of urban dance music you care to throw at me.
Growing up with your Polish/Lithuanian background, what was food like at home?
My Polish grandmother lived with us in the 1970s when I was growing up, and she played quite a big culinary influence on the household.
My mum is English, but she learned all these delicious Polish recipes from my grandmother, but then my mum is just a good cook, full stop. We were very, very lucky. There was lots of 70s fare in there, so things like arctic rolls and slightly dodgy brown food, like faggots. But then mixed in with that there'd be delicious, extraordinary Polish dumplings, and beetroot soup. It was quite a mishmash of 1970s suburbia and Polish cuisine. It was great, actually.
When you left home and went to Cambridge University, was that an introduction to fancy food?
Hmm. What do I remember most about university food? I got a massive overdraft, is what I remember, which took every holiday to pay back. I was always working two jobs in the holidays. I went to Omar's kebab house, and there was a pizza joint, I think it was called Kettner's. I spent all my grant, and every penny, on food.
I think students are much cannier these days. All my nieces and nephews who've been to university are really cool: they learn to cook, they bring a wok with them, they share with their friends.
I was absolutely hopeless. We had one ring for a whole corridor, and no one used it. It was always Omar's or the pizza joint. I'm not going to lie, it wasn't the healthiest food! As for posh food, I don't remember too much of that.
No black tie balls then?
Well, I tended to be performing at those sort of things, to be honest. Me and my mates were all doing – or trying to do – comedy.
Then you worked in bars and restaurants in your early years, didn't you?
Yes, and I loved that. I'm obsessed with waitressing. If my career really does hit the skids, I will have no problem with offering my services to the waitressing world, even though I'm now far too old.
My family get really annoyed with me because I have quite high standards. I like a waiter or waitress to make eye contact; it's amazing how many don't these days.
I'd like to set up a school of waiting. I'd have a twinset and high court shoes, and carry a weapon like a big fork or a big spoon. I'd teach people the proper ways of waiting tables. As far as I'm concerned, it's all got a little bit slack.
But we know that you weren't the perfect waitress: didn't you once lick David Bowie's cake?
Ha ha. Yes. Not the most health and safety-conscious of moments! But I had to, come on. I wasn't allowed to serve the guy, because I was 18 and it was quite a trendy place. I wasn't even allowed to go near his table.
He came in with a small entourage and our jaws were just on the floor, we couldn't believe it. They were ordering all these poncy cakes, but none of them ate anything, they just sat there smoking and looking cool.
So I thought, 'Right, if I can't serve him, I will enter his digestive system in another way.'
I don't think he ate very much, David Bowie, he looked extremely slim. But there was some chocolate cake that had been ordered by the table, so I thought, 'right.' I was on my own in the kitchen, no one was watching, so I just gave it a little bit of a lick. I just thought, 'Yes! Yes, David!"'
After that, of course, you hit the road and became a comedian. I imagine it's a mix of Ginsters from garages when you're on the road, and posh dinners at award ceremonies …?
Well, the posh dinners never really came into the equation until I was in my 40s, to be honest. I would say most of my 20s and 30s was Ginsters. Although on Light Lunch, we had extraordinary chefs coming in on a daily basis – I put on so much weight! It was just delicious because we'd eat all the rehearsal food, and then we'd eat all the food in the live show. Our greed knew no bounds.
Well, when you're young, you get away with these things.
Yes, and not so much when you're in your 40s and you're on Bake Off! I tell you, Mary [Berry] is incredibly restrained. She works as a cook, and she knows that you need a bit of moderation because you're going to be surrounded by a lot of food.
Sue [Perkins] and I knew nothing of that, so anything that was placed in front of us, we would just eat it. A lot of delicious food was eaten in that tent. A lot. It got a bit much, actually.
Do you miss it in any way? Or are you quite glad never to have to see a cake again?
I have really nothing but the best memories of it. I just remember it being seven years of just the four of us just laughing and mucking about. It was a great vibe. It was so much fun to be part of this show that just grew and grew out of nowhere. And just being surrounded by delicious, happy-making food. It was absolutely brilliant.
There's always a point in April when it's still quite chilly, but the sun's starting to come out, which is always when we used to start filming, and I get a little pang like, 'I wonder what they're doing in the tent?' And I wonder who they're with, and how it's going. But it's all good. We had seven absolutely great years, just unforgettable.
And of course you've got Mary Berry on speed dial. Do you ever call her and ask for cooking advice?
I'm trying to think of the last time I did. I think I wanted to show off something to her. 'Mary, look! I made this!' Because she's so lovely, and kind. She's a good friend to Sue and to me. She's wonderful, and very loyal.
What's your signature dish?
It's really easy, it takes about 20 minutes to put together. It's a recipe of my mum's. You get pre-cooked lentils in a pack. Chop up an onion, medium-sized, chop up a carrot, a stick of celery, half a clove of garlic, put that in your pan. I put a sprig of rosemary in there, a bit of vegetable stock, and season. Then smoked haddock on the top, lay it on the lentils with your lid on, let the haddock cook, and then chop some parsley on top.
It's phenomenal. Really, really healthy. So I'm going to do that for the gang. Probably for the kids I might need to do a little bit more carb, so I might chuck some rice on the side. You could even chuck a poached egg on top. So good!
What's your favourite meal of all time?
Christmas dinner. Very traditional, all the trimmings. No question.
What about your guilty pleasure?
I do a s'mores: two chocolate digestives with a marshmallow in the middle, and a cup of strong tea.
What was your most memorable meal?
Any time in the summer when I've been up the fellside with family and friends, having tuna sandwiches. I love a picnic!
Have you ever made a food faux pas?
My elder sister is an amazing cook, she's unbelievable. She lives by the seaside, and bakes for the whole town, all the cafés. She's off the scale! In the 1990s I said to her, 'I've got 10 people coming round, and I want to do something quite pizzazzy. Have you got any suggestions?' She said, "Cook a salmon in the dishwasher. It's absolutely brilliant.'
Well, it took about four hours on different programmes, and the dishwasher stank of salmon forever after. It was just disgusting and really watery. I was really stressed. The guests arrived and I had to say, 'Can you go to the pub down the road, please? I'll call you in an hour.'
They went to the worst pub, a really minty one, and sat there terrified in the corner. When they came back, they ate the salmon, and it was disgusting. What a horrible experience! Just awful.
Mel Giedroyc's episode of Big Zuu's Big Eats is on Dave at 10pm on Monday, or on UKTV Play now.
Published: 20 Jul 2021
What do you think?