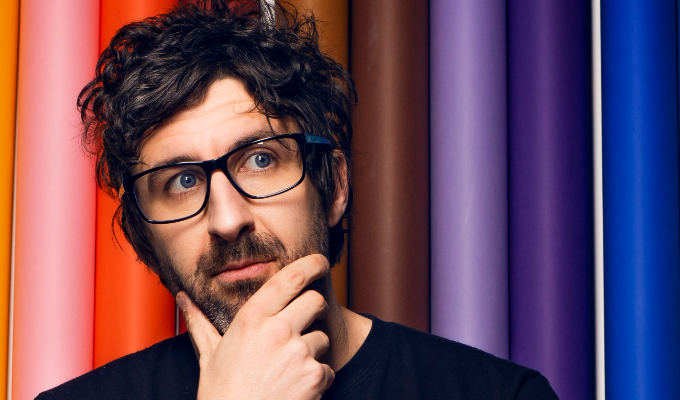 'I'm writing a self-help book by a still flawed person'
He's only just released one book – but Mark Watson is already talking about the next one.
The comic describes his forthcoming autobiographically -inspired Eight Deaths And Lives After Them, as 'a self-help book by a still flawed person' - as it tackles his divorce, career disappointments and suicidal thoughts.
'It's not really a memoir but about what I've learned about being beaten about by this career in various ways,' he revealed at this week's Chortle Comedy Book Festival.
Explaining that the self-help element was no magic bullet for readers' problems, he said: 'I've read quite a lot of books about how to succeed, and I thought most of them are bollocks. What you need is a book about accepting why things are shit.'
'As a comedian, you can spend a fair bit of your career thinking why didn't I do this or that so I've had to get past the negative mental habits of comparing myself to other people and undermining myself.'
One of the 'deaths' he considers is that of his public profile. 'I did have a period of very significant fame about 10 years ago on TV,' he said, but while acknowledging that that exposure faded away. 'Pre-Taskmaster people would often say "I don't see you on TV any more".'
But he was quick to assert: 'I wouldn't complain about where I am [professionally], I don't have the sense in any way that I've been short-changed, to have done this for as long as I have at a reasonable level of success. But I've been doing this for 15 years so I've stacked up quite a lot of regret too.'
Eight Deaths And Lives After Them will be released as an audiobook on Audible in January, but Watson says he hopes it will be published in physical form, too.
Watson's new novel, Contacts, also concerns a man at a low point, who sends a message to everyone in his phone contacts list, to tell them all that he plans to end his life in the morning. He then switches his phone off and takes the London to Edinburgh sleeper train, leaving friends, family and acquaintances to deal with the message.
The author says it was inspired by a real-life event. 'I received a text, but it wasn't quite as dramatic as this, not about a suicide.
'But this text came out of the blue saying "things are going really bad for me", but I didn't really know this person very well so he must have sent it to dozens and dozens of people if I was on the recipients' list.
'I was torn: as a human it's my duty to respond, but there's got to be other closer that will deal with this.'
Watson said that as a comedian he sometimes had to 'turn off his instinct' to go for the gag while writing his novels. 'Sometimes, when you read things by funny people, the characters all talk like comedians and the narrative tone is stand-up,' he said.
He said he countered expectations by 'writing a series of bleak books' – although he said Contacts was one of his funnier books, despite having a serious basis.
Contacts is Watson's seventh book after his first, Bullet Points was written when he was just 23.
Although it was acclaimed, he said he now considers his debut fully of trickery, and attempts to play with the form of the novel that show the arrogance of youth.
As he's matured, he says he favours a more direct form of storytelling to put as little distance as possible between his characters and the reader.
• The comedy book festival continues today with Victoria Wood's biographer Jasper Rees at 7pm and an International Men's Day session with Richard Herring on his book The Problem With Men at 9pm. Click here for full details of all the festival's sessions.
Meanwhile, full season passes are still available for £49 here, giving full access to all 22 sessions – those you've missed will be available on demand after the festival is over for a month – plus six months' access to NextUp's library of stand-up specials, a bottle of wine, and discount on festival books
Published: 19 Nov 2020
What do you think?