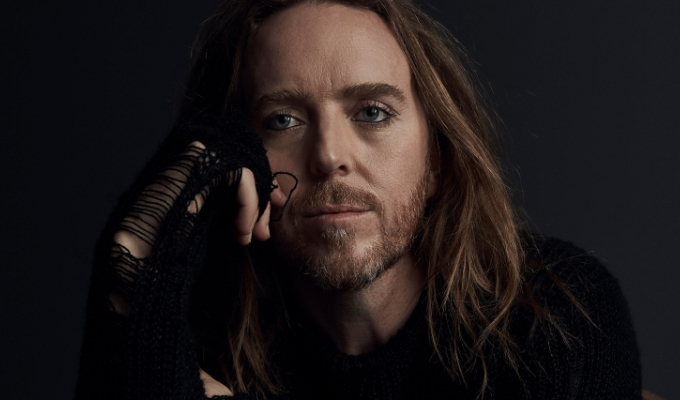 'You only get to where I've got if you've got a bit of a chip on your shoulder'
Tim Minchin says he's achieved what he has because he has a chip on his shoulder.
During a wide-ranging interview with actor David Tennant, the musician and comedian also spoke of how he likes to push his audience, how he was slow to call himself an actor, and how making films and musicals feels more significant than live work.
In the latest edition of his podcast, the former Dr Who star asks Minchin about being 'micro-ambitious' - pursuing immediate goals rather than a bigger paster plan.
The Australian replied: 'I spoke about that in the context of trying to give advice, which I always think is really hard, because the only advice you can ever give anyone in the arts is, "Be one of the lucky ones and work bloody hard."
'Under the umbrella of "work bloody hard"... the only advice I can give is "Don't get distracted by the big picture" because the big picture, what you think you want is not what you want, especially in the entertainment industry. The fame and wealth and adoration that is driving young artists is actually not the thing that is satisfying in the end, if you get anywhere.
'Because I grew up in Perth, those things were so far out of reach they might as well have been science fiction, I didn't have a choice but to concentrate hard on what I was doing.
'I think people make the mistake of thinking that it's Broadway or bust when, actually, if you just work hard on being a fantastic singer/actor, rather than a Broadway star, then you might get to Broadway… or you might start a theatre company for underprivileged kids in your hometown, and realise that that's actually what you were built for, but if you have Broadway or bust as your ambition, then you're in trouble because humans hate thwarted expectations more than anything.
' I was well into my 20s and had written four or five or six scores for theatre before I even considered the possibility that I might be able to be an artist as a job. That's how I was brought up. I had no sense of entitlement. I do now,' he added jokingly.
Minchin added that even now he has achieved success he said he has trouble 'topping and smelling the roses, because my career is a result of an insatiable need to keep proving myself to nobody in particular…
'I find it very hard to have a couple of weeks off after something and go, "Nailed that." I certainly would find it hard to have a year off, like some people.'
Tennant also asked Minchin if he felt he had imposter syndrome.
'I don't know if it's the most interesting way to describe it,' he said. 'Someone like you saying "I've got imposter syndrome'" it's a bit like "Get over it and stop being a wanker." Because you have plenty of evidence that you are good at your craft.
'I do have imposter syndrome and think I'm incredibly lucky but I also think, half my time, "That guy's not as good as me." Half the time, I'm going I haven't been credited enough for how good that was. You only get to where I've got if you've got a bit of a chip on your shoulder and you keep trying to get better.'
But he admitted it took him a long time to accept that he could be called an actor. 'At some point it struck me that I could play piano a bit and that people found it impressive, ;' he said. 'I've always thought that I could act a bit, but my insecurity about that was resolved this year.
'No one said, "You're a talented actor, you should audition for this"… I wasn't brought up by people who said 'You're special.' It took a long, long time. That length of time it took is probably the greatest gift because I got to get quite good before anyone took any notice whatsoever.
'My friends went off to acting school and I never even auditioned. It never even crossed my mind that I'd be allowed to. Yet, I'm definitely an actor now, but saying that out loud has taken me 44 years.'
Minchin also spoke about how his live work has evolved, saying :'In the early days, I was doing a wide-eyed accidentally judgemental guy. These days, he's closer to me, which means he can be laconic and romantic and eviscerating and angry… which is why I have loved getting back to touring'.
'I'm so glad I got back to it, because you do get to set your own rules,' he said - adding that's also why he added more sincere songs to his live repertoire. 'I am adamant that I don't have to be funny if I don't feel like it, which is very entitled of me,' he said. 'People came away from my last tours having just as good a time, I think.'
He said that because of the success of Matilda, the hit musical he co-wrote, 'Part of me thinks, I don't have to do anything I don't want to do. But I have no interest in taking the foot off the gas because my favourite thing in the world is making stuff. And my least favourite thing in the world is saying no to really cool shit.
'Matilda really made me stop and think, "wow, comedy's fun and I hope I can keep doing that".
'But making something that impacts culture is really an honour. I really took that seriously. I played a small role in slightly changing what was happening with musical theatre on the planet. Just my weird little stupid songs. It struck me that I could actually build things. Saying yes to the film… felt a bit more grown-up than doing gigs.'
Of his live tours, he added: 'The game is the same… to see how far you can push the audience and then heal them. Always, always heal them. That's why I had an okay career, and that's why I get in trouble with the right-wing press in Australia and sometimes with the right-wing press in England, is because they see something I've done out of context...
'I was never just a polemicist. I was always someone trying to give people the best night out I possibly could. Always the primary thing is to keep people stimulated for two hours and make them laugh and cry and think and be a little bit challenged and then completely relieved.'
Away from his career, Minchin also spoke about how, despite a relatively wealthy upbringing as a 'fourth generation private school boy' , he is always considered working-class in the UK because of his Australian accent, saying: 'It's really a massive bonus.
'I'm a posh Australian who got their education paid for and got 500 bucks towards his first car. [But] I have lugged bags of cement and demolished buildings and washed dishes. Of course, I don't know what posh means in Britain. Daddy didn't get me my first job in composing.'
• David Tennant Does A Podcast With... is available on Apple, Spotify and all podcast providers. It is a Somethin' Else and No Mystery production.
Published: 22 Sep 2020
What do you think?