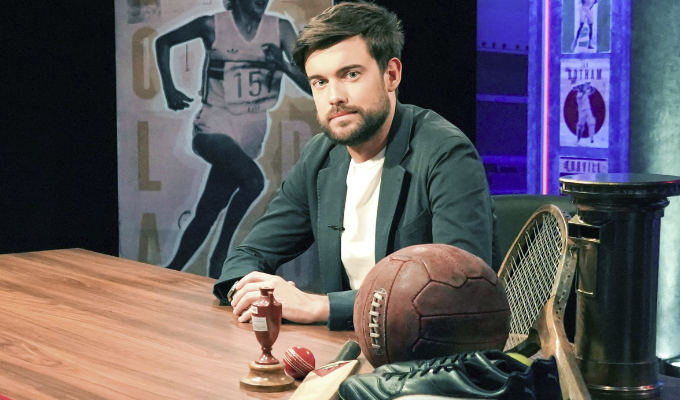 'I was watching at home in my pants and got goose bumps...'
Jack Whitehall is to present a history of UK sporting achievements on BBC One next month, with a six-part series making some small attempt to fill the vast hole in the schedules left with the cancellation of major sporting events this summer. Here he talks about trying to make it more than a clip show, his own dalliances with sport and how weird it was to pay homage to his mate Freddie Flintoff.
---
Can you tell us about the show, and how it came about...

Right at the beginning of lockdown the BBC got in touch and we spoke about trying to do a sports show as the BBC had lost huge swathes of sport from the schedules, which were suddenly looking quite barren this summer.
We wanted to try to come up with something interesting, funny and dramatic to try to fill some of those spaces and we came up with this look at some of the greatest moments in our sporting story, trying to thread some themes together and examine what our love affair with sport means.
I think it's a slightly different project to stuff that I've normally done because we've gone about it a different way; we wanted to start by talking to sports writers whose work we admired to start with a very journalistic approach… something which has a bit of substance and a bit of depth so it wasn't just one of those '100 greatest sporting moments' shows with a load of old clips. We wanted to present sport archive material in a more elevated way.
The other thing is wanting to make sure that we take in different sports and ensure that we cover all corners of the United Kingdom, not just football. So we have got people in there like Eddie the Eagle, Torvill & Dean, Dennis Taylor.

So is football your favourite?

Probably, but I am very into all sport and I think that's why this show really does feel like quite a part of me because I do just love sport, and could watch any sport and get involved and interested in it.
A lot of the stories that we'll cover are of interest to me. I am one of those people who could sit down in front of the Winter Olympics and find myself obsessed with curling for a week. And a lot of these things told in the right way can be accessible to people even if they don't remember them or even if they're not into the particular sport. I think that's the challenge with this show is to try to find an interesting way of contextualising all these events and telling a story and talking about the people involved and some of the narratives that were going on behind the scenes.

So that's been part of the brief. We've got two of the most respected sports journalists in their field Jonathan Liew and Alyson Rudd working on the scripts; and we've also been working with Jonathan Friedland who is not really a sports journalist, but he's probably the most grown-up writer that I have ever worked with! He brought a slightly different approach to it, a really interesting take on sports that was from an intriguing angle that we have been able to extrapolate from.

I think each of these episodes feel quite distinct which is nice, they all have a slightly different voice because we've got these different journalists working on each of them.
There are some really brilliant sports films, for example even if you don't follow Formula 1, Senna is a gripping film. Are you trying to apply a bit of that technique here?

Completely! It's the same with The Last Dance, I don't care about basketball at all and it's absolutely gripping. Essentially you have to lay it all out like a drama. You have to think characters, think stories and then apply it to the game. And you have the reveals and the twists and pull at people's heartstrings.
I think that's what we've tried to apply to this. Take each of those sports stories and not just show them as a clip but contextualise them in an interesting way. And find a good narrative to weave through an episode.
We have an episode called Glorious Failure where we start with Derek Redmond struggling over the finish line and it ends with Euro 96 and then we do a montage with the walk away music and you will literally be in tears at the end and if you're not then you're a husk!
Then we've got an episode called It's Coming Home which starts with the 1966 World Cup and then takes you through all those barren years when we couldn't win anything for love nor money and ends with 2012 and Mo Farah winning his race.
They sent me a cut of the episode and I was watching it at home in my pants on the laptop and I was literally pumping my chest with goose bumps on the back of my neck.

Can you remember when you got into sport?

From a pretty early age. My mum was actually far more in sport than my dad was, he hated sport, but my mum was into football, hockey and athletics so she got me interested in it. And in fact, she was so passionate about it that my dad subsequently did become into sport and by the time I was a teenager he was a football fan.

She is also a massive Leicester City fan, so while this is a show about national sport and our national sporting story there is an episode on underdogs and it felt impossible not to include Leicester in that. While we don't want to do too much on club sport because it can be quite divisive, Leicester's success does feel it transcends that because it's such a brilliant story. Also if I didn't do them justice I think my mother certainly wouldn't watch the show.
Do you remember the biggest sporting moment from your childhood?
Euro 96 was definitely a really seminal one for me but for the director it was Italia 90 and then for someone else it was the '81 Ashes series. That's what's so nice about this is you're getting to do so many of these events that were so important to different people.
How far back are you going to look?
Obviously, it's slightly dictated by the archives. We have got a whole episode on class where we start with Fred Perry winning Wimbledon and end with Freddy Flintoff winning the Ashes and we look at the parallels between their stories. The original London Olympic Games features and we have some amazing footage of ladies dressed in big hats and huge dresses doing archery, so we have delved back quite a long way.
It does tend to be the more modern stories that have the best footage and tend to be the ones that you can really sit in for longer periods of time. They're also more fresh in the memory so I think they tend to be a bit more emotive.

Have you got a sporting hero?

David Beckham. We've got a whole story on the hero's journey and we do 15 minutes on the redemption of Beckham. For me that's a story that I've been obsessed with. I loved being able to talk about that.
And then Flintoff, which is weird because having worked with him he has become a friend and a figure of fun, and the punchline to a load of jokes about oversized menswear. It's weird to ever lose sight of the fact that he was - and I would never say this in front of him - one of my absolute heroes.
In the 2005 Ashes when I was a teenager, I watched every single minute of that test match and his performance at Headingley is one of my favourite memories of watching sport growing up. So again we have done a ten minute homage to Freddie Flintoff which got a bit weird.
Have you told him?
No I haven't but hopefully he'll watch it.

Have you engineered your career to be comedy first but sport second?
I guess that's just sort of happened because of where my interests lie. But certainly with this show, and what I think will make it quite distinctive is that with current affairs there are lots of satirical shows with people behind desks talking about topical stuff in an interesting way while at the same time making you laugh and think. And I don't see that there are really those kind of things with sports; you either get amazing sports documentaries or it's knockabout panel shows - which I'm not doing down as that's been a large part of my career - it's just that no one has tried to do this with sport in that way.
When you came up with this show at the beginning of lockdown were you worried you'd be putting it out when the world would be back to normal?

We started making this show in March and there's no denying I wish this had gone out a month ago when there was no sport on at all. But I hope that it stands up regardless of that.
The reality is, even though football has come back it has come back in a slightly different way. But now watching football without fans and it really does resonate how important the fan is in all of it.
Did you play sports yourself when you're at school?
I played football and cricket, and I started up a lacrosse team to try to get into the first team but too many people joined up and I couldn't even get into the first team that I had set up…
• Jack Whitehall's Sporting Nation starts on BBC One at 8.30pm on Friday July 10.
Published: 30 Jun 2020
What do you think?