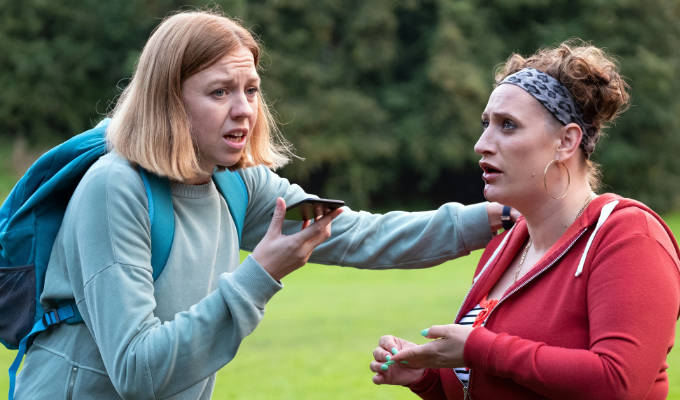 'I was hanging, legs spread, from a tree dressed as a monkey'
BBC One's new sitcom, The Other One, starts tonight following its pilot on BBC Two in 2017. Ellie White stars as a woman who discovers her dead dad has a secret family and you now have a brand new sister, plated by Lauren Socha. Siobhan Finneran and Rebecca Front play the dead bigamist's two wives, and the show is written by Holly Walsh and Pippa Brown.Here the cast and creators talk about the show
---
Tell us about your character
I play Cathy Walcott. She's in her late twenties and works in re-insurance. She's uptight and neurotic but conversely quite naive and never wants to offend. I would say she's a bit of a perfectionist and wants things done her way. She's not exactly street smart, in fact probably the opposite and meeting her new sister Cat certainly opens her eyes to the world beyond her small bubble, which after the death of her dad I think she finds quite cathartic.
What was the funniest moment during filming?
There was a scene where I was hanging, legs spread from a tree dressed in a monkey costume. It wasn't so much as funny as deeply humiliating. Still I think the people around me got a lot of laughs from my cries of agony. Looking forward to see how that turns out.
What drew you to the show?
Holly's an amazing writer and the script stood out as soon as I read it. I've never played a lead part before, and one who's funny is the absolute cherry on the cake. I think there's such a lovely tone to the whole thing: a silly sitcom with big characters but with real emotion.
Have you got a favourite scene?
There's a whole part of the last episode where Cat and Cathy take their dad's boat out. They were incredibly fun to film and playful and Cathy is much more free and loose than she has been before, so I hope people will enjoy those scenes. There was also added excitement and jeopardy when we filmed it in seeing whether or not Lauren would fall into the freezing water and get the entire shoot shut down.
How similar to your character are you?
A carbon copy. Lil joke. Hopefully not too similar, though there are some things I can relate to like serious and deep repression...
How would you react if you found yourself in this situation?
I think I'd find it quite fun to be honest. I've always wanted a sister so it would be interesting. I mean if we didn't get on I would disown her and pretend it never happened, but if we did, great!
How would your character react to lockdown?
Probably a few anxiety attacks mixed with super organised shopping trips mixed with extensive sanitising mixed with trying desperately to volunteer for the NHS and making a hundred rainbows for the window. Then a mild breakdown.
Did you know anyone who has been in a similar situation?
Um, not exactly but I knew someone that found out their grandparents were cousins. Wow, that's not the same at all. No, then.
Tell us about your character?
My character Cat is very funny, very outgoing, she's very bubbly and she's always trying to find a way to lighten up a very bad situation.
What was the funniest moment during filming?
There was a scene with me and Ellie driving and instead of saying man she said marn and it doesn't sound funny but at the time it was absolutely hilarious because it was the end of the day and you're tired and anything can make you laugh. I was laughing so much and she was getting quite annoyed at me which made me laugh even more. Everyone got so pissed off with me and was telling me off, and the more they told me off the more I laughed.
What drew you to the show?
The casting director sort of pushed me into doing it. I'd just had a baby and I didn't think I could do it, because I hadn't done it for so long and I don't think I am that funny. But I met Pippa at her flat and the more scenes I was reading and the more I improvised it into my own, I really built the character. And I just loved the script, it's wicked.
How similar are you to your character?
Incredibly! I do make light of an incredibly bad situation like I can't dwell on things. I either laugh or cry and I think that's what she's like.
How would you react if you found yourself in the same situation?
I'd love it! I'd love to have a sister, I really wouldEveryone wants a sister to have as a best mate, and luckily they are.
What would your character be doing in lockdown?
I think she'd probably be a DJ, have all the street dancing around and socially distancing.
Tell us about your character.
Tess is a woman who has always toed the line. She's played it by the rules, and the rules matter to her. So when she discovers, after her husband's untimely death, that he has defied the rules throughout their marriage- by having a whole other family and not telling her - she is understandably furious.
What drew you to the show?
I loved the premise - it felt like something I hadn't seen before, even though stories like this pop up from time to time in the news. And I thought Holly and Pippa's script was very funny. Plus it's still relatively unusual to do something as female-led as this.
Have you got a favourite scene?
There's a moment where my character Tess and Marcus (played by Amit Shah) are sitting in the car singing the Archers' theme tune in harmony and taking it very seriously. I always harmonise when I sing along to music - it's ridiculous, but I can't help myself. So I loved having the chance to do it on screen.
How similar to your character are you?
I don't think we're very alike at all. I'm much more of a pushover than Tess, and I like to think I'm a bit more laid back and self-aware. I'm not sure we'd be friends if we met.
How would you react if you found yourself in this situation?
I'd be utterly devastated. Who wouldn't? But I think I'd get some counselling to help me process it, which Tess could really do with. in my opinion
Tell us about your character.
Marilyn is an amazing mix of wonderful and wacky which is why I wanted to play her. She has a sweet kind soul and is the sort of person people would say 'hasn't got a bad bone in her body'.
She is naïve, she is eccentric, she is damaged, she is fragile, and she is fun. She's honest but has lived a life of secrets and lies for years.
She is very confident with her sexuality and makes no excuses for the life she's been living for 30 years and seems to have coped with it extremely well on the surface so people may perceive her as arrogant but she's not arrogant.
Marilyn lives in a medicated bubble most of the time which I think is probably her way of coping with the life she has been living.
What drew you to the show?
I love Holly's writing, it's a joy to read her scripts. Holly's characters are beautifully written, funny and flawed human beings, so as an actress that's a joy to take on that type of role.
Have you got a favourite scene?
I enjoyed the dancing in episode 2 to Yes Sir I Can Boogie, I felt like I was in a pop video!
What's different about this show?
It's a series led by four women but who are all dealing with the same thing at the same time - the loss of Colin and to see if there's any reparation or comfort in doing that together. They are united by their grief but also completely divided by that because of the secret life Colin was living.
How would your character react to lockdown? Would they be isolating together?
As Marilyn is agoraphobic lockdown would not bring about many changes to her usual way of life.
How was it seeing your show come together?
Pippa: It's always incredibly exciting watching a show evolve from an idea to having six scripts to being on set to being in the edit and now it just feels incredibly scary putting it out into the world. It was such a laugh writing with Holly and we hoped that if we were laughing at some of the scenarios we were putting our characters through that other people might find them funny too.
Holly Walsh: I know it's a cliché to say it but there were points where I really had to pinch myself – seeing our incredible cast doing the jokes we'd written in my attic. I still have our original outlines on my whiteboard up there – I can't quite bring myself to wipe them off. It seems like such a massive journey from those first notes to what we finished up with.
Where did the idea originally come from?
Holly: A friend told me a story about a friend of her parents who'd had two families. He called both his kids the same name, so if someone stopped him in the street and said 'Oh, how's Tom?' he wouldn't have to worry that he was blowing his cover. As a bit of a comedy magpie I thought that would make a great premise for a story.
Did you have the series plot all worked out from the pilot? Did anything change?
Pippa: We knew where we wanted the series to end; we had a cliffhanger we were really happy with. But we had no idea how to get there. So plotting the series was probably the most fun part of the writing process. The biggest change was probably a badger to a deer because we were told badgers can be quite difficult to work with…
Holly: We changed bits on set – I think that's the benefit of us being writer/director/producer – we could see when jokes weren't working and tweak them – either in rehearsals or as we blocked scenes. Luckily, the cast were incredibly generous and patient and gave us so much more than we had in the scripts, so it was a joy.
Did you talk to anyone who had been through a similar experience?
Holly: Not at the time, but strangely, since the pilot went out, it's incredible the amount of people who've told me that their dad/friend/uncle had two families. It seems to be more common than we thought.
What was the funniest moment in filming?
Holly: Anything involving dance scenes – we had so many funny moments and they're a joy to watch. Marilyn spinning around in a wedding dress, Cat and Cathy grinding with two boys in a pub. We had to be really ruthless due to time – but if there was ever a director's cut I'd make those scenes about twenty minutes long because they made us laugh so much
Pippa: Rebecca's Nordic Walking, Siobhan and her sex mirror, Siobhan's facial reactions always make me laugh because she always gives you something priceless, Ellie and Lauren on their boat, Amit topless at a council recycling tip, anytime Lauren has to eat anything, Caroline Quentin's bum..
Are there any scenes that didn't make it in that you would like to have included?
Pippa: We didn't have to cut many scenes but I think anything that didn't make it might hopefully be reimagined for a second series if we are lucky enough to get one.
Holly: Yeah. We want to get Cat on a horse, and Cathy on Bake Off.
• The Other One starts tonight at 9pm on BBC One and will be available as a boxset on BBC iPlayer.
Published: 5 Jun 2020
What do you think?