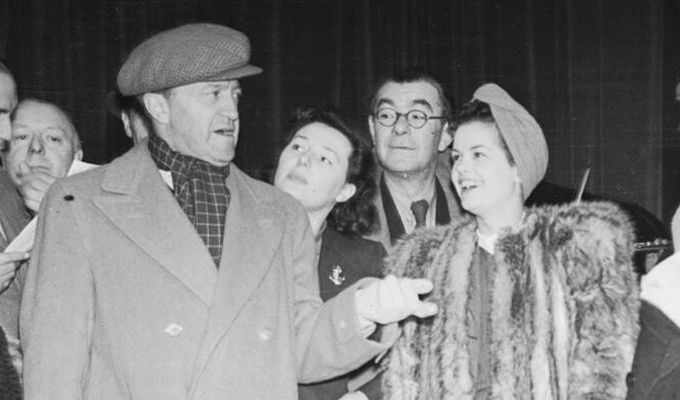 VE Day: What was making us laugh 75 years ago?
Today is the much-vaunted 75th anniversary of VE Day. And as Britain celebrates as well as possible under lockdown, we look at which comedians were making the country laugh in that historic week in 1945.
Tommy Handley was on the cover of that week's Radio Times, pictured opening the children's corner at London Zoo, to accompany a feature about how the animals had survived the war.
His show ITMA, or It's That Man Again (pictured), had pride of place in the week's Home Service radio schedules – TV broadcasts having been suspended during the conflict – airing at 8.30pm on Thursday, just ahead of a performance of Henry IV with Laurence Olivier and Ralph Richardson.
The long-running sitcom, which started in 1939, was credited with sustaining wartime morale and often referenced current events. Characters including Colonel Chinstrap and Mrs Mopp became familiar voices over the 300 episode it ran for, up until Handley's death in 1949.
It popularised many catchphrases such as 'don't mind if I do' in response to an offer of a drink'; 'it's being so cheerful as keeps me going,' as said by Mona Lott, a depressed laundrywoman played by Joan Harben and 'TTFN (Ta ta for now)' spoken by Mrs Mopp (Dorothy Summers).
.
The schedules also feature a number of variety shows, The long-running Variety Bandbox featured Cyril Fletcher, then known for his witty 'Odd Odes', long before his regular slots on That's Life! and the panel show What's My Line? – and Violet Carson. She sang comic music-hall songs – although she would go on to find greater fame as the original battleaxe Ena Sharples in Coronation Street.
Here's a public information film Fletcher made in 1942 in his familiar style about the perils of sneezing, which couldn't be more relevant today…
Round The Halls, a weekly broadcast from the nation's variety theatres came from the Bristol Empire and featured long-forgotten comedians Raymond Bennett and Darroll Richards. While a Saturday night show called Music-Hall featured Sandy Powell, the comic who came to prominence in the 1930s with his catchphrase 'Can you hear me, mother?'
He made 85 comedy records between 1929 and 1942, selling seven and a half million copies, and worked continually on radio in the 1940s and 1950s before becoming a regular on stage in Eastbourne. He was still performing occasionally up to his death in 1982, including this 1980 performance on the Royal Variety Show.
The Carroll Levis Show, fronted by a Canadian impresario, featured Charlie Chester, fast becoming a favourite thanks to his work entertaining the troops with ENSA, the Entertainments National Service Association, which ever serviceman also knew as 'Every Night Something Awful, and on the services show Merry-Go-Round.
In 1946 he would go on to front his own highly successful series, Stand Easy. From the 1970s to 1995, when he suffered a stroke, two years before his death, he was known for the Radio 2 show Sunday Soapbox.
In VE week, comics Arthur Askey and Richard Murdoch featured in a magazine show called Monday Night At Eight.
The pair had loosely invented the concept of the sitcom with their radio show Band Waggon which began in 1938, with the pair reputedly living atop Broadcasting House and performing sketches between musical interludes. It only ran for three series but defined the nature of radio comedy.
This clip was recorded during a live concert part show in France to entertain the troops that had just arrived in April 1940.
In cinemas, David Lean's Blithe Spirit hit cinemas six days after VE Day, based on Noel Coward's 1941 play that had wowed the West End.
The film features Margaret Rutherford, in the role of eccentric medium Madame Arcati which she created in the original production, along with Rex Harrison and Constance Cummings in the lead parts of Charles and Ruth Condomine.
The film was not a box office success at the time but is now regarded as a classic and was recently revived on stage with Jennifer Saunders in the Rutherford role. A film is in the pipeline with Dame Judi Dench.
Published: 8 May 2020
What do you think?