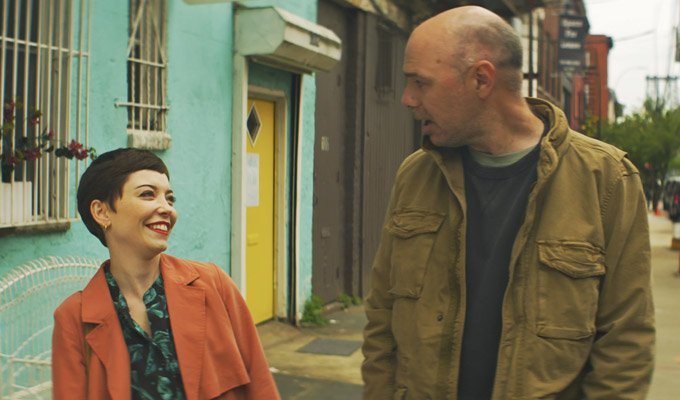 This series is more upbeat... but it's not 'Richard Curtis' upbeat
Karl Pilkington returns to Sky One in a second series of Sick If It, playing a middle-aged man – also called Karl haunted by the voice inside his head, dubbed Inner Self. Here he talks about the show and how his character has evolved for this second run.
---
The weird thing is with Sick of It, it's not that far removed from how I am in real life. We've tapped into all the insecurities that you have in your head, little dilemmas that come up, 'how am I gonna work this out?', 'what's the right thing to do?' I think that's what's good about it.
People might have watched Idiot Abroad or Moaning Of Life and they might be a bit like, 'I preferred you in that because I was getting to know you a bit, I felt like it was you' But in a way, I think this is still me, but a different side. It's looking at problems that everyone has in life.
Series Two is about a bloke who is a bit fed up - he's not depressed. It's just sort of that run-of-the-mill life that a lot of people have and he's just at a point in his life where things aren't that great.
He's finished with his girlfriend, he's living with his Auntie. It hadn't probably turned out as he would have hoped when he was younger. He's got no mates either. That's part of the problem. No one really close to him. Since his girlfriend left, he's kind of on his own.
So he's dealing with everything in his head. Episode one is about insecurities, wanting to have a use in life – we've all had that. I suppose self-esteem is also a big topic in Series Two. I suppose he doesn't feel that good about himself, he wants to do better but we can't all do well can we.
But he's not moping about as much as he did in Series One. He is trying to enjoy life a bit more.
What do people do to cheer themselves up? Memories and reflecting is something that people do. When you look back, I suppose your brain focuses on the good things. People always think the past was better.
But it's a bad thing to go back and expect something to feel as good as it did back then. That's what Karl does in one of the episodes – he goes back to Salford to see an old school mate and it doesn't work out as he'd hoped. But I think a lot of people do that. I suppose it's because when you were younger, times might have seemed more interesting or exciting even though they probably weren't.
In Series one, Karl was more down. He'd just finished with his girlfriend and was a bit lost in life.
Everything that happened was bad. Even if it wasn't actually bad. When you're fed up the good stuff doesn't seem good because your head's in a bad place. Whereas in Series Two, he's got to get on with his life, he's got to do something with it and I think it's a bit more positive.
Karl is not letting Inner Self get him down as much. He's trying to get out there and meet people. He goes out there to try and get a better job to make himself feel better. It's not mega positive, it's not like a Richard Curtis film, but I'd say it's pretty positive from where he is in his head. It's quite upbeat.
It'd be interesting if you watched Sick If It and edited out all the stuff with Inner Self and you just saw Karl on his own. You'd think he was quite a depressed man. Maybe a bit moody, bit rude. But when you know what's going on in his head, you're kind of with him a bit more.
I think everyone's like that, you don't really know people do you? It's what they put out for everyone to see. But how many people, what percentage of a person's day is someone being 'them.' Being really honest about everything. Not playing a game of walking on eggshells because you don't want to upset anyone and tweaking what you really think. You've got to do that to get through life.
But I think you should listen to the voice in your head. The more you don't listen to it, the louder it gets. It wants a bit of its own way. If you're constantly trying to please other people, that's when you have a bit of a breakdown. Because you're not being yourself, ever.
At the start of the series Karl is openly hostile towards [new character] Ruby, played by Marama Corlett. He feels threatened by her because she's replaced him as Norma's carer. To make things worse he finds her cheerfulness and upbeat outlook on the world irritating. But as the series progresses, circumstances bring them closer together. Since Zoe left him, this is the first time Karl's had the company of a woman around the house and it starts to play havoc with him and his emotions. He's not sure what he thinks about her and if he can trust his feelings.
Inner Self is conflicted about Ruby - he feels put out when Karl starts listening to her instead of him. But as Karl gets to know Ruby more, Inner Self realises that Karl needs someone like her around. The truth is Karl's spent too much time on his own listening to the voice in his head and after a while that can't be a good thing. As Ruby becomes a bigger part of Karl's life, you notice Inner Self recedes a bit further into the background.
• Taken from press information supplied by Sky. Sick Of It returns to Sky One at 10pm on January 10, when all episodes will also land on Now TV.
Published: 27 Dec 2019
What do you think?