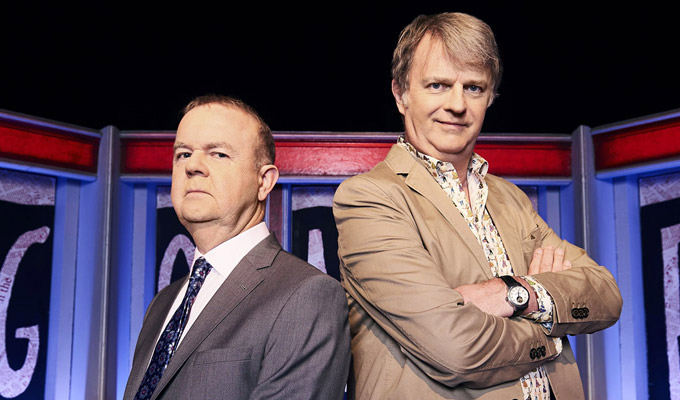 I thought the tub of lard was more likely to be PM than Boris
Have I Got News For You returns to BBC One at 9pm on Friday for its 58th series, with the first episode presented by Martin Clunes, and with panellists Sara Pascoe and Layla Moran MP. Here, team captain Ian Hislop shares his thoughts on the show's return:
---
Who would be your dream MP guest for this series?
Boris sacked 21 MPs so surely some of them must be short of work. And Labour are busy deselecting MPs so that should free up some more.
I would be happy to have almost anyone really, and you never know who is going to be in a job as the news changes so fast.
One of the problems we've had over the last couple of series is that the studio manager has to keep coming on to tell us what's happening, because the news quite literally happens whilst we're filming the show. Someone resigns, a party changes its name or the leadership changes altogether. It is unbelievably fast, so I'm really looking forward to trying to keep up with what's going on.
By the time we come on, I don't know what's going to happen or who's going to be Prime Minster! But then neither does anyone else, including the Prime Minister.
I think it would be quite funny to get Jacob Rees Mogg to come on and see if he wants to lie across two chairs. And then we could have Boris on, and he could just lie.
Lady Hale, now that's my ideal guest. You know, Spiderwoman. I think she'd be very good in the chair. Once you've done the hosting job in the Supreme Court, I think there's nowhere else to go… and she'll be very impartial, I'm sure. As I am.
Given what's been happening in UK politics this summer, would you have liked HIGNFY to have been on air?
It would have been great to have been on air, we've never had so much news. Since we were last on, the unthinkable has happened, Boris Johnson is the Prime Minister and we've had a Prime Minister being told he's acted unlawfully by the Supreme Court.
None of this has ever happened before, it's been absolutely extraordinary, but with the speed of news accelerating at the speed it does, I'm expecting even more to come.
Did you ever think Boris Johnson would end up as Prime Minister? What are your predictions for his tenure?
I'm amazed he's Prime Minister and I think he's probably amazed he's Prime Minister.
Of all our guests over the years I thought it was more likely that the tub of lard would become Prime Minister – and so he has, you might argue. But I am not going to say that because that sort of unpleasant language is best left to MPs.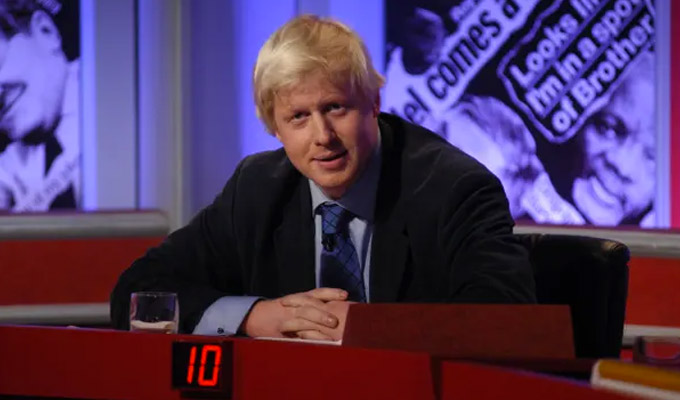 It's extraordinary. I never thought it would happen, but since it has happened, nothing that's happened since has surprised me.
He's been slapped down by the Supreme Court for acting unconstitutionally and unlawfully and giving unlawful advice to the queen, for which he had to apologise. Although, the Queen isn't the first angry woman he has had to apologise to.
He does tend to have to apologise throughout his career and as I said in the last series, when the producers cut it out and put a black box over my mouth on the broadcast, Boris Johnson has built a career on telling porky pies.
He was even caught out telling porky pies about pork pies. It's a surprise he's there, but just how shambolic, extraordinary, reckless and chaotic the situation is, doesn't surprise me.
I have no idea whether he'll survive this next series as Prime Minister… given in the last week, there's been two sex scandals and a historic constitutional ruling against him, even his greatest fans wouldn't say it's going well!
Michael Gove said that the Prime Minister was 'a winner' but he has lost all of his first seven votes in the House of Commons! What does a loser look like?
You're often spotted during scribbling notes during episodes. What are you noting down? Are you keeping score?
That would be a waste of time… I know what the score will be!
No, I am obviously making a simultaneous transcript of what I'm saying to give to my lawyers after the show, so I can use it in future… you never know, I might be sued by the Duchess of Sussex.
Published: 8 Oct 2019
What do you think?