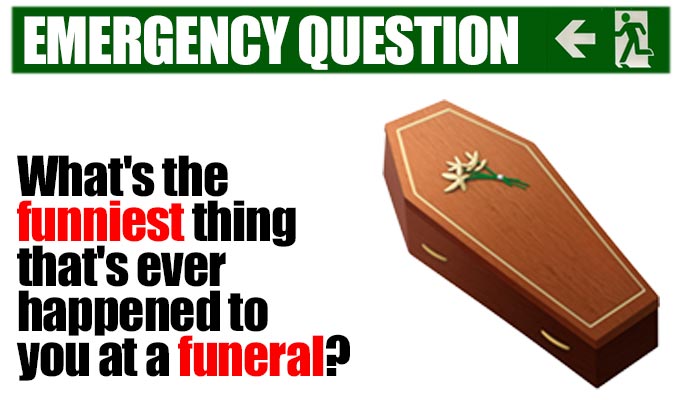 What's the funniest thing that's ever happened to you at a funeral?
After my grandfather's cremation, at the wake, my grandma was reminiscing about him saying things like: 'He was a wonderful husband, a wonderful father' etc. Then she said: 'he might not have been the most romantic but he was always up for it!'. Best eulogy I've ever heard. Micky Overman Presents: Presenting Miss Micky Overman, Pleasance, 21:15
After reading a poem at my grandfather's funeral that he wrote about my disability. I went to sit back in my wheelchair and a wheel fell off and I completely stacked it. Aaron Simmonds: Disabled Coconut, Underbelly, 13:30
At my mum's funeral this year, a small family affair, we were told before the last piece of music was played to, when we were ready, perhaps say something to the coffin, lay a flower on it, and leave. I braced myself and went first, said goodbye, and walked past the curtain to the exit, only to meet a man operating the music who whispered 'this isn't the exit', so I had to reappear and walk out of a different exit. It lightened the mood. George Egg: Movable Feast, Assembly George Square Gardens, 16:30
At my partner's father's funeral at least eight blokes came up to me and boasted they were the only one who he couldn't outdrink :) David Tieck, What Would Bill Murray Do?, Just The Tonic at the Grassmarket Centre, 18:00
Dad's ashes and the wind meant he ended up closer to me in death than he was in life. Like, up my nose. John Robertson, The Dark Room, Gilded Balloon, 21:15
I used to do poetry reading competitions at a child that my mum coached me through. So when I was doing a Bible reading at my gran's funeral, it was deeply unnerving to see my mum on the front row miming the prompts for 'speak up!' and 'big eyes!' Luke Rollason's Infinite Content, Monkey Barrel, 12:00
I was at the funeral of my great uncle when I was about eight and in the eulogy someone mentioned how much he loved to cook and share his cooking with his family. The problem was, he was actually a terrible cook and every year when he gave us mince pies, my dad and I used to shoot them in a slingshot off the top of our house to see how har they would go. They were rock hard - so inedible but flew well. When the guy was talking, I couldn't help but laugh (as did my dad, much to my mum's disappointment in us both). it was one of the most awkward moments, but I still maintain that's a happy moment and his cooking really did bring us joy… just not in the way he expected. Daniel Audritt: Better Man, The Caves (Just The Tonic), 13:05
My four-year-old asking 'Why are you crying, you didn't like her?' just as the church went quite before the eulogy Cally Beaton, Invisible, Assembly George Square Studios, 17:10
My dad was famous in our family for a flan-flinging incident. So it was only appropriate that his funeral ended in a cake fight. Getting everyone covered in cake whist they were wearing their Sunday best was pretty funny, but the venue we had hired for the wake didn't think so. Samantha Pressdee: Covered, PQA Venue, 16:00
My friend's dad's funeral was one of the maddest things I have ever been to. He lived in Aldershot where there is a huge Nepalese community who brought flowers in carrier bags and were on their phones throughout the service. The priest was furious with how many people came up to be blessed so by the end he was just aggressively tapping each person on the head and shouting: We're going to be late for the crem!' Annie McGrath: Shepherd, Sneaky Pete's, 18:15
My mum punched me cause I Shazam'd the funeral song. Brodi Snook, Handful, Gilded Balloon, 20:15
The lady in the row behind me sang like Florence Foster Jenkins. I had to sit down, shoulders shaking, with my head in my hands. The people either side thought I'd had a breakdown and laid on hands. That was a special moment. John Pendal: Monster, Gilded Balloon, 17:45
There was a wreath among the flowers that said DEAR WIFE. Someone rested more flowers on the bottom right of the R. The wreath then looked like it said DEAD WIFE. I couldn't laugh, pointing it out would have been horribly insensitive and moving the flowers would have looked overfamiliar, so I had to live with the burden alone. Jim Campbell, Beef, Just the Tonic, 17:20
Tickets for Richard Herring's Edinburgh show are available here.
Published: 23 Aug 2019
What do you think?