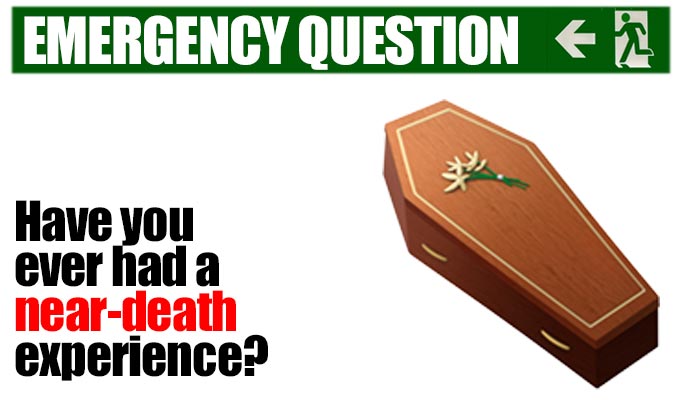 Have you ever had a near-death experience?
A little propeller plane caught fire when I was flying from Paris to Cardiff. Smoke was filling up. I was offered 50 per cent off my next flights as compensation. Thanks, FlyBe! Robin Morgan: What A Man, What A Man, What A Man, What A Mighty Good Man (Say It Again Now), The Pear Tree, 16:05
After a gig in Tooting, I was in a McDonald's. Suddenly two groups of men ran in, involved in some sort of gang violence, and one guy in a motorbike helmet pulled out a huge serrated knife-machete. I tried to remain inconspicuous despite a growing desire to shit my pants. There was a stand-off between the factions for a bit, before those blocking the door indicated us 'civilians' could leave. Maybe they didn't want non-gang blood on their hands. Or maybe, just maybe, machete guy had been in my audience earlier that evening and enjoyed a 20-minute impression of Ringo Starr. We'll never really know. Alexander Fox, Snare, Pleasance, 18:00
An air conditioner fell off a building and landed a step away from me and Dan Audritt in New York. Later that week in a comedy club a guy who looked like Steve Austin threatened to kill me for 'doing an English accent', and was about to until the force of kindness that is Duncan Trussell stepped in. Jamie Oliphant: The Oliphant In The Room, The Tron, 19:41
Bruce Springsteen nearly killed me. I stopped breathing as I looked into his eyes at a festival and had my chest crushed on all sides by the deadly crowd. Don't worry Bruce, I won't be pressing charges cause you're obviously The Boss. Wait a second… that nickname is probably letting him get away with murder! Lucy Farrett: Lois, Underbelly, 17:00
I died twice when I was 17. People say 'did you see light at the end of the tunnel or anything like that?' and I didn't. But I did see the tops of the surgeons' heads when I was in the hospital bed below them tinkering so how on earth was I able to look down and see the tops of their heads? I think I might of been having an out-of-body experience. A friend of mine said, 'Perhaps there were mirrors on the ceiling' but where on earth was this hospital, Peter Stringfellows bedroom?! Harriet Dyer: The Dinosaur Show, Gilded Balloon, 20:15
I got the bends from scuba diving in a lake in Peterborough. I was rushed to the London Decompression Centre and spent 14 hours in one of those tanks they use to explode the first villain in Licence To Kill. That scene was the only thing going through my head. Christian Brighty, Privates: A Sperm Odyssey, Heroes @ Boteco, 17:20
I've been in four different Lyft accidents while riding as a passenger. Two of those accidents have ended with the cars being totalled (deployed airbags, crunch frames, running from a smoking engine like a goddamn Jason Statham movie). I have been insanely lucky to have escaped; but on the plus side, Lyft gave me a $5 credit for each ride. Pretty sweet. Langston Kerman, The Loose Cannon, Underbelly, 19:45
My thirteenth skydive when the parachute malfunctioned. Humble brag, or what? Cally Beaton, Invisible, Assembly George Square Studios, 17:10
Only on a technicality. When I was 18 I was in Cape Town staying with some random people that I had met on my travels. One night I woke up with searing chest pains so was taken to the emergency room where I was hooked up to all kinds of monitors. Left alone in the cubicle, at one point the beep… beep…beep… of the heart machine changed dramatically from that intermittent beep to one long continuous beeeeeeeeeeeeeep! Never have I felt more middle-class as I attempted to get somebody's attention with the pathetic phrase, 'Er...I appear to have died.' After a few minute a burly nurse marched into the room, banged her fist down onto the heart monitor and left again without even commenting on my remarkable survival!" Philip Simon, Who's the Daddy Pig?, Banshee Labrynth, 12:00
Philippa and Will were once caught in a terrorist attack. It was very harrowing. Mainly because it wasn't a terrorist attack but just a lot of people running in one direction. Just These Please: Suitable, Gilded Balloon, 12:15
Tickets for Richard Herring's Edinburgh show are available here.
Published: 14 Aug 2019
What do you think?