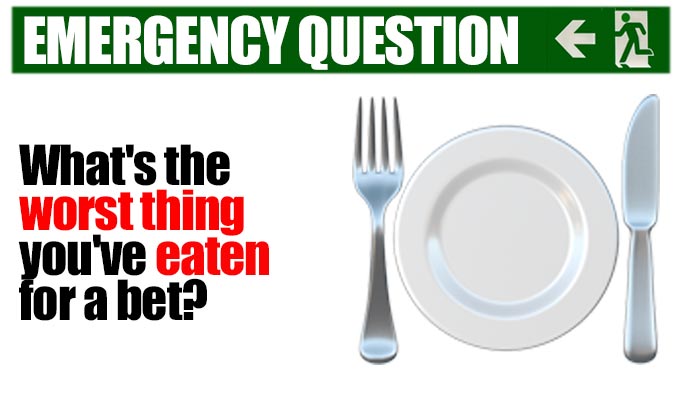 What's the worst thing you've eaten for a bet?
40 chicken nuggets at once. And the prize was proving the fact that I could do it. I paid for them. Winner, winner, chicken nug nugs! Ali Brice, Bin Wondering, Heroes of Fringe, 17:00
A British sausage. Mark Watson made me do it. British sausages are the worst. Danish sausages are the best sausages. I will die on this hill. Sofie Hagen: The Bumswing, Pleasance Dome, 19:00
A cupful of dry whey protein powder once when I was younger. It basically turns into cement on meeting your saliva and I thought I was going to die. Carl Donnelly, Shall We All Just Kill Ourselves?, The SpiegelYurt, 19:40
Durian ice cream in Malaysia. It was like licking a frozen bollock that had been left in a bin for a fortnight. George Fouracres, Gentlemon, Pleasance, 15:30
Fish eyeball. I cheated though and swallowed it like a pill rather than biting into it. Lucy Frederick, Famtastic, Underbelly, 14:50
I once ate a Milk Bone dog biscuit for zero dollars. It's kind of enjoyable if you think of it as a 'meat biscotti' like something to go with tomato soup. Emmy Blotnick, Party Nights, Underbelly, 20:00
I tried to skol a yard glass of Bloody Mary. Like being drowned in a sea of tomato-flavoured napalm. John Robertson, The Dark Room, Gilded Balloon, 21:15
Not so much a bet but one year at the Fringe I ate (drank?) a litre of custard. It was 50 per cent peer pressure, 50 per cent morbid curiosity. I had to go for a walk afterwards. Charles Deane, Any Suggestions, Doctor? The Improvised Doctor Who Parody, Pleasance, 19:00
Two sachets of Whiskers cat food in a race with another guy at uni. There were no winners Richard Stott: Right Hand Man, Gilded Balloon, 12:45
A Scotch Bonnet. The poor hatless lady never saw me coming. Just These Please: Suitable, Gilded Balloon, 12:15
At university I ate 500g of dried apricots followed by a jug of water to prove that they don't rehydrate in your stomach. They do. While in hospital due to the severity of my stomach pains, I told the nurse what had happened and it made her laugh, which made me laugh, which then made me break wind for a full 45 seconds, thereby solving the problem. I was rushed to hospital for a big fart. Please learn from my mistake and never try to replicate this experiment. Stevie Martin: Hot Content, Underbelly Bristo Square, 18:35
I tried to eat a jar of Vegemite for a scavenger hunt. It was the worst because I only got through 2/3rds: all the pain, none of the glory. Daniel Muggleton: Pimpin' Ain't Easy (But I Reckon it's Easier for Straight, White Men?), The Counting House, 16:00
Tickets for Richard Herring's Edinburgh show are available here.
Published: 19 Aug 2019
What do you think?