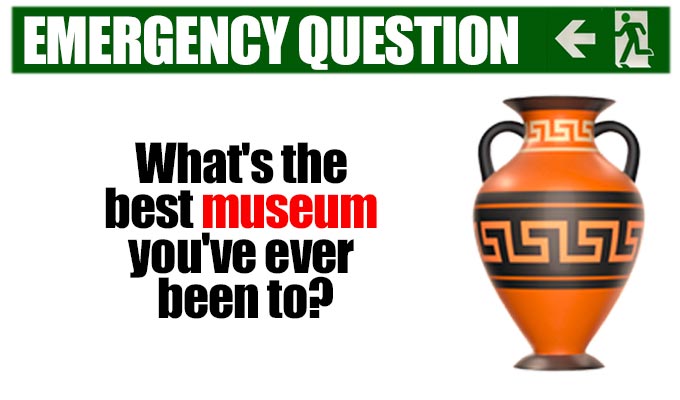 What's the best museum you've ever been to?
Derwent Pencil Museum: Absolute banger. Hayden Wood, Confetti & Chaos, The Principal, 17:00
House Of Marbles! It's a museum about marbles! The little round things! They have a glass blowing factory onsite and you can watch them MAKE marbles! The walls are marble runs!!! Rachel Creeger, Hinayni!, Underbelly, 12:10
I drove eight hours to visit the Lawnmower Museum in Stockport and shot a sketch there. They were very accommodating. https://www.youtube.com/watch?v=iDmV-ulTLNM Joe Jacobs, Grimefulness, Just The Tonic, 16:00
I grew up next to the Salt Museum in Northwich, Cheshire. The town is built on huge salt mines that became too unstable to visit, meaning the museum had to get rid of its one interesting feature. It now consists of two rooms: one has pictures of the mines and the other has a big block of salt with a sign saying DO NOT LICK that I got to first base with. Stevie Martin: Hot Content, Underbelly Bristo Square, 18:35
I went to a museum in the alps which was just loads of terrifying wooden figurines depicting traditional village life. There was one of a dentist pulling a bloke's incisor out, but the best one was a bunch of children killing a pig with knives. I'll remember it forever. Richard Stott: Right Hand Man, Gilded Balloon, 12:45
I went to a tiny Laurel and Hardy museum in Lancashire. There were two dummies of the duo, the old man running the place pulled a string to lift their hats. It was brilliant. Neil Frost, The Establishment: Le Bureau de Strange, Heroes @ Hive, 20:40
I went to a videogame museum in Berlin that was incredible. The highlight was a modified version of Pong that physically punished you when you left the white dot slip past you. Isn't that the most German thing you can imagine? The console either burned you, jolted you with an electric shock, or lashed you with a hard rubber tube. The person who let go of the machine during the punishment lost the game. I won but was nursing and throbbing, blistered hand for the rest of that tour. Nick Prueher, Found Footage Festival: Vol. 9, Underbelly Cowgate, 22:40
My girl and I were walking around Hollywood and we stumbled upon a building called Psychiatry: An Industry If Death Museum. Sure, it sounds a little off-putting, but we thought it might have a few wild stories about strange happenings in the field of psychiatry. Instead, it turned out to just be a propaganda tool for The Church of Scientology. Most of the rooms were filled with pictures of famous people who've committed suicide all because they didn't accept the volcano aliens as their lord and saviour. Also, there were plenty of informational videos about why your kids should never take Prozac and instead should just watch Tom Cruise do push-ups when they feel sad. And at the very end a lady who made way too much eye contact tried to take our home address and she tried to give us pamphlets, which I can only assume had a location tracker imbedded somewhere in the pages. Long story short, we had a wonderful time. Langston Kerman, The Loose Cannon, Underbelly, 19:45
On a family holiday we went to Ronda in Spain. There was a really ropey museum with a 'witchcraft' room. It had a statue a devil type thing with the most enormous erect penis. The 13-year-old stepson was beside himself Lucy Frederick, Famtastic, Underbelly, 14:50
The Leprechaun Museum, in Dublin. The man on the front desk had a vendetta against TripAdvisor Reviews. 'They say there's no Leprechauns in the Leprechaun museum,' he complained. 'But there's no Anne Frank in the Anne Frank museum, either.' Luke Rollason's Infinite Content, Monkey Barrel, 12:00
The Museum of Sex in NYC; fascinating, intriguing and it had a bouncy castle in the shape of tits!!! Ros Ballinger, Better Than Dying Alone, Sweet Grassmarket, 21:30
The Pitt Rivers Museum in Oxford has a collection of shrunken heads on display, which is basically all anyone wants from a museum I think. Annie McGrath: Shepherd, Sneaky Pete's, 18:15
The Stockport Hat Museum. You can try on the hats! Jayne Edwards is Top Bodybuilder Brian, Heroes @ Dragonfly, 22:00
The wax museum of serial killers at Niagara Falls. None of them looked anything like who they were meant to. And that's when I discovered that I was an expert at identifying serial killers! Yay. David Tieck, What Would Bill Murray Do?, Just The Tonic at the Grassmarket Centre, 18:00
Tickets for Richard Herring's Edinburgh show are available here.
Published: 18 Aug 2019
What do you think?