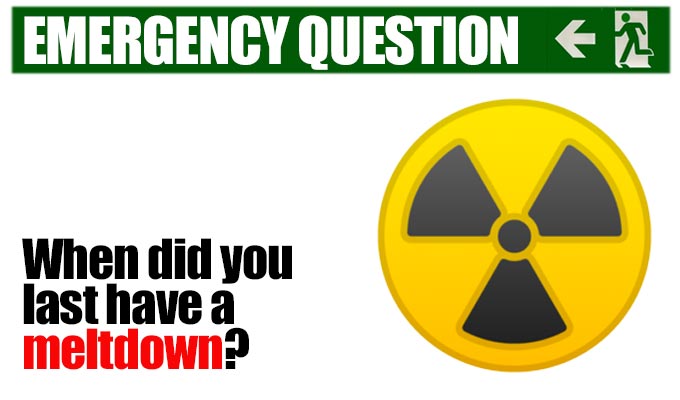 When did you last have a meltdown?
At the Edinburgh Fringe 2018. I got lost and missed a show I'd bought a ticket for. Had a fully on paddy, screaming and crying in the street. Luckily the Fringe is fully of drama queens so no-one was really bothered by my hysterics. They probably thought I was performing a show. Samantha Pressdee: Covered, PQA Venue, 16:00
Tesco last week. I'm not proud of it but I was a little over-tired and in my defence the self service started it and she was being incredibly patronising. I have put it in the bagging area you stupid bloody robot! OK fine do you know what? I'm leaving it! I don't even want it anymore!! You win! Are you happy now? Are you?! Daisy Earl, Fairy Elephant, Guilded Balloon - Patter Hoose, 16:00
'You say road rage, I say meltdown.' My most epic meltdown was a few years ago when I was driving my three-year-old to school. City traffic was nuts. San Francisco city driving is just gross, it's stop and go and uphill and stop and go and downhill. It's brutal. I stopped at a stop sign and there was a million cars going by, it was not easy to cross over, the driver behind kept honking and honking, then as she tried to pass me on the left – not a big deal to you Brits but a major no-no in the rest of the world - I not only blocked her with my light grey CR-V but I also classily put both hands out of my window and gave the driver not one but two middle fingers. When the driver was at my height, yelling at me, I saw that the driver was Aurelien's mom. Aurelien was in my daughter's class. We were five blocks away from school, she followed me until we reached drop-off. When we got out to bring out kids in, I was ready to stand behind my fingers and crack some kind of joke but she gave me a Prozac smile and pretended like nothing happened. So I did too because clearly I had won. Moral of the story, never give anyone a middle finger within a five-block radius of your kid's school. Clara Bijl ,Internationally Unknown, Just the Tonic, 14:10
Answering this questionnaire. Meltdowns are a daily habit of mine. While typing this I've sent a friend an emergency request for encouragement. I'll show you the WhatsApp message when next we meet if you need proof. Juliette Burton: Defined, Gilded Balloon Teviot, 17:30
Couple weeks back - was on a comedown and found myself crying to Mulan. Archie Maddocks, Big Dick Energy, Mash House, 16:50
Dependant on when this gets published there's a 25 per cent chance I'm currently crying into a pile of flyers somewhere along Cowgate. Josh McAuley, Gloria Hole presents: The Clinic, Sweet Grassmarket, 22:10
Every time I order a sausage McMuffin at McDonald's and get served a sausage and egg McMuffin. Hey McDonald's, there is an item on your menu called an F'n sausage McMuffin; there is a separate item called a sausage and egg McMuffin. I know the f'n difference and asked for the one I wanted by the exact name your menu calls it! It's infuriating. And happens all the time. You bastards. Plus sometimes my hash browns aren't salted. I hate you. I hate your business. And I Hate Everything you stand for. Seeya next time I'm awake before 10:30. David Tieck, What Would Bill Murray Do?, Just The Tonic at the Grassmarket Centre, 18:00
Haven't had one before really. I did spend half of 2018 living in my parents' shed, chain-smoking joints and reading niche fantasy novels but I also had a lovely time Andy Field's Funeral, The Caves, 14:10
I like to have at least one meltdown before 11am each day. I live for drama Catherine Cohen, The Twist? She's Gorgeous, Pleasance, 22:45
In my old show, I did a drum solo and then threw my drumsticks against the back curtain (which triggered a sound effect). One day, I thought it'd be cooler to throw them over the audience's heads. But I accidentally hit a teenage boy full in the face and cut his cheek. Needless to say, I had a full-on meltdown onstage: apologies, tears, telling the audience this will be my last ever show before getting fired, you name it. But afterwards, the boy and his family were totally fine, and Sean from Pleasance pissed himself laughing at me. Cold sweat about it still. Alexander Fox, Snare. Pleasance, 18:00
This morning on the phone to the EE man. He said 'basically the router has had an identity crisis and has forgotten who it it' Annie McGrath: Shepherd, Sneaky Pete's, 18:15
When my girlfriend shouted: 'June Sarpong is dead' then I remembered I'd named one of our houseplants June Sarpong. Richard Stott: Right Hand Man, Gilded Balloon, 12:45
Tickets for Richard Herring's Edinburgh show are available here.
Published: 17 Aug 2019
What do you think?