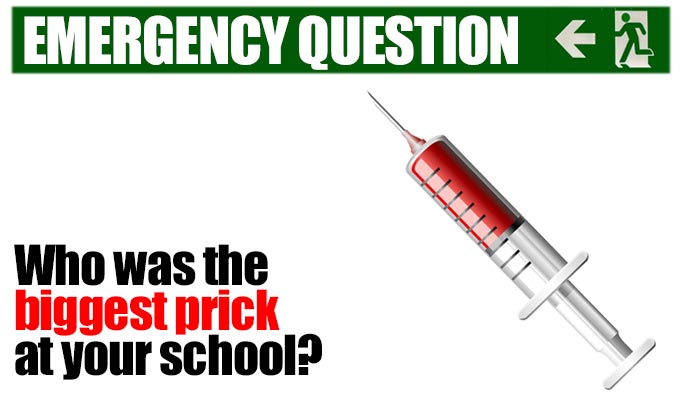 Who was the biggest prick at your school?
A boy at school called Joe used to brag about the size of his balls but I think that was actually quite a serious medical condition. Just These Please: Suitable, Gilded Balloon, 12:15
A girl called Rachel, she used to bully everyone! Including me, now I would like to say that karma got the better of her in life, but she actually went on to become Stormzy's big sister. So that's just great. London Hughes, To Catch A D*ck, Pleasance Courtyard, 20:15
A guy who called me 'a f***ing gay' and a 'fag' and bullied me almost every day for three years. Then his married dad ran off with a male stripper. I know it's brutal, but I don't care, the irony is too delicious. Alexander Fox, Snare, Pleasance, 18:00
It was probably me. Always getting into mischief. Once I scratched 'you smell' with a compass into another student's chair. (I was 10.) My mum always believed I had been falsely accused of the criminal damage. She defended me vehemently against the headteacher. If this is published, sorry mum! Samantha Pressdee: Covered, PQA Venue, 16:00
A kid who insisted that Tupac had faked his death and worked in a chip shop in Hornchurch. If you questioned this he'd hit you. He was strangely insecure about it. Jim Campbell, Beef, Just the Tonic, 17:20
Are we allowed to say their name? Isobel Finley. I wanted to be a boy, I cried in the bath when I was five saying, 'I thought I would've grown a willy by now.' Word may of got back to her or perhaps it was my odd fashion choices like chino's, DM's, Ozzy Osbourne sunglasses, beanie hat resting on head and shirt with Edwardian ruff when all the other girls were wearing dresses on non-uniform day. Anyway, I went to the toilet one day and she kicked the door down, came bursting in and said, 'I've heard you want to be a boy, is this true?' 'Yes!' I said, 'Why?' I'm not sure this was the answer she expected as she just muttered, 'Just wondering,' propped the door back up and skulked off. Harriet Dyer: The Dinosaur Show, Gilded Balloon, 20:15
Deano. Once the teacher said: 'Deano, good teachers only use threats they'll actually carry out so hear this - if you carry on ruining this class for even a minute longer - I will throw you out of the window.' It was a third floor room. Jessica Fostekew, Hench, Monkey Barrell, 13:30
My drama teacher. Told me I was too camp to ever be an actor. She was right but it seemed an unnecessarily harsh lesson for a 13-year-old to learn. Josh McAuley, Gloria Hole presents: The Clinic, Sweet Grassmarket, 23:10
The guy who hid in the bushes wearing camo jacket, concealing BB gun waiting to ambush the elderly French teacher who gave him detention. Seriously. He's no doubt dead by now. Richard Stott: Right Hand Man, Gilded Balloon, 12:45
Probably a couple of the guys that joined Isis. Archie Maddocks, Big Dick Energy, Mash House, 16:50
Almost certainly me. Aaron Simmonds: Disabled Coconut, Underbelly, 13:30
Tickets for Richard Herring's Edinburgh show are available here.
Published: 16 Aug 2019
What do you think?