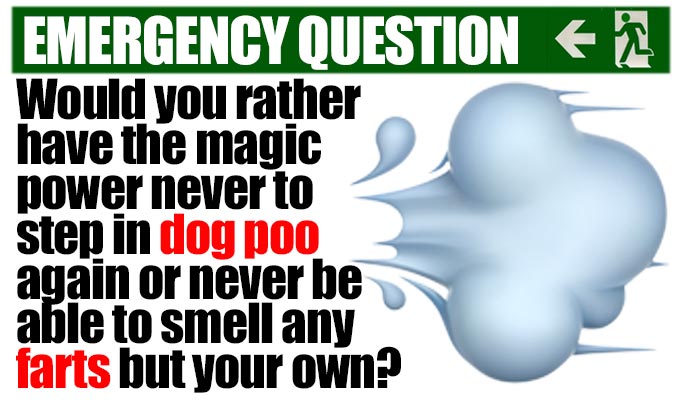 Would you rather have the magic power never to step in dog poo again or never be able to smell any farts but your own?
100% not smell farts. Anyone who has been trapped on an airplane next to a 12-year-old with an undiscovered lactose intolerance will agree. Dog poo can be avoided. Ro byn Perkins, Mating Selection, Underbelly (Bristo Square), 17:50
Anyone who is picking the dog poo option is stepping in a weird amount of dog poo. Just look where you're walking, dummy. It's not that hard. You can't dodge farts. I pick farts. Langston Kerman, The Loose Cannon, Underbelly, 19:45
Definitely the dog poo one. I don't mind the smell of farts. I mean I don't enjoy it I just don't find it as obscene as other people seem to. I do join in and pretend I find it obscene though otherwise people think you're weird. Dave Green: Guest Bed, Just The Tonic, 19:55
Dog poo step-in superpower. I don't like the smell of other people's farts, but they're interesting sometimes. George Egg: Movable Feast, Assembly George Square Gardens, 16:30
Never to step in dog poo! It is the worst I'd rather be shot point blank with a paintball gun then clean up that. I know that's a niche example but I think it's a realistically calculated one. Richard Stott: Right Hand Man, Gilded Balloon, 12:45
Dog poo, a good fart is always a good way to check that you're still alive. Erich McElroy: Radical Centrist, Laughing Horse - Bar 50, 14:15
My farts could exterminate a wasps' nest, so I'm going to have to go with never stepping in dog poop again! Lucy Farrett: Lois, Underbelly, 17:00
Dog poo, I like calling people out when they fart Dominic Goland, Live for a Dead Audience, Carnivore, 21:50
I wouldn't want to remove 99 per cent of the laughter from our house, so it would have to be the dog poo. John Pendal: Monster, Gilded Balloon, 19:45
Dog poo. Smelling other people's farts is one of life's great pleasure. Especially if you sniff loudly, look at them, smile wildly, and say "yes, you'll do, you'll do just fine". David Tieck, What Would Bill Murray Do?, Just The Tonic at the Grassmarket Centre, 18:00
Never step in dog poo, so presumably I could paint the streets with it and hover everywhere. Colin Chadwick: Quick Thinker, Sneaky Pete's, 14:30
I don't think I'm getting into Hogwarts on either of those powers alone, so I'll pass thanks. Robin Morgan: What A Man, What A Man, What A Man, What A Mighty Good Man (Say It Again Now), The Pear Tree, 16:05
Tickets for Richard Herring's Edinburgh show are available here.
Published: 22 Aug 2019
What do you think?