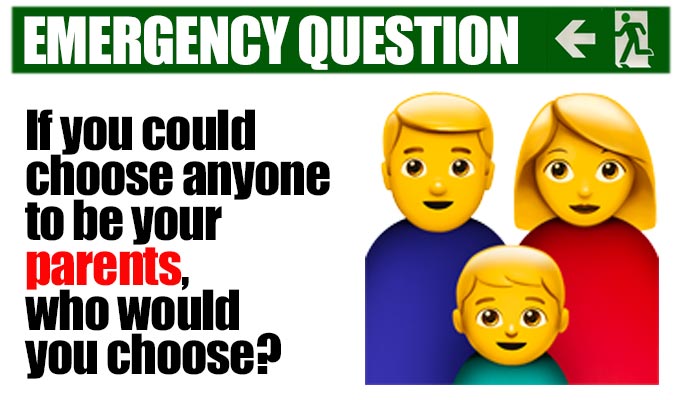 If you could choose anyone to be your parents who would you choose?
Bill Nighy as my dad. And Katey Sagal but only if she was in character as Margaret 'Peggy' Bundy. Simon Caine, Every Room Becomes a Panic Room When You Over, Sweet Venues, 20:35
Cher and just Cher Eli Matthewson, An Inconvenient Poof, Underbelly, 21:20
Eve (from the Bible) and the Serpent. (Not Adam, too wimpy, wouldn't eat the apple till Eve suggested it then blamed it on her) Lloyd Evans, Cherie - My Struggle, Imagination Workshop, The Principal Edinburgh, George Street, 22:30
Hitler and Mother Teresa. I would just love to see if it's possible for two people to get along worse than my actual parents. David Tieck, What Would Bill Murray Do?, Just The Tonic at the Grassmarket Centre, 18:00
Michael Sheen and David Tennant Ben Van der Velde, Fablemaker, 32 Below, The Free Festival, 17:05
I always wanted the Weasleys to adopt me. Caitlin Cook: Death Wish, Just the Tonic, 17:50
I'd choose my kids to be my parents, they would be the best parents, no rules, no chores, I would never have to put shoes on, I'd never have to wash, speak, eat anything green, I would ask for TV and I'd get it. 'Bed time? I'm sorry, what's that?' They be the best worst parents. Clara Bijl, Internationally Unknown, Just the Tonic, 14:10
Jen. She was a lovely lady who dragged her 17-year-old son to my kids' show purely because she thought a drag queen would be the most likely person to persuade him away from the idea of getting a face tattoo. Josh McAuley, Gloria Hole presents: The Clinic, Sweet Grassmarket, 23:10
Kris Jenner and Barack Obama Melinda Hughes, Off the Scale, Assembly Rooms, 16:50
Paris Hilton. Or anyone that inherited a fortune and also disappointed their parents. I'd get the money without the pressure of the big shoes to fill. Radu Isac: Good Excuses for Sociopaths, Just the Tonic, 20:30
Skippy the Bush Kangaroo - a single mother that would carry me around all day, can tear up bad guys with her lightening fast kick and save people from a burning house… what a badass! It was really a toss up between Skippy and Lassie, but the whole pouch thing swung it cause I'm a lazy bitch, Mama. Lucy Farrett: Lois, Underbelly, 17:00
Statler and Waldorf George Fouracres, Gentlemon, Pleasance, 15:30
Tickets for Richard Herring's Edinburgh show are available here.
Published: 13 Aug 2019
What do you think?