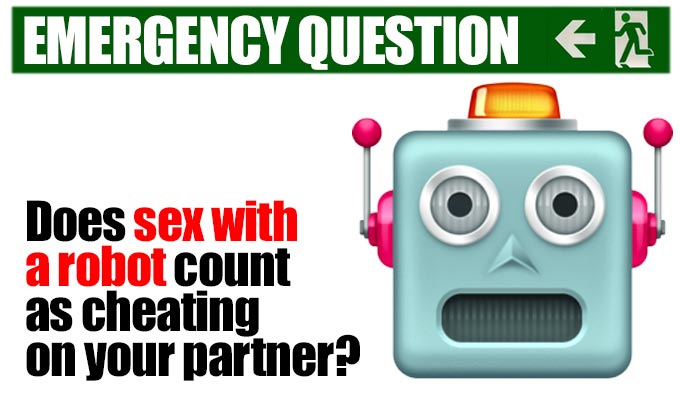 Does sex with a robot count as cheating on your partner?
Apparently Anna & Helen, Stuck in a Rat, Pleasance, 17:45
Depends if your partner is also a robot. If you're dating a blender, then they've got to make allowances. Luke Rollason's Infinite Content, Monkey Barrel, 12:00
Depends very much on the robot, with Megatron or Rosie from the Jetsons then yes, but with a vending machine or Matilda from Robot Wars no. Colin Chadwick: Quick Thinker, Sneaky Pete's, 14:30
Dildos are a thing. Sex with a robot is just the next step... And we're cool with it. The Noise Next Door's Comedy Lock-In, Pleasance, 22:50
Have you installed cameras in our dressing room? Mat Morrisroe, Massaoke Mixtape, Assembly, 23:30
No, it counts as vandalism. John Robertson, The Dark Room, Gilded Balloon, 21:15
'Nope! Isn't that one of Asimov's laws of robotics? 1. A robot may not injure a human being or, through inaction, allow a human being to come to harm. 2. A robot must obey orders given it by human beings except where such orders would conflict with the First Law.3. A robot must not tell your wife about any orders you make under the Second Law. ' Tom Cashman, XYZ, Underbelly, 20:10
Of course, but C-3PO is on both me and my boyfriend's hall pass list Eli Matthewson, An Inconvenient Poof, Underbelly, 21:20
Only if your sex life has droid up. Tom Clarkson & Owen Visser, Mr Thing, Pleasance Dome 10:20:00 pm
Until they're self-aware, they're just a sex machine. I wouldn't be mad at my partner for playing a with a dildo. Stick that on a human shape, it's still a dildo. Good for her. Enjoy your evening. Eric Lampaert, Borne Of Chaos, The Counting House, 16:15
Why do you ask? Has a robot said something about me? Are they interested?! Sophie Duker, Venus, Pleasance, 19:00
Depends on how sentient the robot is obviously. I think if you shag your Alexa speaker you're alright but if its a highly advanced AI robot then I reckon you're in murky waters (in relationship terms as well as just in general). Carl Donnelly:Shall We All Just Kill Ourselves? The SpiegelYurt 19:40
Yes. Unless the robot looks like your sister. It which case it's also creepy. The Two Little Dickheads: Kapow Just The Tonic at The Charteris Centre, 10:40pm
Tickets for Richard Herring's Edinburgh show are available here.
Published: 12 Aug 2019
What do you think?