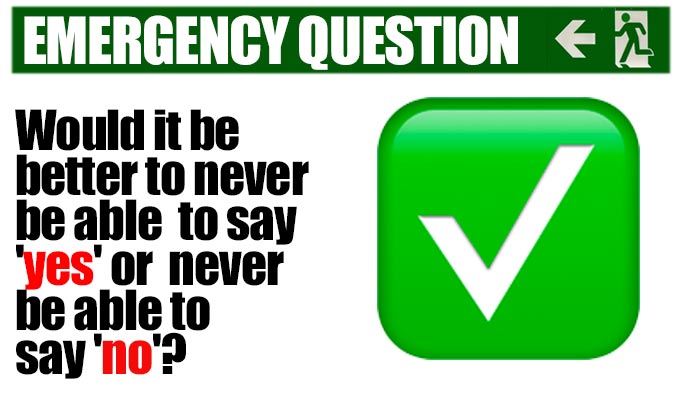 Would it be better to never be able to say 'yes' or never be able to say 'no'?
Maybe. Ali Brice, Bin Wondering, Heroes of Fringe, 17:00
As a big improv nerd, I have to be able to say yes. So I'd go with never saying no. But I'd fear for my personal safety. But a life of constant danger would be worth it for good improv scenes. Flora Anderson, Romantic, Underbelly, 15:10
I feel like a yes-man in no-man's-land answering this. Lloyd Evans, Cherie - My Struggle, Imagination Workshop, The Principal Edinburgh, George Street, 10:30
I'd go with never being able to say 'yes', just because that's easier to fix with double negatives. Although it would be annoying: 'I don't NOT want a cup of tea Ted since you're asking, thanks mate.' poor Ted'll be so confused bless him. Jon Long, Planet-Killing Machine, Underbelly Bristo Square, 21:30
It would be much better to only be able to say yes. Oh the stories. That and I have major FOMO. Robyn Perkins, Mating Selection, Underbelly (Bristo Square), 17:50
People who say "I'm learning to say no more" are the worst and are not to be trusted Chris Parker, Camp Binch, Assembly, 18:50
I feel like British people have figured out how to say 'no' with 3 'yeses'. Future generations will probably eliminate negations all together. Radu Isac: Good Excuses for Sociopaths, Just the Tonic, 20:30
We live in a world where 'no' isn't heard or understood enough, so maybe if we ban it and start a new word instead that might have more success? John Pendal: Monster, Gilded Balloon, 19:45
Well you could always say 'know' and know-one would no the difference. Anna & Helen, Stuck in a Rat, Pleasance, 17:45
I'm a socially awkward Irish person, I would love to say 'no'. I'd be happy to swap all my words for that and just say 'no' over and over again until I die due to refusing medical help or whatever. Colin Chadwick: Quick Thinker, Sneaky Pete's, 14:30
Never being able to say yes. I really like staying home. Sarah Keyworth, Pacific, Pleasance Courtyard, 17:45
As an improvisor, obviously 'yes and…' is meant to be the most important thing but I kind of think we could get away with just 'and'. Eli Matthewson, An Inconvenient Poof, Underbelly, 21:20
Tickets for Richard Herring's Edinburgh show are available here.
Published: 11 Aug 2019
What do you think?