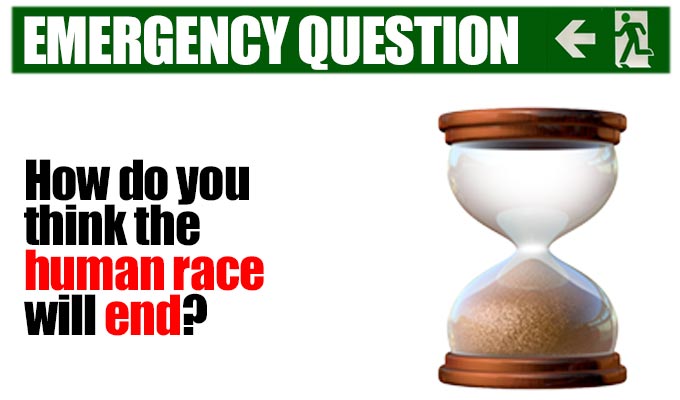 How do you think the human race will end?
A diamond encrusted meteorite. So deadly, yet so beautiful. Two Little Dickheads: Kapow!, Just The Tonic at The Charteris Centre, 22:40
An avocado shortage Nerine Skinner, The Dots, The Principal Hotel, George Street, 20:00
Boris Johnson Daisy Earl, Fairy Elephant, Guilded Balloon - Patter Hoose, 16:00
Climate change. Sorry, wait, this is supposed to be funny. Okay, climate chan–damnit! It's climate change, sorry guys. Caitlin Cook: Death Wish, Just the Tonic, 17:50
Dating apps. With too much choice, people will gradually stop meeting (apart from the average hookup) and eventually we will all die lonely and single. I swear that didn't sound as depressing when I thought of it. Robyn Perkins, Mating Selection, Underbelly (Bristo Square), 17:50
Enforced participation on Love Island Rachel Creeger, Hinayni!, Underbelly, 12:10
I don't think it will because I have it on good authority that we are actually living in a dream and if you consider the billions of brains that exist out there it means there is an infinite fractal of realities in existence. Or robots. Eric Lampaert, Borne Of Chaos, The Counting House, 16:15
I think Alexa will eventually get bored of giving me compliments and murder us all. James Barr: Thirst Trap, Underbelly Cowgate, 17:20
I've long favoured a fast spreading airborne disease as most likely, but I'm CHEERING for a Fry Pan Demi-god Pandemic. David Tieck, What Would Bill Murray Do?, Just The Tonic at the Grassmarket Centre, 18:00
In a huge war over some resource we didn't even know we cared about, like cotton buds or something. Eli Matthewson, An Inconvenient Poof, Underbelly, 21:20
Mass suicide when David Attenborough dies. Jayne Edwards is Top Bodybuilder Brian, Heroes @ Dragonfly, 22:00
Not sure but looks increasingly like it will be in my lifetime so can't wait to find out! Annie McGrath: Shepherd, Sneaky Pete's, 18:15
Trump and lava Liza Treyger, In The Weeds, Underbelly, 22:35
I think it's pretty obvious we're about done here. Climate change will spiral and we will all be erased like the shake of an etch-a-sketch. Maria Shehata, Hero, Tolbooth Market. 17:15
With some prick saying, 'Oh yeah, well watch this…' Ian Smith: Half-Life, Underbelly, 17:15
Tickets for Richard Herring's Edinburgh show are available here.
Published: 9 Aug 2019
What do you think?