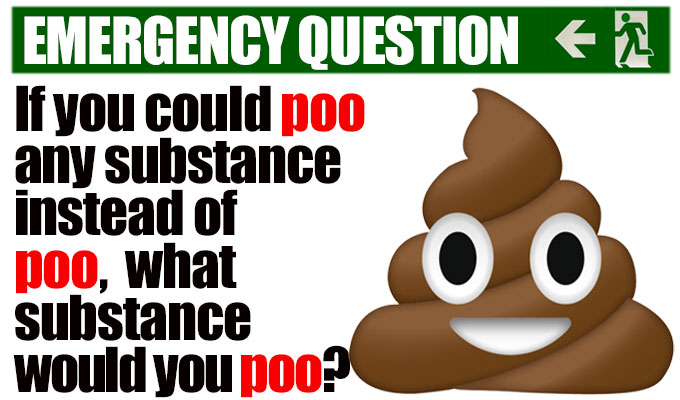 If you could poo any substance instead of poo, what substance would you poo?
£50 notes. And whenever I needed a poo a huge grin would creep across my face. Flora Anderson, Romantic, Underbelly, 15:10
A fishing rod. Then I could say 'Shit got reel' Darren Walsh: Punimal Farm, Three Sisters, 18:30
Kitchen roll, because that's always good to have at hand. "What's that? You've spilled? ... *unbuckles trousers* ... not a problem!" Jon Long, Planet-Killing Machine, Underbelly Bristo Sq, 21:30
There are so many sanitary questions that need to be answered in order to fully answer this question. Does the substance that replaces the poo still act as poo? Is it going to make me ill if I say ice cream and want to eat it? Is it unlimited so I can say silk and make money? Will my insides be able to cope with the new substance? Like this is a whole conversation that needs to be had here. Richard Wright Is Jut Happy To Be Involved, Opium, 14:50
Toilet Paper Dave Green: Guest Bed, Just The Tonic, 19:55
World peace IS THAT WHAT YOU WANT?! Hayden Wood, Confetti & Chaos, The Principal, 17:00
A lovely risotto. The Delightful Sausage: Ginster's Paradise, Monkey Barrel, 12:00
Coffee. I would work in a cafe and take great pleasure in offering refills at the table. Ed MacArthur: Humoresque, Voodoo Rooms, 14:00
Either money or weed. Probably money though because it'd be weird to smoke weed that came from my bum but I could use the money to buy weed that's hopefully not been in anyone's anus. Andy Field's Funeral, The Caves, 14:10
Avocado - in case there is a shortage Nerine Skinner, The Dots, The Principal Hotel, George Street, 20:00
A dove. I would like to poo a white dove. Raphael Wakefield: Wengerball, Assembly, 13:20
Flamingos, I really like flamingos. Harriet Dyer: The Dinosaur Show, Gilded Balloon, 20:15
For me: something soft and solid that leaves no residue, like plasticine. And it would be multicoloured to cheer you up. For my enemies: glitter. John Pendal: Monster, Gilded Balloon, 19:45
Published: 6 Aug 2019
What do you think?