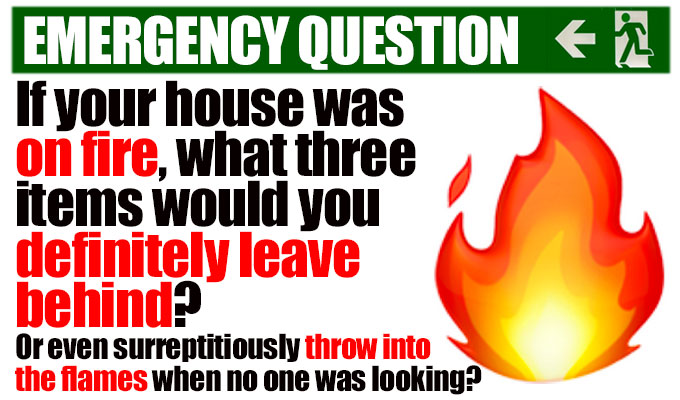 If your house was on fire what three items would you definitely leave behind?
Richard Herring starts a run of his RHLSTP at The Stand's New Town Theatre tonight. And you may well hear Emergency Questions like this one, which we put to a bunch of Fringe comedians...
---
The replica Lord of the Rings sword my husband got on his stag do. Sorry, Tom, but fuck it, it's gross. The fish tank - I hate those stupid fish. All my pyjamas - I love buying new pyjamas and this would be a great excuse. Laura Lexx: Knee Jerk, Gilded Balloon, 17:15
I would throw into the flames: 1. My smartphone phone, because it's probably destroying my soul. 2. That old bra that I probably should have thrown away 10 years ago. 3. A toilet book, cause let's face it, books that live in the toilet are gross and probably riddled with bacteria. Lucy Farrett: Lois, Underbelly, 17:00
I'm a low-key hoarder, so arson is probably the only way out at this point. Burn, crappy artwork a cute kid gave me in Cape Coast! Combust, BBC lanyards I've kept for no apparent reason! Sizzle, portion-sized sachets of condiments I collect just in case I'm caught out by bland food! Imma rise from those ashes like a minimalist phoenix. Sophie Duker, Venus, Pleasance, 19:00
I'd leave behind my matchbooks, wood stockpile, and collection of gasolines. Zach Zimmerman, Clean Comedy, Gilded Balloon, 22:45
A pair of green jeans I bought in a mistaken fit of confidence and bad taste; the collection of poetry I wrote aged 16 entitled Crawl On, Time; and a pair of shoes that don't really fit me but I periodically wear rather than admit they were a total waste of money. Rob Oldham: Worm's Resolve, Counting House, 21:00
My kid's headphones which are currently used to block out anything I am saying, photos of myself from ages 6-10 (very bad glasses and clothes like a bored panda listicle), this laptop. Rachel Creeger, Hinayni!, Underbelly, 12:10
My partner's gold curtains. Anything with tassels. Anything embroidered. I'm gay but I'm not that gay. John Pendal: Monster, Gilded Balloon, 19:45
That £20 pasta maker my husband bought me for Christmas, I don't care whether Oprah recommended that maker or not, I'm throwing that shit in the fire. 80 per cent of my kid's plush toys, you can't donate push toys, you're only allowed to let them collect dust forever, they're going in the fire. Then I'd take advantage of the fire to burn that awful no-baby-making fleece grandma robe my mother-in-law bought me that one time. Clara BIJL, Internationally Unknown, Just the Tonic, 14:10
Tube of super glue, roll of cling film and the 13 tog duvet. Good riddance to them all. Danny Ward: Danny's Got Talent, Banshee Labyrinth, 15:35
We've got some big bags of hair, teeth and skin under the floorboards. A fire would be a Godsend to be honest with you. The Delightful Sausage: Ginster's Paradise, Monkey Barrel, 12:00
I would let everything burn. Maybe then my landlord might decorate. Martha McBrier, Happiness Bully, Counting House, 19:15
Published: 2 Aug 2019
What do you think?