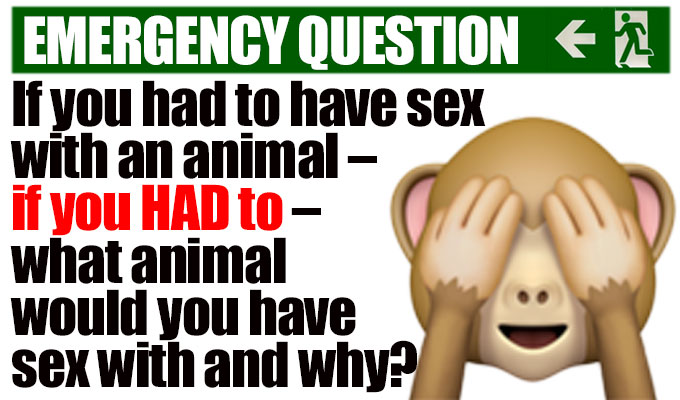 If you had to have sex with an animal - if you HAD to - what animal would you have sex with and why?
A bee. They're dying out and I'd be proud to do my bit. Christian Brighty, Privates: A Sperm Odyssey, Heroes @ Boteco, 17:20
A blue whale because I feel like I wouldn't really be imposing on him that much. Chris Grace, Voldemort and the Teenage Hogwarts Musical Parody, Assembly, 13:30
A butterfly. At least it's pretty, and once you crush it you'll never have to know if you were any good. John Robertson, The Dark Room, Gilded Balloon, 21:15
A dolphin. Dolphins are legit sexy. Intelligent. Elegant. Slippery. What more can you ask for? The Noise Next Door's Comedy Lock-In, Pleasance, 22:50
Humans actually ARE animals so I'd say a human and anyone who says otherwise is a real sicko. But also a pig I guess. Tom Ballard – Enough , Monkey Barrel, 21:00
Animal from the Muppets so we could have amazing little drum babies we could build a great insta following for. Mat Morrisroe, Massaoke Mixtape, Assembly, 23:30
Do Thundercats count? Tom Clarkson & Owen Visser, MR. THING, Pleasance Dome, 22:20
I had sex with a dog for three years. His name was John and he cheated on me. Zach Zimmerman, Clean Comedy, Gilded Balloon, 22:45
Something without teeth Aisling Groves-McKeown, Notflix, Gilded Balloon Teviot, 18:00
Teenage Simba from the Lion King. I don't think this needs explaining, am I right ladies?! Brodi Snook, Handful, Gilded Balloon, 20:15
That kangaroo that was really muscular. But he's a little out of my league :( Jayne Edwards is Top Bodybuilder Brian, Heroes @ Dragonfly, 22:00
A frog because he might turn into a prince. Samantha Pressdee: Covered, PQA Venue, 16:00
This is so obviously a trick question. I can see the headlines now. Hot young comic in Disney bestiality scandal. Nope. Not today, Satan. Sophie Duker, Venus, Pleasance, 19:00
Published: 1 Aug 2019
What do you think?