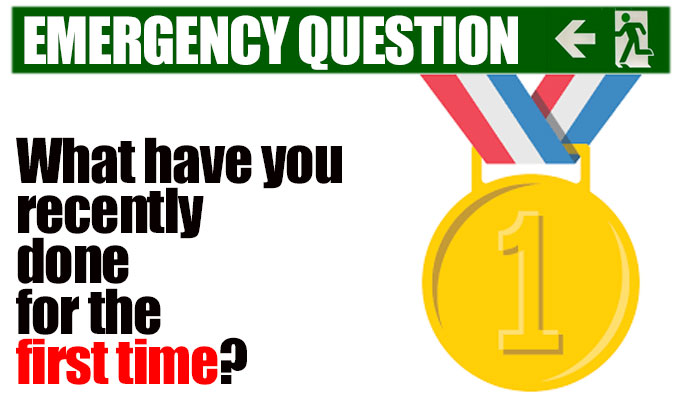 What have you recently done for the first time?
Eaten an avocado. They're like a savoury banana. Definitely not a fan. James Gamblin, Any Suggestions Doctor? The Improvised Doctor Who Parody, Pleasance Dome, 19:00
I've started to learn to skateboard (at the age of 32) because I've always wanted to learn but was shit at balance as a kid (I'm worse now). I keep falling over and have teenagers at the skate park laughing at me. On the plus side, it's given me such a thick skin that I doubt any negative review in Edinburgh will hurt me. Simon Caine, Every Room Becomes a Panic Room When You Over, Sweet Venues, 20:35
Climbed a mountain. Toubkal in Morocco, which is the third-tallest in Africa. I assumed that made it an impressive global feat, but it turns out it's not even in the top 100 tallest mountains in the world. A pathetic achievement. Joz Norris Is Dead. Long Live Mr Fruit Salad., Heroes @ The Hive, 16:40
Gone to Glastonbury. I don't remember any of it, so I think I now have to go back next year, which is a pity because it's really expensive. Luke Rollason's Infinite Content, Monkey Barrel, 12:00
I took a pottery class which was absolutely a cry for help. Catherine Cohen, The Twist? She's Gorgeous, Pleasance,22:45
Snorkelled! I swam with some of the extras of Finding Nemo and didn't drown whilst doing so, so upon reflection all the kicking and screaming of 'I'm going to fucking drown to death in this fucking sea!' I may have been a tad dramatic. London Hughes, To Catch A D*ck, Pleasance Courtyard, 20:15
I recently ran backwards for one mile to see what it's like, I wouldn't recommend it. Neil Frost, The Establishment: Le Bureau de Strange, Heroes @ Hive, 20:40
I recently switched to 'natural' deodorant, which has been immensely helpful to make sure that after about three hours I smell like a prostitute at a farmer's market. Sure, I smell like I'm selling ass, but it's very organic, grass-fed ass. Langston Kerman, The Loose Cannon, Underbelly, 19:45
I recently went to Las Vegas and gambled for the first time. I won $50 on the first $1 I ever entered into a slot machine. I, against my better judgment and all logic, then proceeded to lose $150 over the course of my trip by returning to the same slot machine and entering in $1 each time. Caitlin Cook: Death Wish, Just the Tonic, 17:50
I went to the circus. I think it was a slightly bourgeois one though - not the usual fare I'd expected from seeing posters on motorway bridges. Lots of pink, well-presented Chiswick children guffawing at very classy performers, and Rachel Weisz was there.Jack Moon: We Cannot Get Out, Pleasance Courtyard, 21:30
Now I'm 30 I have started to call everyone 'dallin'. Being from a Welsh working-class background, this is the sign that you are now a woman. It is an honour to carry on this great tradition. Jayne Edwards is Top Bodybuilder Brian, Heroes @ Dragonfly, 22:00
Flyboarding. Google it. It's nuts. Sarah Keyworth, Pacific, Pleasance Courtyard, 17:45
I climbed Ben Nevis. Before that, I was a Ben Novice. Darren Walsh: Punimal Farm, Three Sisters, 18:30
Joined a dating app. Material aplenty. Juliette Burton: Defined, Gilded Balloon Teviot, 17:30
Published: 29 Jul 2019
What do you think?