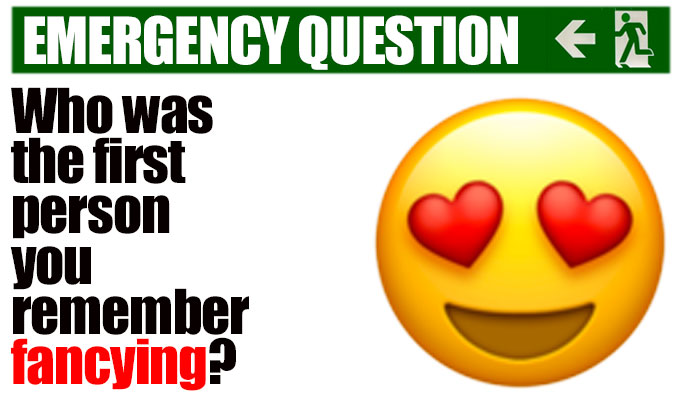 Who was the first person you remember fancying?
April O'Neill from the Ninja Turtles cartoon. I felt weird and wanted to eat her. Not sexually. I wanted to eat her for my tea. I was very young. Will Duggan: Class Two, Pleasance Courtyard, 15:15
Blackadder. Not Rowan Atkinson. *Blackadder* Jayne Edwards is Top Bodybuilder, Brian Heroes @ Dragonfly, 22:00
I had a crush on my third grade teacher Ms. Little. It is worth noting that the entire time that I had her as a teacher Ms. Little was pregnant. Still, I had somehow convinced myself that the baby was mine and that we would eventually run away together to one of the 35 states I had memorised from geography class. On the first day that she returned to school after maternity leave, she showed back up with her newborn and husband (who worked at the post office), and I spent the entire day scowling at this strange man who was claiming MY woman and holding MY baby. Langston Kerman, The Loose Cannon, Underbelly, 19:45
Cerys Matthews from Catatonia. And the Cadbury's caramel rabbit. Ben Van der Velde, Fablemaker, 32 Below, The Free Festival, 17:05
My babysitter's boyfriend. I was a very creepy five year old. Harriet Braine, Les Admirables, Gilded Balloon 18:00
My cousin Lucy. Actually it was Harry Potter, but saying it was my cousin Lucy is less embarrassing. Tom Ballard – Enough, Monkey Barrel, 21:00
Does a cartoon lion count? If so, Simba. Specifically during that scene where he transforms into an adult lion on that log. If cartoon lions (understandably) don't count as people, then it would've been a little freckly red-headed boy called Robert that also attended my preschool and became my 'preschool boyfriend'. We even got 'preschool married" during one recess, and he gave me a rubber band for a ring. I've since learned that his last name is pronounced 'toes,' so I'm quite grateful that our "preschool marriage" did not last and that I did not end up with this horrible hyphenation: Caitlin Cook-Toes. Caitlin Cook: Death Wish, Just the Tonic, 17:50
I thought Anthony Kiedis from the Red Hot Chili Peppers was going to come to my middle school cafeteria and take my virginity :) Catherine Cohen, The Twist? She's Gorgeous, Pleasance, 22:45
Kieran the lifeguard from the community pool. I was 3. I would stand under his chair and stare up at his ass all day long. Anna Drezen: Okay Get Home Safe!!, Pleasance, 16:30
Wednesday Adams. She was cool, calm, collected and evil. Nothing has changed in this area. I pretty much only date women who would have been burned at the skate in the 1600s. Simon Caine, Every Room Becomes a Panic Room When You Over, Sweet Venues, 20:35
Sarah Buckins, from Preschools and Catholic Church Retreats. I wrote her a secret note confessing my love, with my name written backwards and then scribbled over. I gave her loads of hints to help decipher who it was from, but I don't think she ever worked it out as she's not been in touch. Christian Brighty, Privates: A Sperm Odyssey, Heroes @ Boteco, 17:20
Scott Sandler. This won't ever get published. But if it does: SCOTT SANDLER OF BEDFORD, NEW HAMPSHIRE...call me? OK, I've now just wasted 20 minutes on social media looking at what happened to all my crushes from before I turned 15. Scott Sandler, Pete Bellville, and Jonathan Taylor Thomas. Robyn Perkins, Mating Selection, Underbelly (Bristo Square), 17:50
Wolf from Gladiators, I've always had a taste for Bad Boys with questionable hygieneJosh McAuley, Gloria Hole presents: The Clinic, Sweet Grassmarket, 23:10
Published: 28 Jul 2019
What do you think?