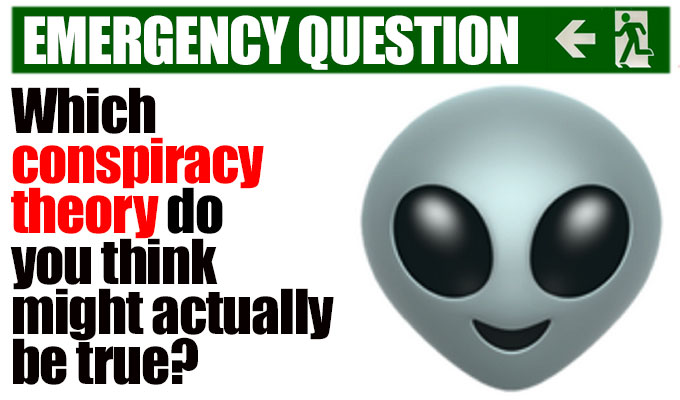 Which conspiracy theory do you think might actually be true?
Richard Herring asks the Emergency Questions that matter...
---
George W. Bush and Tupac sit on an Illuminati committee that's based on the moon and stops women's clothes from having pockets.
Tom Little, Chronically Underachieving Loser And Wasteman, Opium, 16:05
The one that Paul McCartney died and was replaced with a lookalike who was hollow and filled to the brim with Linda McCartney sausages.
Robin Morgan: What A Man, What A Man, What A Man, What A Mighty Good Man (Say It Again Now), The Pear Tree, 16:05
I was at a party with my fiancee and we ended up talking to a royal butler because we thought he was in a show (he wasn't, he was actually a royal butler). He talked about working for the Queen and the corgis, about how he liked Ann and all the fun and foibles of being a butler. Then he told us Charles killed Dianne and left.
Lewis Dunn, Any Suggestions, Doctor? The Improvised Doctor Who Parody, Pleasance Dome, 19:00
I'm pretty behind the Mayan belief that the world ended in 2012.
Luke Rollason's Infinite Content, Monkey Barrel, 12:00
Jesus. If Jesus was so good how come no one kept his carpentry?
Archie Maddocks, Big Dick Energy, Mash House, 16:50
JFK and the grassy knoll. (Which, when you write it down, looks like a rejected JK Rowling title).
Scottish Falsetto Sock Puppet Theatre: Roll Up!, Gilded Balloon, 21:30
Lotteries are really just traps for time travellers.
Caitlin Cook: Death Wish, Just the Tonic, 17:50
The BBC is afraid of my sexiness. Sounds nuts. But some people think that's why they don't put me on. Too sexy. Afraid of sexy man. Also it's a cesspit of cultural Marxists with leftist ideology informing their every move. Heard that on the YouTube Other than that I don't really know of any. My filters don't allow them to stick. "
Tony Law, Identifize, Monkey Barrel, 12:20
The Moon landing never happened. We couldn't put a good TV signal across the USA at the time but we got one back from the Moon?
Richard Wright Is Just Happy To Be Involved, Opium, 14:50
The Royal Family are lizards. I mean look at them? Why are they always wearing terribly cut double-breasted jackets? Lizards, that's why
Mat Morrisroe, Massaoke Mixtape, Assembly, 23:30
When I look at Trump I think that Americans didn't really land on the Moon.
Schalk Bezuidenhout, South African White Boy, Pleasance, 21:30
Published: 26 Jul 2019
What do you think?