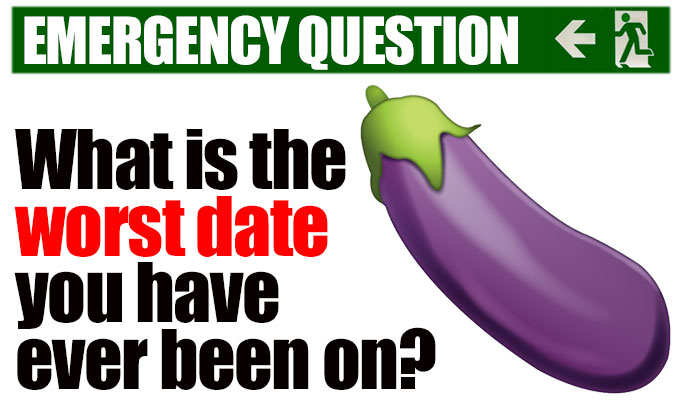 What is the worst date you have ever been on?
...courtesy of Richard Herring, whose RLTSP comes to The Stand's New Town Theatre at 13:30 from August 2
---
A one-night stand where at the end of the night my new companion just shook my hand and said thanks for coming by. Like I'd failed the job interview.
Erich McElroy: Radical Centrist, Laughing Horse-Bar 50, 14:15
A date came to watch a gig once. I stood on stage dressed as a vicar reading from the Bible and was completely naked from the waist down. I never saw her again.
Neil Frost, The Establishment: Le Bureau de Strange, Heroes@Hive, 20:40
A man once told me he was imagining what my nether regions looked like. That was ace.
Lucy Frederick, Famtastic, Underbelly, 14:50
I once got me and my date tickets to an immersive theatre piece that took place entirely in the dark where an audio soundscape fed to you through headphones made you think people were moving around you and whispering in your ear. The name your 'character' was given in the show was the same as my date's surname, so she thought I'd engineered the entire show to scare her, and came out sobbing. I promised her it was just a coincidence, but on the way home we both got on the Tube then just as the doors were closing she got off and I never saw her again.
Joz Norris Is Dead. Long Live Mr Fruit Salad. Heroes@The Hive, 16:40
Definitely the lovely lady who was being sick when I arrived as she'd been tanking rose for three hours beforehand.
Richard Stott: Right Hand Man, Gilded Balloon, 12:45
I asked a guy to see a show and we both went to the toilet beforehand and we ended up at the urinal side-by-side. On the first date. Too much pressure.
Tom Ballard, Enough, Monkey Barrel, 21:00
I once went on a date with a lady who, on the walk back to my apartment, peed on herself in the middle of the sidewalk. I don't mean that she stopped to pull down her pants and urinate -- we've all been there. I mean she literally lost control of her bladder and shamed herself and her high heels. When the deed was finished, I let her come back to my place to clean herself up (I'm a hero). And then afterwards, I still tried to fuck (because as it turns out, pee isn't that big of a deterrent for me). Instead, she decided that we would be better as friends. And then I just had to live with the fact that someone who was struggling with incontinence in her late 20s thought she could do better.
Langston Kerman, The Loose Cannon, Underbelly, 19:45
I once went to someone's house, and they managed to make Angel Delight badly. It was lumpy and gloopy and probably is still in my body somewhere.
Tom Mayhew, I, Tom Mayhew, The Mash House, 17:30
I've been on so many in the last year...one guy didn't ask me a single question for 2 hours and 15 minutes. By the end of the film I was furious.
Juliette Burton: Defined, Gilded Balloon Teviot, 17:30
It involved an accidental Leona Lewis concert
Aisling Groves-McKeown, Notflix, Gilded Balloon Teviot, 18:00
It was a second date, he answered the door in what I can honestly say was the worst pants I've ever seen in my life he said: 'My mum made them, she could make you a pair' he then said, 'The fish fingers are just finishing off in the oven and then we can get stuck into our movie The Hangover 3.' We still had sex but I left shortly after.
Chris Parker, Camp Binch, Assembly, 18:50
My date got his dick out in Pizza Express. People say to me, 'Harriet, you must've said something for him to randomly get his nob out' but I was just talking about whatever happened to the T-Mobile network then I thought he was getting his phone out to show me but nope, he got his nob out in the middle of dinner, I jumped up in horror knocking into the table behind me as this guy was proposing to his girlfriend and knocked their bottle of wine all over the special occasion.
Harriet Dyer: The Dinosaur Show, Gilded Balloon, 20:15
The one where my recently-ex girlfriend was on the table next to me with the guy she promised was a friend.
Archie Maddocks, Big Dick Energy, Mash House, 16:50
When a Mexican girl invited me to stay with her at her parents' home in Mexico City but in the month between me arriving she'd made new arrangements. So 'regrettably' they put me up for a night in a shitty hotel way on the edge of the worlds largest city and fucked off. I drank all the gifts I'd brought them from Guatemala.
Tony Law, Identifize, Monkey Barrel, 12:20
My date went to the bar and I texted a girlfriend to say 'looks 10 yrs older than his profile pic and is talking about steam engines' only to get one back saying 'I'm not that old and I can talk about things that aren't steam engines'. Yup.
Cally Beaton, Invisible, Assembly George Square, 17:10
Published: 25 Jul 2019
What do you think?