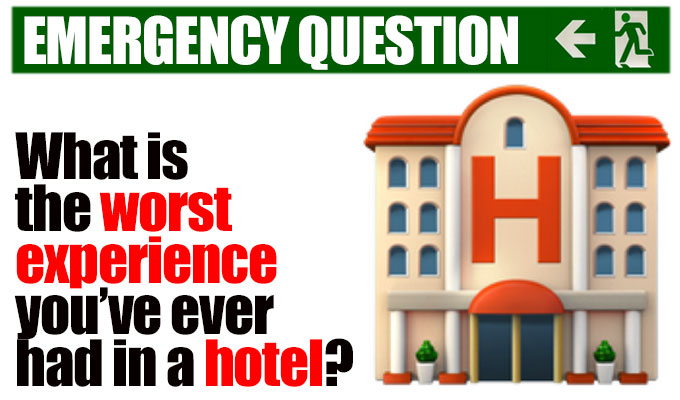 What's the worst experience you have ever had in a hotel?
Today's Emergency Question from Richard Herring should be right up comedians' streets....
---
I woke up hungover, was sick in the toilet with such force that I fainted, fell backwards, hit my head on the surprisingly sharp edge of a metal doorstop, woke up with a half inch gash in my head, and had to wait eight hours in A&E to get stitches. True story. Beat that.
Tom Little, Chronically Underachieving Loser And Wasteman, Opium, 16:05
Gigging in Romania, got there - fresh poo in the middle of the bed. I asked to changed rooms and they acted like I was being unreasonable.
Archie Maddocks, Big Dick Energy, Mash House, 16:50
Two pubes instead of the traditional one chocolate on my pillow (neither of them mine)
Cally Beaton, Invisible Assembly, George Square Studios, 17:10
I had breakfast in a hotel once and the landlady said good morning to her son when he walked into the breakfast room. I recognised him from the night before. He heckled me with "you fat bastard!" and I'm not proud but as I sat there biting into a sausage, I smiled to myself because the night before I'd replied with the old hack line: 'The only reason I'm over weight, is because I every time I have sex with your Mum, she makes me a cooked breakfast.'
Matt Price: Broken Hooters and Geezers with Shooters, Underbelly, 18:50
Got locked out of my room in the middle of the night as I mistook the door for the toilet. Had to go down to reception in just my pants to get another key card. That was the Night I Died on my ass at the 2013 Leicester Comedy Festival Comedian of the year comp. Great memories.
Danny Ward: Danny's Got Talent, Banshee Labyrinth, 15:35
I accidentally stayed in a budget hotel in Mauritius which did rooms at hourly rates and had a light which could be on, off, red, or blue. There were bed bugs and at 3am someone knocked at the door and said 'room service' so I locked myself in the bathroom for the rest of the night.
Rob Oldham: Worm's Resolve, Counting House, 21:00
I ate a panini I'd toasted in a trouser press.
Luke Rollason's Infinite Content, Monkey Barrel, 12:00
I got barred from the Covent Garden Travelodge. We got the receptionist drunk so he would give us a free room. When the following afternoon a cleaner found 6 of us piled into a double bed, including the receptionist, a Scandinavian rockstar and two Trekkies (with lightsabers) who we'd picked up in Leicester Square. The manager shit bricks.
Samantha Pressdee: Covered, PQA Venue, 16:00
[Editor's note: We know lightsabers are from Star Wars not Star Trek, even if Samatha doesn't. Don't write in]
I got given my room key, went to the assigned room, to find a portly gentleman sat on the bed, bollock naked. He didn't seem quite as disturbed as me, he just smiled and said hello. I garbled an apology and ran. Breakfast in the morning was awkward
James Gamblin, Any Suggestions Doctor? The Improvised Doctor Who Parody, Pleasance Dome, 19:00
I was doing a gig in Plymouth. I was put up in a B'n'B for the night (breakfast was not included). In the middle of the night I get up to use the communal toilet and lock myself out of the room with no phone. The owner was nowhere to be found. I ended up sleeping in the narrow foyer on the ground. I was woken up by the chef at 6am. So in this B'n'B experience I didn't get a Bed or Breakfast - just 'n'.
Grant Busé: Touché Busé, Gilded Balloon, 22:00
I was volunteering in Hawaii for an ocean charity and we were staying on the island where they filmed Gilligan's Island. We had too many people so two of us got put in the rooms at the bottom of the island, but the pump room, which had been abandoned for years. The dead bird caught between the windowpanes did not bother me. However, after the sunset, the population of cockroaches (which I am 'tears flowing down my face scared of') came out. You couldn't walk to the house without looking like you were playing hopscotch. There was one every 12 centimetres.
Robyn Perkins, Mating Selection, Underbelly (Bristo Square), 17:50
On tour with an opera company in the US where there was a sign by the side of the bed saying 'patrons are advised to not remove their underwear to avoid contracting pubic lice'
Melinda Hughes, Off the Scale, Assembly Rooms , 16:50
Staying in a youth hostel in the desert in the south of Israel, my friends and I had put the air conditioning on because it was so hot. In the middle of the night we were woken up by the owner of the hotel coming into the room banging around with the air conditioning unit, which we had somehow managed to put on to heat rather than to cool. Our fear was heightened when he walked out of the room telling us in what we hope was his broken English, 'another few minutes and we would have eaten you!"
Philip Simon, Who's the Daddy Pig?, Banshee Labyrinth, 12:00
We stayed at an airport motel in Houston called The Smile Inn that was the scariest single place I've ever stepped foot in. The clerk was behind bulletproof glass and a handwritten sign that said 'we absolutely do NOT accept pennies!' I guess this was the type of place where drifters came by with pillowcases full of change to pay for rooms. But we had the $25 in cash and were desperate so we paid and got the key. The room itself reeked of 30-year-old cigarette smoke - it was like stepping into an ashtray - and all the furniture was made from particle board nailed together. In fact, the TV that was mounted to the wall had partially melted, probably from one of the thousands of cigarettes left unattended. Co-host Joe Pickett's bed had graffiti above it that read 'Jose and Tina fucked here' and I found a used condom stuck to the wall of the closet. After using our dirty clothes as sheets to sleep on and trying to nod off while loud cars pulled in and out of the lot all night, we finally got our stuff and left early for the airport at 3am. And when I dropped the key off in the slot of the bulletproof glass in the pitch dark, a hand reached out of nowhere inside and grabbed it. I think the clerk slept right next to it. We both screamed and peeled out to sleep on the floor the airport, a welcome respite from The Smile Inn. That's showbusiness in a nutshell.
Nick Prueher, Found Footage Festival: Vol. 9, Underbelly Cowgate, 22:40
Published: 24 Jul 2019
What do you think?