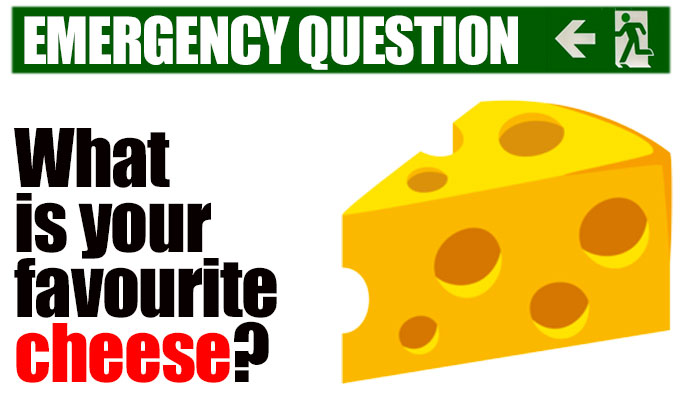 What's your favourite cheese?
Every day until the end of the Fringe, we're asking one of Richard Herring's Emergency Questions from the RHLSTP podcast and now compiled in a book, to comedians. Here's today's batch of insights.... RHLSTP is also at The Stand's New Town Theatre at the Fringe at 13:30 from August 2.
---
Cathedral City, though it reminds me of weddings and then I remember I'm going to die alone so it's a bit triggering.
James Barr: Thirst Trap, Underbelly Cowgate, 17:20
Cumin Gouda, which would also be my drag name.
Chris Parker, Camp Binch, Assembly, 18:50
Dairy Lee triangles. Specifically the triangles.
Richard Wright is jut happy to be involved, Opium, 14:50
Extra Belegen - ask for it next time you're in Amsterdam, instead of the things you usually ask for when you're in Amsterdam.
Cally Beaton, Invisible, Assembly George Square Studios, 17:10
Mature Singles
Darren Walsh: Punimal Farm, Three Sisters, 18:30
I had a tub of Stinking Bishop at university which I kept ostentatiously on a shelf in the desperate hope that it would spark conversation, and thus, friendship.
Rob Oldham: Worm's Resolve, Counting House, 21:00
I love nearly all cheese except American cheese, which is unfortunate, as I am, in fact, American. I love cheese so much that I've created a game called Cheese Bands where I attempt to find ways to combine cheese and some of my favourite bands (or musicians): the Brietles, Mozzarella Fitzgerald, Velveeta Underground, etc. I can keep going.
Caitlin Cook: Death Wish, Just the Tonic, 17:50
I really like Edam cheese - probably the blandest cheese on the planet. It sort of tastes like solid water. I've never tried mature Edam. I've seen it on the shelves, but don't trust it. I prefer my Edam to keep as little flavour or character as possible.
Ian Smith: Half-Life, Underbelly, 17:15
It used to be brie, but as I get older I've started to realise that the one thing kids have going for them over adults is that it's socially acceptable for them to eat portable cheese like Babybels or Cheesestrings. If I started munching on a wedge of brie in public people would think I was mad.
Charles Deane, Any Suggestions, Doctor? The Improvised Doctor Who Parody, Pleasance, 19:00
Probably at my sister's wedding. The photographer was French and she pronounced it with a 'sh' sound instead of a 'ch' sound and it was very cute.
Tom Cashman, XYZ, Underbelly, 20:10
Roquefort. But be warned, just because it's in liquid form does not mean there is less cheese. I once dissolved a block to make a cheese sauce, finished it, and felt the wedge reform in my belly.
Christian Brighty, Privates: A Sperm Odyssey, Heroes @ Boteco, 17:20
Thank you so much for asking this question. It's Boerenkaas from the market in Hilversum which is where I was born. Dutch cheese is so much better than cheddar it's HILARIOUS. In fact, I might do a show about that in the future and instead of jokes we all just eat Dutch cheese for an hour.
Micky Overman Presents: Presenting Miss Micky Overman, Pleasance, 21:15
The Cornish Yarg. It's made from stinging nettles and the danger of eating it makes me feel alive.
Dave Green: Guest Bed, Just The Tonic, 19:55
There is a Norwegian cheese that tastes of caramel. I buy a block of it and just eat it with a spoon. Because I'm fancy.
Sofie Hagen: The Bumswing, Pleasance Dome, 19:00
A freshly baked Camembert topped with sherbet.
The Delightful Sausage: Ginster's Paradise, Monkey Barrel, 12:00
Published: 23 Jul 2019
What do you think?