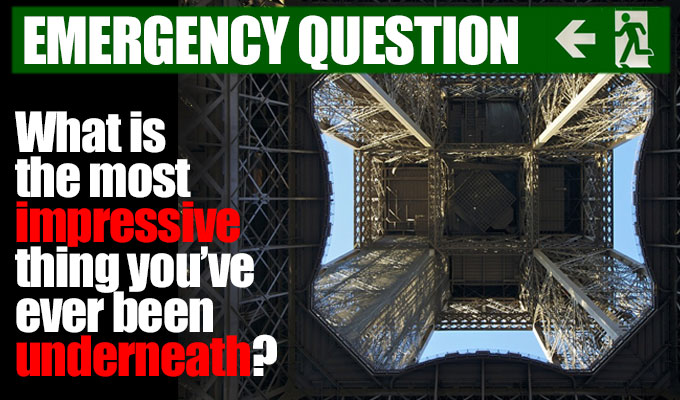 What is the most impressive thing you have ever been underneath?
For this year's Edinburgh Fringe, we've teamed up with Richard Herring (you probably know him best as Journalist from The Battersea Ripper) to offer a peculiar twist on the traditional festival questionnaire – with all the queries taken from his book of Emergency Questions, as originally used on his Leicester Square Theatre Podcast, RHLSTP. Starting with this one: What is the most impressive thing you have ever been underneath?
---
The majesty of God's creation. Obviously. Or a Star Wars duvet. Like one or the other.
Richard Wright Is Just Happy To Be Involved, Opium, 14:50
The stage at The Astoria in London (RIP.) I didn't have a ticket for the Foo Fighters, so I snuck in through the back door and hid under the stage till the show started.
Samantha Pressdee, Covered, PQA Venues @Riddle's Court, 16:00
Tom Hardy. I'm not kidding. A horse called Tom Hardy.
Archie Maddocks, Big Dick Energy, Mash House, 16:50
Up and down is a lie. We are always underneath the world. It's giant mass looming above us while our silly brains fool us into thinking we are the ones on top.
Bart Freebairn, Maximum Delicious, Just the Tonic, 15:45
The shoulders of giants.
Tony Law, Identifize, Monkey Barrel, 12:20
I was once covered in Tempting Tatties, I must say it was a great day.
Daniel Connell, Piece of Piss, Underbelly, 17:30
Probably my mum's brain when I was in utero.
Shivani Thussu, Prefer Not To Say , Monkey Barrel, 13:20
The dangerous toxic masculinity of New Zealand's tall poppy syndrome.
Eli Matthewson, An Inconvenient Poof, Underbelly, 21:20
His name was Craig and he was from Glasgow.
John Pendal: Monster, Gilded Balloon, 19:45
I am often under the weather.
Luke Rollason's Infinite Content, Monkey Barrel, 12:00
The gaze of the Moth God. She sees all and forgives none.
The Delightful Sausage: Ginster's Paradise, Monkey Barrel, 12:00
The Northern Lights. No comedy here, just the most amazing thing I've ever seen.
Ian Smith: Half-Life, Underbelly, 17:15
The weight of expectation
Aisling Groves-McKeown, Notflix, Gilded Balloon Teviot, 18:00
All the above comedians
Dave Bibby: Crazy Cat LAD-y, Globe Bar PBH Free Fringe, 16:45
Published: 22 Jul 2019
What do you think?