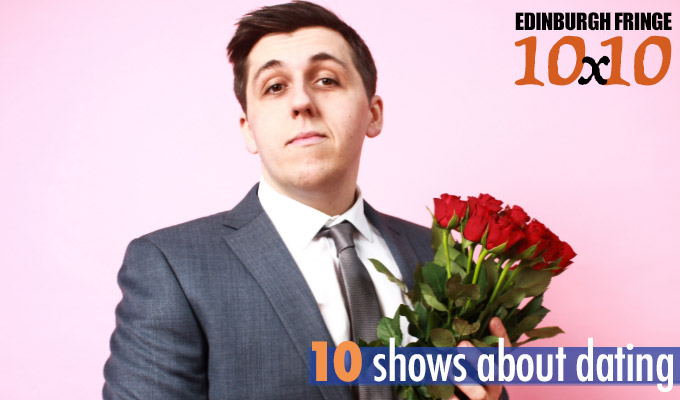 Edinburgh Fringe 10x10: Ten shows about dating
'So I'm single…'
Thus starts too many stand-up routines to mention. But dating is such a universal experience – and so rife for comedy – that it will always be a staple of the artform, even as the way humans hook up changes. Here are ten shows from this year's Fringe who will be hoping you'll swipe right on them…
Eleanor Conway
Her 2016 show Walk of Shame covered some of her chaotic sexual misadventures during her debauched drug- and alcohol-fuelled days as a ferocious clubber. And the unapologetic stories - told from a now-sober perspective– clearly struck a chord with audiences, as she's been touring it on and off ever since. In the follow up she talks more about relationships, admitting she always has sex on the first date and hasn't got beyond a third date in more than ten years. But You May Recognise Me From Tinder promises more than superficial dating stories, but a 'candid look at intimacy, shagging and crossing lines' from a comic willing to talk about a past that even included sex work.
Laughing Horse @ The Free Sisters, 19:00
London Hughes: To Catch A D*ck
We don't think this is about duck hunting.
Hughes's mum thinks she needs to settle down and find a man… but it's not for want of trying. She's appeared on E4's Celebs Go Dating to try to rectify that. In this show, the TV regular explores how ridiculous it is to be 'incredibly awesome and successful yet incredibly single'. It sounds like a Tinder profile in the form of a stand-up show…
Pleasance Courtyard, 20:15
Robyn Perkins: Mating Selection
At last year's fringe, the British-based American comedian took part in a dating show in front of a live audience. It might have been intended as a bit of fun, but she says her experience led her to question human morality and the social constructs of present-day dating. Which is pretty deep. In this year's show she uses her scientific background to mull such weighty issues.
Underbelly Bristo Square, 17:50
Matt Hoss: Here Comes Your Man
He's a newish comic making his Edinburgh debut – although Matt Hoss, pictured above, has actually got three previous hours behind him already. In Here Comes Your Man he presents himself as a hopeless romantic, as he talks romance, awkward sex and failing to find The One who he's sure is out there.
It's only unfortunate he has the same name as a notorious 'pick-up' artist who hosted a tonne of misogynistic videos on his YouTube channel…
Just The Tonic Grassmarket Centre, 7.10pm
Bumble Me Tinders - Dating Horror Stories
American comic Patrick Melton invites a line-up of guest comedians to share dating and sex horror stories and dole out advice during this mixed-bill show, returning for a second year.
Laughing Horse @ Sofi's Southside, 22:00
Jessie Cave: Sunrise
A return performance for the winsome comic – still known to millions as Lavender Brown in the Harry Potter films – as she brings back her charming, bittersweet story of trying to get back into the dating scene after a complicated break-up when all she really wants to do is spend time with her small children. This heartfelt show, with a DIY ethos, was one of the hits of last year's Fringe, so here's a second chance to see it if you couldn't get into the sold-out shows last year. And here is a review of the book based on the same material.
Assembly George Square, 18:30, August 14 to 25 only
Karam Deo: Table for One
'If you've been unlucky in love, nothing makes you feel better about yourself than laughing at someone else' says the blurb for this show, in which Karam Deo – a new name to us – shares stories of regretful romances and dating disasters with the occasional musical number.
Underbelly Cowgate, 21:50
Sasha Ellen: Picke
More stories of disastrous dates for this returning Fringe comedian – a middle-class Essex girl in her late 20s – with a stand-up storytelling show 'about romantic misadventures on an epic scale'.
Underbelly Bristo Square, 19:10
She also has a shared bill with Swiss comic Adrian Tauss at Cabaret Voltaire at 16:10
Gareth's Gay Dating Disasters
Gareth Edward offers a 'combined cabaret, comedy and bingo show' for those who are tired of apps such as Tinder, Hornet and Grindr. The show, in the cabaret section of the programme, features songs and stories – and the chance to 'dump' Gareth by text message at any point during the hour.
PBH's Free Fringe @ The Street, 17:15
Snog Marry Avoid
Leicester-based comedian Kirsty Munro answers dating questions with bad advice from the perspective of a single mid-thirties woman. And there's burlesque too.
But be warned, audiences will be taking part in games, whether based on dating or on being in a relationship.
Laughing Horse @ The Counting House 22:45
Published: 11 Jul 2019
What do you think?