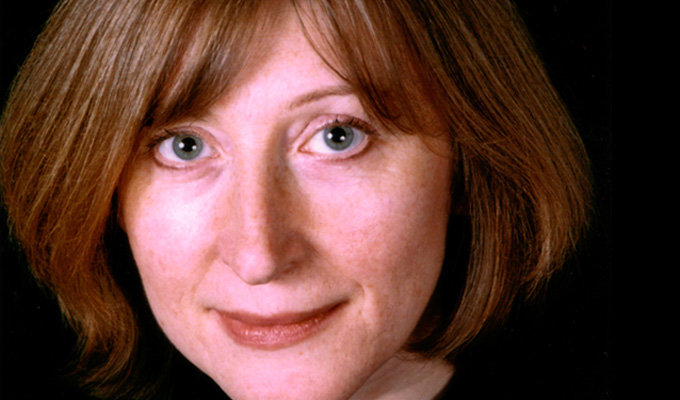 Remembering Linda Smith
Linda Smith would have been 61 years old today, had she not died as a consequence of ovarian cancer at the age of 48. Here we remember her with a dozen of her best lines… and couple of clips.
'People knock ASBOs but you have to bear in mind they are the only qualification some of these kids are going to get.'
'If God wanted us to believe in Him, He'd exist.'
On the conflicts in the Middle East: 'The problem is somehow OUR oil has ended up under THEIR sand.'
'I sort of sympathise with them looking for weapons of mass destruction, because I'm like that with scissors. Honestly, I just turn the house upside down. Of course, the difference is, I know I have got some scissors.'
'They say that travel broadens the mind, but the Nazis were very narrow-minded, and they travelled extensively throughout Europe.'
After Paul Merton mentioned Neil Hamilton on Room 101: 'I don't really like you saying his name, because it gives him the oxygen of publicity and I'm not happy with him having the oxygen of oxygen.'
'I'm quite lazy really. I tend to eat just the middle section of a Mars bar to make me rest.'
'You can look at any painting ever done of Jesus over the centuries, and you can spot immediately that he's not English, 'cos he's very often shown wearing sandals, but never with socks.'
'Rugby is a game for men with no fear of brain injury.'
On The Wicker Man: 'Whatever gave those Scottish islanders the idea that Edward Woodward would burn so well?'
'The Lord our God made the world in six days and on the seventh day He rested. Oh yes? Well what sort of a cowboy job's that, then? No wonder it's fucked now! If a job's worth doing…'
And of her home town: 'Erith isn't twinned with anywhere but it does have a suicide pact with Dagenham.' and 'Erith is in Kent - the "Garden of England" = I can only assume Erith is the outside toilet because it is a shit house.'
Here she is on QI telling a story about a stage production of Wind In The Willows
And on Mock The Week talking about African debt:
Published: 29 Jan 2019
What do you think?