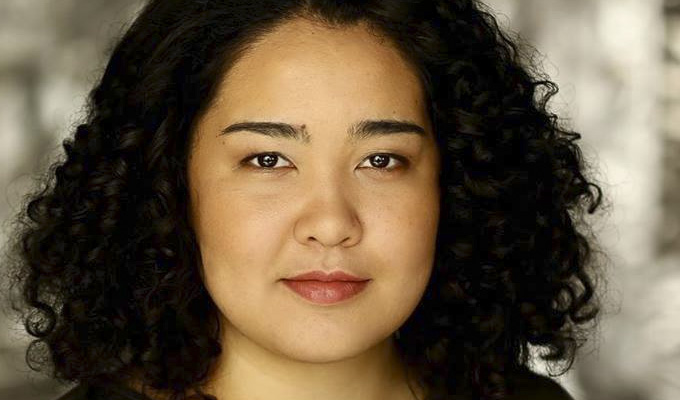 Erika wins Chortle's final student heat
Erika Ehler – a Canadian student of comedy writing and performance at Salford University – has won the last heat of Chortle's student comedy award 2019.
The 21-year-old now goes on to one of two semi-finals to be held at the Bill Murray in London on May 13 and May 20.
She will be joined by the winners of all the heats, plus a dozen or so acts chosen by Chortle editor Steve Bennett, which will be announced next week.
Another place goes to the winner of the People's Choice competition.
Currently voting is still open for the People's Choice heat winners for Goldsmiths and Salford, and once these ballots close the 12 acts chosen will go on to a second round of voting for this last place.
Ben Hodge, another Salford student, today won the People's Choice poll for the Lincoln heat.
Over the past 15 years of the competition, finalists have included Joe Lycett, Iain Stirling, Simon Bird, Chris Ramsey, Adam Hess, Phil Wang, Tom Rosenthal, Lauren Pattison and Ed Gamble. Up for grabs is a £1,000 first prize and the kudos that winning carries, while all the finalists appear at the Latitude Festival in Suffolk in July.
Here's the state of play so far
Heat 1: Southampton
Winner: Freya Mallard
People's Choice:Â Chirjeev Bajwa
Heat 2: Warwick
Winner:Â Calum Walker
People's Choice:Â Dan Gamble
Heat 3: Newcastle
Winner:Â Joey Abels
People's Choice:Robert Preston
Heat 4: St Andrews
Winner: Gabriel Robinson
People's Choice: Harrison Rice
Heat 5: Glasgow
Winner: Chrissie Ross
People's Choice:Niall Murray
Heat 6: Cardiff
Winner: Tim Thompson
People's Choce: Julius Lord
Heat 7: London QMUL
Winners: Jem Braithwaite and Mamoun Elagab
People's Choice: Finlay Christie
Heat 8:Â Bristol
Winner: Eddie FJ
People's Choice: Dan Allum-Gruselle
Heat 9: York
Winner: Grace Sanders
People's Choice: Matthew Wemyss
Heat 10: Lincoln
Winner: Adam Al-Janabi
People's Choice: Ben Hodge
Heat 11: London Goldsmiths
Winner: Alex Petropoulos
Other contestants:
Now vote for your favourite. Polls close at 5pm on Friday March 22.
Heat 12: Salford
Winner: Erika Ehler
Other contestants:
Now vote for your favourite. Polls close at 9am on Monday March 25.
Published: 20 Mar 2019
What do you think?