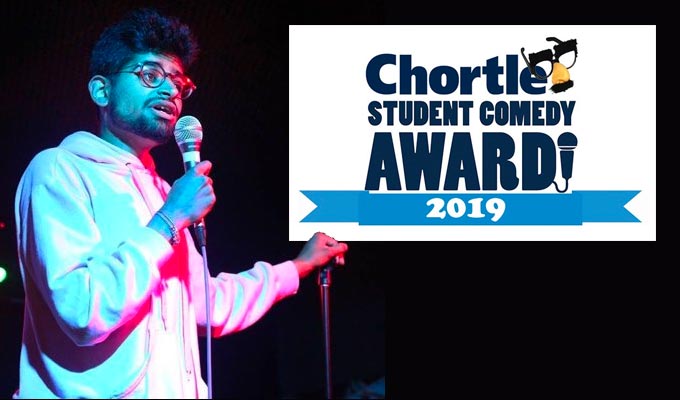 Chortle Student Awards: Last semi-finalists named
Rahul Somia has won the People's Choice place in the semi-finals of this year's Chortle Student Comedy Award.
The 21-year-old is studying chemistry at University College London and took part in the Goldsmiths heat of the competition. Here is some of his set.
We can also today reveal the Judge's Choice places in the semi-final for the best runners-up across the heats go to:
Usama Khan, a mechanical engineering student at Bradford University who performed in the Warwick heat
Abbie Edwards, an English student who performed at the heat in Southampton, where she studies.
Robert Preston, a politics and economics student at Leeds who performed in Newcastle
Mark Moloney and Adam Bumstead, who are both studying chemistry at St Andrews, where they performed.
Sam Jones, who is studying theatre directing and performance, and Qumarth Jack, a computer science undergraduate, both from York University, and the York heat.
Finlay Christie, who is studying language and culture at University College London and performed in the QMUL heat
From the Bristol heat: Rosa Handscombe, who is studying English and Classical Studies there; Emman Idami, who is doing business studies at Technological University Dublin; and Dan Allum-Grosse, who is studying international relations Exeter.
And Tom Short, who is studying contemporary performance practice at Salford, who won the heat held there last week.
The semi-finals take place at the Bill Murray in Islington, North London, on May 13 and 20 (Click for tickets to heat 1 and heat 2)
And the final, again hosted by Mark Watson, will be at Pleasance One during the Edinburgh Fringe.
The winner receives £1,000, as well as the leg-up in the business that the title confers.
And here are all the heat winners:
Heat 1: Southampton
Winner: Freya Mallard
Heat 2: Warwick
Winner:Â Calum Walker
Heat 3: Newcastle
Winner:Â Joey Abels
Heat 4: St Andrews
Winner: Gabriel Robinson
Heat 5: Glasgow
Winner: Chrissie Ross
Heat 6: Cardiff
Winner: Tim Thompson
Heat 7: London QMUL
Winners: Jem Braithwaite and Mamoun Elagab
Heat 8:Â Bristol
Winner: Eddie FJ
Heat 9: York
Winner: Grace Sanders
Heat 10: Lincoln
Winner: Adam Al-Janabi
Heat 11: London Goldsmiths
Winner: Alex Petropoulos
Heat 12: Salford
Winner: Erika Ehler
Published: 29 Mar 2019