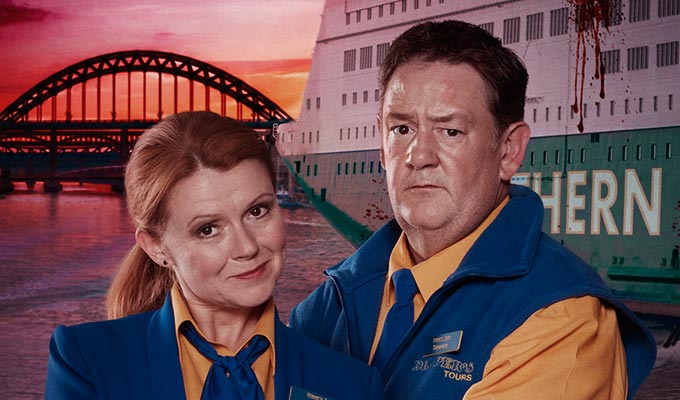 'It's always a pleasure to work with Sian even though she can't remember it...'
You might have thought that one of the inevitable consequences of starring in a whodunit would be knowing who did it.
But Sian Gibson has admitted she forgot which character turned out to be the killer in the new comedy-mystery Death On The Tyne.
The Car Share star last night attended a screening of the new Gold show – a follow-up to last year's hit Murder On The Blackpool Express – on a Thames pleasure cruiser.
And midway through the programme, she turned to co-star Johnny Vegas to whisper: 'Who did it? I can't remember. I don't know who it is.'
The comic naturally ridiculed her when the cast gathered before assembled journalists after the screening.
'We were sat there just then and she asked me, "Who's the murderer?",' he confirmed.
And turning to Gibson, he teased: 'You'll tell me everything that went on in yoga class but you can't remember the major plot…'
Although she admitted to having 'a brain like a goldfish', Gibson tried to suggest it was the credible performances by her co-stars that threw her: 'They're all so believable, aren't they? Because of the performances, it could be anyone.'
'Don't try to pass it off!' Vegas responded in mock fury: '"They're all so believable…" I thought you were being ironic! She made me feel like I was in a nursing home.'
Vegas returned to his theme later, saying sarcastically: 'It's always a pleasure to work with Sian even though she can't remember it. It's also a delight to work with a new cast who would actually take the time to think about the story.'
The pair were reunited with Sheila Reid rom Murder On The Blackpool Express, which was the highest rated show on the Gold channel - but most of the stars of the original couldn't return as they had been bumped off in the script.
So a new cast was recruited for this feature-length show including James Fleet as ageing lothario Captain Jack, Felicity Montagu as unflappable cruise director Denise, EastEnders star Don Gilet as the ship's former pianist, Tony Gardner as first officer Justin Valentine and Doon Mackichan as his social-climbing cabaret singing wife Emily.
'We did joke about this after we did the first one,' Vegas said. 'We had so much fun, why did we kill off so many people that we loved within the show? We did have a debate about who could have a twin!'
'Can Nigel Havers part his hair the other way?' writer Jason Cook asked.
Cook also revealed that he decided to set the new show on a ferry partly to isolate the characters for extra tension ('the next one's going to be on Space X,' he joked) – but also because he loved the setting.
'I had my honeymoon on the Newcastle to Amsterdam ferry,' he said. 'I love it. I've done stand-up about it. I used to describe it – and I'm not sure I can say this – as the pikiest pirate ship that ever sailed the seven seas.
'You see things set on a cruise ship, which is fine, but you never see stuff on the working-class budget version of what a cruise ship is.'
But he was quick to point out that the fictional Northern Cruises of the new show was 'mot specifically the Newcastle to Amsterdam ferry for legal reasons.'
Nor was that the only concession to the lawyers. One murder weapon is an outsized pyramid-shaped chocolate bar of the type often seen in duty free shops: Choccy Mound.
'Apparently Toblerone don't have a sense of humour when it comes to their product,' Cook said, as members of the production team confirmed that they had approached the Swiss-based confectioner in a failed attempt to get permission.
The lack of glamour may have lent the programme an authentic edge, but not all the cast were happy.
David Mumeni, who plays the ship's DJ, revealed he didn't have time to read the full script before auditioning, but thought: 'Oooh, it's on cruise - perhaps we're going to the Caribbean.'
'We weren't,' he said. 'We were just in the dark in a studio on a summer's day.'
And Cook – who also has a role in the show – revealed: 'One of the extras turned up and said, "I've had my Dramamine" and we said, "What?" And she went, "well, just in case I get seasick."
'We're in a fucking studio for two days,' he said.
She replied: 'It's good to be prepared.'
• Death On The Tyne will air on Gold just before Christmas.
Published: 22 Nov 2018
What do you think?