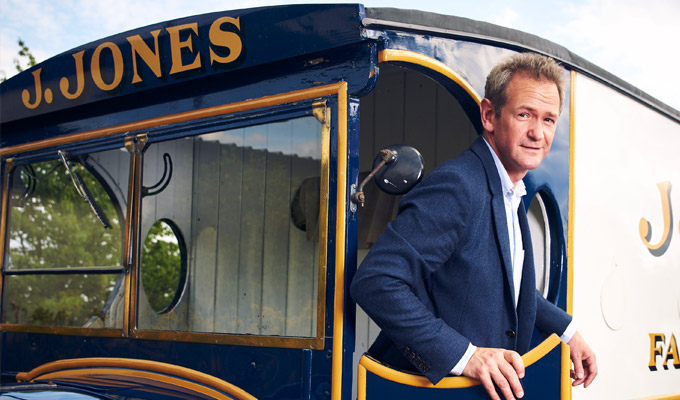 Filming Dad's Army sounded like such a scream!
Alexander Armstrong is to host Saluting Dad's Army, a tribute series to one of Britain's best-loved sitcoms for the Gold channel from next week. Here he talks about the programme...
---
What was your favourite part about filming the series?
Getting to meet Frank Williams, who played the Revd. Timothy Farthing. He and Ian Lavender are the only two surviving members of the main cast and it's glorious to meet someone who not only was actually there throughout the filming (and – much more fun – for all the down time) but who had such mischievous insight into it all.
Ian is amazing, I've met him several times, but Frank – though quite frail these days [he's 87] – is still absolutely on it and has a delightful twinkle in his eye.
Weirdly enough, Frank Williams was a lay member of the general synod, which is quite an interesting sideline for a man most famous for playing a huffy Anglican priest – I bet everyone at the synod meetings thought he was a clergyman.
Frank had lovely stories to tell. His recollections of filming episodes like The Royal Train, which involved no small amount of stunt work, were a real joy.
Were there any facts or stories that came up during filming that surprised you?

That's a very good question! The thing I was most delighted to have confirmed was how well all the cast members of Dad's Army got on. There were some very different characters in there of course. I think Arthur Lowe and Clive Dunn probably enjoyed rubbing each other up the wrong way, but there was something truly lovely about the way they relished each other's company. I'm sure there was something of the wartime ENSA spirit within the group, which would have been very recognisable to writers David Croft and Jimmy Perry.

The business of getting the show filmed was clearly something they all adored and their fortnight of location filming up in Thetford sounds like a scream – two weeks in the summer up in the Norfolk countryside in the most hilarious company imaginable – what's not to love?
Also, you can see how much fun they had on their live tour, as they all talk about it lovingly with tears in their eyes. It was a time of tremendous camaraderie. There are some wonderful stories, such as the time they found an unexploded bomb in their London theatre, (which sounds like a plot from Dad's Army if ever I heard one) and Arnold Ridley somehow managed to be the first to the bar in the pub over the road.
When did you first start watching Dad's Army?

I can't remember not watching it! My earliest memory of watching it is probably from 1974 or 1975. It's one of those shows that you watched as a family and it was so nice to have a comedy that you could all roar with laughter at. And, when you're little, to have elements of slapstick that even you can understand. The great joy of it having been filmed in front of a live audience is that, if you're only 4 or 5, you can laugh along too even, if you didn't entirely get the gag…
Do you have a favourite episode?

There's an episode called My Brother And I where Arthur Lowe is playing Captain Mainwaring and Captain Mainwaring's ne'er-do-well brother.
The brother, Barry, turns up and is just everything Mainwaring is not: a sort of desperate, dodgy, spivvy alcoholic in a loud checked suit and a broad northern accent. His very existence shows up Mainwaring's carefully presented airs and graces and gives the lie to his social pretensions. And because he's a drunk, he's this very dangerous loose cannon – and wickedly funny therefore (beautifully played by Lowe who does 'drunk' better than anyone else I've seen).
There's an element of schadenfreude of course because everyone relishes Mainwaring's exquisite discomfort but – touchingly – their loyalty to Mainwaring wins through in the end. They make every effort to keep Barry under wraps but he, having downed a bottle of scotch is determined to have a jolly time, and that plays out in one of the funniest scenes – I think – that Croft and Perry ever wrote.
It's fascinating to hear Mr Peter Blackburn, one of the few surviving veterans of the Home Guard, talk about his experiences. What did you enjoy most about interviewing him?
He was an extraordinary man and it was lovely just to sit opposite him and hear these crystal-clear memories and stories come tumbling out – still so fresh in his mind. What was lovely though was that all the stories, the characters, the escapades, the cock-ups… they all felt so familiar. The human side of the Home Guard story had evidently been perfectly captured by Perry and Croft in their Walmington-on-Sea platoon.

There was something very lovable about the way this homely, village-based unit went about the serious business of war – necessarily ad hoc at times. At first, they didn't have all the weaponry they required, so were having to improvise with what they could find at home. It's easy for us to forget that all this took place against a constant – and very real – threat of invasion.
The luxury for our generation is that we can afford to find humour in the Home Guard and all their antics. At the time of course, it was desperately serious. There were all kinds of threats and rumours of a German invasion and it might well have turned out that they, with their comical age range and their improvised armoury, were indeed our last line of defence.
• Saluting Dad's Army starts on Gold at 8pm on Tuesday November 8.
Published: 30 Oct 2018
What do you think?