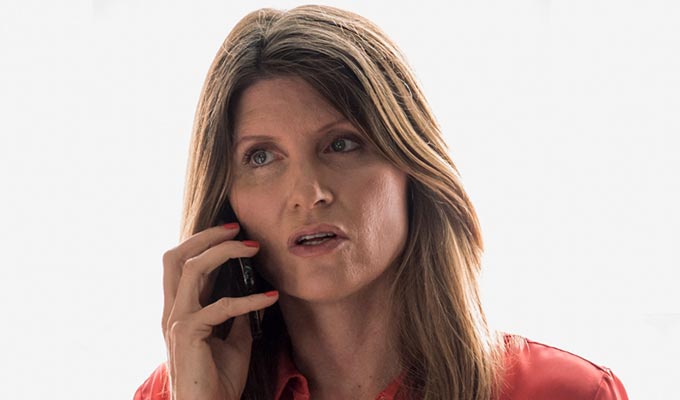 'Viewers like seeing people having difficulties on screen'
A new comedy-drama based on Lorna Martin's autobiographical 2008 book Woman On The Verge Of A Nervous Breakdown launches on UKTV's W channel next week, courtesy of Sharon Horgan, who picked up the project in 2011. The series stars
Kerry Condon, Nina Sosanya and Eileen Walsh play three frineds at the heart of the action while Sharon Horgan also plays enigmatic therapist Dr F, advising Condon's character Laura, who is in the process of potentially ruining her career in investigative journalism by sleeping with her boss.
Here, Horgan – and, below, Martin – talk about how the series came to air.
---
How did you first become aware of the book?
It was sent to me - it was such a long time ago now, I can't even remember who sent it! I read it when I was on holiday and immediately liked her writing. She made me laugh a lot – and her style and humour really come across in the series.
I liked the friendships in her book, too - the women are blunt and honest with each other. And I liked that it was based on real life; it was an ongoing story.
Why did it take so long to make it to TV?
When I initially spoke to Lorna she was about to have her first baby, so things had changed for her since she wrote the book and we were both busy, so it took a little while to get off the ground. Sometimes things don't happen immediately because of 'TV' reasons but it was never because of Lorna's writing or because of the idea or anything like that – but yes, I always had faith in it
UKTV and W have been absolutely lovely and couldn't have been more helpful and supportive. I think it's exciting for them too because it's their first ever original scripted commission for the channel, so it's all quite new to all of us - new team, new panel, but it's been a really lovely experience.
Lorna really deserves the credit for writing the script. I co-wrote the first episode alongside her but otherwise it's all her work and she's done a fantastic job. Always, if she sent me a script, there was something in it that really made me laugh and that I knew would work.
So how did the story develop?
It's interesting because Laura's job is one that you might, from the outside, think is glamorous and it's a job people would kill to do but what happened was she was missing deadlines and missing flights and fucking it up. So that felt like a good base and then we always thought it would be interesting to see the character Laura with other women at different stages of their lives.
There's a great scene where something lovely happens to one of the friends, and Laura just gets up and walks out because she can't handle it…
Yes, well she does whisper a very small 'congratulations' first! [laughs]. But yes. I'm glad that works.
These friends, you know they do give a shit about each other but sometimes you don't feel great for your friends when things are going well for them and your life is unravelling. Seeing how people react to hearing a friend's good news is an interesting dynamic.
There have been many excellent shows which are honest about women struggling with life, including of course Catastrophe. why do you think those themes have such resonance?
Viewers respond to seeing people having difficulties on screen because it makes them feel it's OK, like, 'maybe I'm not the only one'. Occasionally it's nice to escape into an aspirational world but a lot of the time if you're telling a story that's really honest and really relatable then I kind of think, why wouldn't you want to see that?
You play a therapist in the show. Would you make a good therapist yourself?
I think I'm not a great talker but I am a good listener. I think hopefully I have an interest in human nature and I do spend all of my time listening to people because I'm a writer. So yeah, I think I would. But you know, part time, or a summer job [laughs]
---
How did this series come about?
Sharon got in touch in about 2011 about the book, which she'd read, and we started chatting about adapting it, and we talked about maybe doing it as a film at one point.
It was totally out of the blue. I didn't know her. She emailed me after reading the book, and we started chatting.
It took quite a long time for anything to really happen, just because she also had a few pilots going on in the States and stuff like that.
So, I tried writing it as a [one-off] drama, and it just wasn't really happening. I had a go, but it was really bad, and I did actually send it to Sharon which is quite embarrassing. I didn't know what I was doing to be honest!
Then we got down to doing it as a TV show, and we just back and forth-ed it a lot, and that was much better. Then in May last year, that was the first conversation I had about it with UKTV. So, although it was a long time ago since Sharon first got in touch with me, things seem to have happened very quickly since then.
What I do remember her saying in the first email was that she liked the fact it was very honest, but it was funny, and I think she liked the character. I think maybe also - we haven't really seen any in-depth portrayal of therapy on UK drama. I think actually that might have been one of our early conversations.
It was like, 'Are British audiences ready for therapy?' So that was another conversation.
I don't think it's taboo exactly, and I think people talk about therapy and mental health issues much more than they did maybe even 10 years ago but seeing into that world has not been done on TV, maybe.
What are the three characters like?
Well the Laura character is definitely who I was in my mid-30s: a woman who is a car crash and anxious and very insecure and a bit lost in life.
She's basically self-destructive and very impulsive and in the series, we see her start to have therapy. She doesn't know how to be.
When I think about that now, a big part of that for me is because girls growing up were and are still conditioned to be nice and to be good and to put others first and to be people pleasers. I was a people-pleaser and so is Laura.
In terms of the unsuitable relationship, and the job as a journalist, that was me. Where it's changed is setting it in Dublin and giving her a brother - I have a sister. It's me but then it takes on a life of its own.
Of the other characters, Alison is 38 and decides she wants a baby. For women in their late 30s, if they do want kids and don't have a partner or the means or desire to do it by themselves, I think it's hard.
I was that person. I was in my late 30s and wanted kids, which I did eventually have.
Then there's Katie who has met someone and had a kid, but it hasn't left her 'happy ever after'. I think that's the other thing that feels important to me. One of these three friends think a man is the route to 'happy ever after', another one thinks a baby is the route to 'happy ever after', and actually, neither of those things is the case.
I suppose I wanted to explore the fact that many women are bombarded with this romantic narrative which is the 'norm' - you meet someone, you get married, and you have kids. That's changing, and the next generation will have other ways to live which are more acceptable, but for my generation it still felt like if you weren't doing that, there must be something wrong with you.
And did you and Sharon get on well?
We did. We're a similar age so we were both interested in these issues and these characters. I think there are some heavy, dark subjects but the common ground is we look at them with a comic sensibility.
I think there is a shared comic sensibility to do with me being Scottish and her being Irish. I think those nations have a history of suffering but also the ability to laugh at dark things.
I was in Glasgow and Edinburgh and she was in New York and London and LA. So, a lot of our conversations were on email, although we did talk on the phone and we did talk about some of our own experiences.
How was the TV show adapted from the book?
Well the book was very personal, and I don't know what I was thinking when I did that! Why I decided it would be a good idea to do that, I don't know.
The series is different, it's evolved a lot from the book. I think having the other two female characters, who have got good stories, and interests, and are both relatable, helps to make it about the female experience. So that was a big part of the adaptation, rather than just making it about this one character who is a bit of a car crash.
Are you pleased with the casting?
Yes. I think the cast is amazing, really amazing. I had no say in it. It wasn't like I said, 'I want someone really attractive and gorgeous to play me!'. But of course, she is. When I watch Kerry, I don't think she's playing me, I don't see that at all.
Possibly because I think I'm quite different now from what I was like back then and so there's that detachment. But partly just because she really inhabits that character and has taken it on as her own.
It's strange because it's the first time I've ever been on a TV set. I mean, when I'm watching it, I don't think, 'Oh, my God. That's my life.' I probably couldn't watch it if I did!
What can we expect from the series?
Things go from bad to worse. Things unravel for Laura. She takes steps to make herself better, and her relationship with her therapist (played by Sharon Horgan) is the one relationship that could help her, but she does it for the wrong reasons. She goes to therapy because she wants to write about it and it's mainly a facade. She's not honest and she hardly scratches the surface of her layers of self-defence in therapy.
Alison realises that wanting to have a child isn't just as easy as getting back with an ex. And Katie - I really can't say anything at all about her without giving it away. It's really not what was planned but I really love the story we ended up doing.
The female characters are witty and they're bright. was it important for you to portray female friendship that way?
Yes, it was important to us from early on that the women weren't stupid. Because sometimes, when you're writing funny, you can fall into that. So yes, it was definitely a conscious decision that these are smart women that you would hang about with. They've got good jobs, but they're making some bad choices.
I think female friendship is so complex, and I think there are elements of sibling rivalry that come into female friendships. I hope this comes across, but my honest experience of female friendships is that there is jealousy, and there is competitiveness, and there is sometimes not feeling great when your friend's life is going really, really well, and yours is going really, really shit.
It was quite important to me that was shown, and that they weren't just like, "Oh, I Love You for being you," you know? I know there's a conversation about not wanting to see women being bitchy or being competitive. But women are bitchy and competitive sometimes. I think to pretend otherwise is wrong.
I've got great friends, but to pretend that there aren't elements of competitiveness I think is not true. I think that comes from when you're a kid, and if you have siblings, and you see it in a playground. It's part of the human condition. You support your friends and you want the best for them, and you want them to be happy, but when your life is a car crash and it's not going well, which certainly [applies to] the Laura character, it's a wee bit harder for you to want your friends to be doing brilliantly. I think there are a few little lines in there that touch on that. I don't know how that'll go down…
• Women On The Verge launches on W on October 11 at 10pm.
Published: 3 Oct 2018
What do you think?