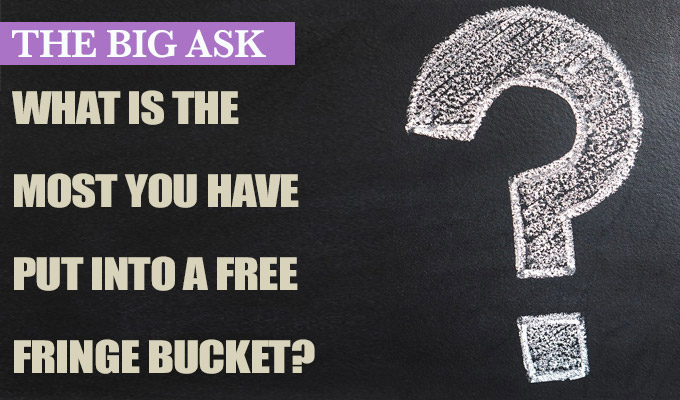 What's the most you have put into a Free Fringe bucket?
A tenner. Luisa Omelian's debut What Would Beyonce Do? She was irresistible, it seemed churlish not to. Charmian Hughes, Charmian Hughes - Bra Trek, Counting House Attic, 15:35
It was a tenner for my mate's preview because I knew he couldn't afford to get the train home and I didn't want him staying at my place. Nathan Lang, The Stuntman, Just The Tonic @ The Caves, 14:45
£30. Because that's how much I had on me and I felt I could afford it that day Barry Ferns, Barry Loves You, The Tron, 21:00
Probably a tenner because I felt intimidated after a decent bucket speech and I'm the kind of person that ends up adopting wildlife in Wigan Town Centre and buying Sky packages I already have. Chris Washington, You Beauty!, Pleasance Courtyard, 20:30
I'm an impoverished performer, so probably only a fiver. I'm pretty sure I gave a bit more to Spencer Jones' first show as The Herbert because it was just one of the funniest things I'd ever seen on a live stage. I'm delighted Spencer's doing so well now, because I love how imaginative he is and it's really nice to see something so different having some mainstream audience appeal. Gives all the oddballs hope. Richard Soames, Richard Soames: Let's Make a Movie, Underbelly - Buttercup, 15:55
I put in £30 once! Which is two notes. And it was because they were sooooo good and also I was about to leave the country and needed to ditch my cash. Eli Matthewson, The Year of Magical Fucking, Wee Coo, Underbelly, 21:20
Fifty. It was a stellar show and they deserved it. Plus I don't like having 50p coins on me. The Pin, The Pin: Backstage, Pleasance Two, 20:00
I put quite a lot in John Luke Roberts bucket for Stdad-Up because I thought that show was excellent Lucy Pearman Fruit Loop, Monkey Barrel, 18:30
A tenner, because I thought it was a fiver. I still think about it. Not because I miss the money, but because I had a 'flat-five-pound' system for every show. I worry someone I gave fiver to heard about this incident and thought it meant I thought their show was only half as good. Or, even worse, the person I gave a tenner to knew about my system and assumed I'd broken it because his show was THAT brilliant. That is the type of thing the act in question might think. George Lewis, A man, a plan, a girl with fake tan, Pleasance Attic, 17:45
£20. It was my show and I was trying to trick the public into giving me some more sweet sweet cash. I think I am the only one who has ever thought of it... John Hastings: Float Like A Butterfly John Hastings Like A Bee, Pleasance Cellar, 20:30
A tenner to Rob Auton in Edinburgh 2015, partly because I got a book as part of the deal and partly because it was a beautiful show and it was the last day of the Fringe and I was hungover. I am hoping people will be equally generous when I attempt to give the bucket speech for a whole hour as a one-off show. Rory O'Keeffe, The Bucket Speech, Voodoo Rooms, 18:15
A whole pint of beer. Admittedly it was an accident but they are worth at least £35 at the fringe so it was very generous. Stanley Brooks, AAA Stand-up at Underbelly, Underbelly Cowgate, 18:20
I paid to reserve a seat at a Mat Ewins Adventureman 7 and I put money in the bucket. It was the best show I've ever seen. I should have paid more, I still laugh thinking about it. Myself and my friends ruined the show for some members of the audience because we laughed so loudly, they got a bit shirty with us. Feck them, I can't help what my laugh sounds like. Alison Spittle, Worrier Princess, Gilded Balloon Teviot, 17:15
£23.65. I was drunk and dropped my wallet in the bucket... Actually the show was so good I emptied the entire contents of my wallet into the bucket. For the hour I laughed, I cried and I forgot I hadn't seen the sun for the month of August. It was worth every penny. Aaron Calvert, Aaron Calvert: Declassified, Gilded Balloon at the Museum, 18:00
We saw Spencer Jones do The Herbert in 2015 four or five times and dropped him £10-20 every time. His show was so pure and beautiful and full of imagination. We've been super lucky to have him the variety show we run called Stamptown. Zach & Viggo and Thumpasaurus, Where Does The Love Go?, Underbelly Cowgate, 21:20
I always put £20 into the bucket at the end of any free show. Twenty pounds per person, you understand, not on behalf of whatever group I may be there with. In other news I will be appearing as part of the Free Festival every day at Cabaret Voltaire at 2.15pm. Ahir Shah, Ahir Shah: Duffer, Cabaret Voltaire, 14:15
On the way out of a show I absolutely hated, I almost cried when I could only find a £5 note in my pocket. I lowered it in and simultaneously tried to scoop up some change but no luck. Christy & Mark, Sisters: On Demand, Pleasance Courtyard. That, 10:58
£20 for Pippa Evans' 2016, worth every penny. I seethe with envy at how preposterously brilliant her shows are. Will Dalrymple , Pity Laughs: A Tale Of Two Gays, Just Up The Stairs @ Just The Tonic, 16:05
£20 because the person had just gone through hell. Matt Winning, Matt Winning: Climate Strange, Just The Tonic at The Mash House, 17:00
No idea. But I spent twenty years of my life as a street performer, and will be doing some street shows during the fringe this year too, so my advice is - if there's a ticketed show that you enjoyed less than the free fringe/street show you just saw - then put at least that ticket price in the bucket, right? Mat Ricardo, Mat Ricardo vs The World, City Cafe, 12:30
I once threw a $25 Sephora gift card in a bucket at a piano bar in NYC. I didn't have any cash on me and this musician did the best 5 minute Madonna medley I'd ever heard and I felt so inspired. Looking back though, I think alcohol played a big role in that decision. Tori Scott, #Thirsty, Underbelly Bristo Square , 22:15
Mat Ewins walked off stage after his show in 2015 at JTT without doing a bucket and it was so good we found a pint glass to fill with money. Helen Duff, How Deep is Your Duff, The Hive, 21:00
I usually don't put much in because I only go to see shows I think will be really bad and I don't think people should be rewarded for bad work. So I put in enough for them to think that there's hope and continue putting on appalling shows for me to enjoy, but not enough that their parents aren't hugely disappointed in them. Leo Kearse, Right Wing Comedian, Espionage - Pravda, 19:30
Published: 15 Aug 2018
What do you think?