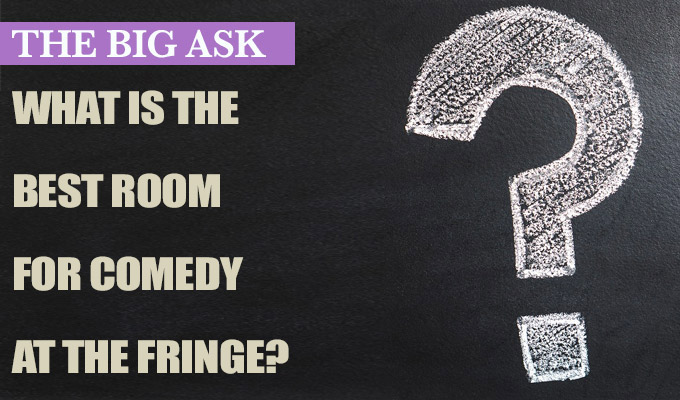 What is the best room for comedy at the Edinburgh Fringe?
The Tron, probably. Actual brick back drop low ceiling. Feels like a comedy club. That or The Stand, which is cheating by being an actual comedy club. Brett Goldstein, What Is Love Baby Don't Hurt Me, Pleasance: Beneath, 19:00
The Odeon on Clerk Street was magical. An Art Deco masterpiece filled with history and most of its original features intact. It's been boarded up for years. They used it as a Fringe space a few times. I performed there in 2005. There was a party to commemorate the anniversary of the building opening on 25th August 1935. An old man walked into the foyer and burst into tears of joy to see it being used, he'd been an usher there on the day it was opened and was heartbroken to see it boarded up. He said to see young people using the building for entertainment and with all the excitement that people used to have about the cinema in the 1930s was very moving. It's exactly the sort of space fringe theatres should be in, I'm told it's to become flats soon. Garrett Millerick, Sunflower, The Tron, 17:00
The really good free rooms like Cabaret Voltaire, or the Counting House. Free shows always generate the best vibe, I think. Rob Oldham, Worm's Lament, Pleasance Courtyard, 21:30
I love The Hive, Niddry Street. Its got lots of character and very friendly staff. Marny Godden, Marny Town, The Hive, 18:20
The beautiful little crypt that is The Banshee Labyrinth. Seeing something utterly daft taking place in that sombre Gothic setting is just Edinburgh in microcosm. Moon, Pleasance Attic, 21:30
I think some of the best performances at the Fringe happen completely spontaneously, outside bars or on busy streets. It's why I love the Blundabus - it does feel like you could walk past absolutely anything happening there. Once, running to something considerably less entertaining, I caught a glimpse of comedy band Jonny And The Baptists leading an impromptu a capella chorus of drunken singers there. I think the best spaces allow for these kind of unpredictable and beautiful accidents. Size and layout of room is irrelevant unless it can create this feeling. Luke Rollason, Luke Rollason's Planet Earth, Monkey Barrel Comedy Club, 14:30
Portakabins! They make great performances spaces, everyone is crammed in next to each other, they feel full even when they're half empty, they're rough and ready, and exactly what the Fringe is all about. Owen Roberts, I Let A Six Year Old Write My Show, Pleasance, 16:45
I loved the Pleasance Attic, really small room about 50 seats, up two flights of stairs so people have to make a effort to come up and it was my first ever fringe venue so I will always love it. Darren Harriott, Darren Harriott: Visceral, Pleasance Beneath, 21:30
Bannerman's perfect storm of location, space, staff, punters everything. Che Burnley, Elvis Was Racist?, Bar Basis, 21:30
I love the Dining Room where I am: raked seating, an actual dressing room, secret toilets Justin Moorhouse, Northern Joker, Gilded Balloon, 19:00
The Wee Coo at the Underbelly, because that's where I will perform this year! But I also have very sweet memories of Brenda the BlundaBus, a Bob Slayer's venue that represents what makes the Fringe so special.' Luca Cupani, God Digger, Underbelly George Square, 17:20
The Monkey Barrel is a lovely room - you can get a lot of people in and it feels very intimate. And there's seats on the side which is useful - it's always good when the audience can see other audience laughing, because it makes them laugh more. John Luke Roberts, All I Wanna Do Is [FX: GUNSHOTS] With a [FX: GUN RELOADING] and [FX: CASH REGISTER] and Perform Some Comedy!, Assembly: Studio Five, 17:30
I think it's the Piccolo tent in Assembly George Square, which is why we're back doing our show in it this year. It somehow invokes wild abandon in people, and opens right out into the Gardens so you can send people off pumped for the night ahead. Rebecca Humphries, Prom Kween, Assembly George Square, 21:05
I bloody love the Queen Dome, Pleasance. The curved seating, its feels really unique and special Tom Houghton, The Honourable Tom Houghton, Pleasance Dome, 20:10
I love The Grand in The Pleasance because it just feels so special. Seeing Amusical in there last year was just perfect, it's the kind of space where you feel part of something memorable. Lauren Pattison, Peachy, Pleasance Courtyard, 19:00
Anything with an audience! I have a soft spot for the Caves as it was where I did my first compilation show in 2013. You wouldn't touch the walls but the atmosphere is great. Scott Bennett, Leap Year, Just The Tonic At The Mash House, 17:55
I am an outdoors kinda guy and I love Barry Ferns' shows at the top of Arthur's Seat. With clear skies you can see the Isle of May! Kieran Hodgson, Kieran Hodgson: '75, Pleasance Beneath, 20:15
Our favourite space in the Fringe is still the Tron Kirk church on the Royal Mile. We did our first show on the Free Fringe in 2015 and wouldn't have had a single audience member if we hadn't done those late-night cabaret and burlesque shows. The hosts were incredibly kind people, the bar staff was top level and the venue staff always looked after us. Zach & Viggo and Thumpasaurus, Where Does The Love Go?, Underbelly Cowgate, 21:20
I love the Pleasance Cabaret Bar even though it was revamped and given a brick wall like a cliched American comedy club. My favourite part is that backstage is used for Edinburgh students for the Edinburgh Revue which I joined as a Dundee Uni student. The green room has several 90s posters of acts who were on the way up and through the years act have scribbled on the walls, from those who are are playing to a sold-out run to a student who does stand-up once so they can put it on their CV to give them a creative edge for an advertising agency. Struan Logan, Struan All Over the World, Counting House: Attic, 18:05
The basement under Ciao Roma. I saw Mark Silcox there last year and it was the best show I've seen. I then had lasagne upstairs in the restaurant. Incredible venue. Paul Williams, Santa Fe, Underbelly: Iron Belly, 16:10
I can only speak as a stand-up but the Stand Comedy Club is an absolute beaut. Chris Betts, Chris Betts Vs The Audience, Bob's Blundabus, 17:20
[Insert venue that doesn't belong to or is run by theSPACE here], because it doesn't belong to or is run by theSPACE. Will Dalrymple, Pity Laughs: A Tale Of Two Gays, Just Up The Stairs @ Just The Tonic, 16:05
I love the Spiegeltent. Marlene Dietrich once performed in it and I always hope she'll come back. Jeremy Nicholas, Jeremy Nicholas - After Dinner Stories From My Disastrous Broadcasting Career, Gilded Balloon Teviot, 13:30
The internet. Live comedy is over. Joe Sutherland, Toxic, Underbelly: Dexter, 20:10
Published: 14 Aug 2018
What do you think?