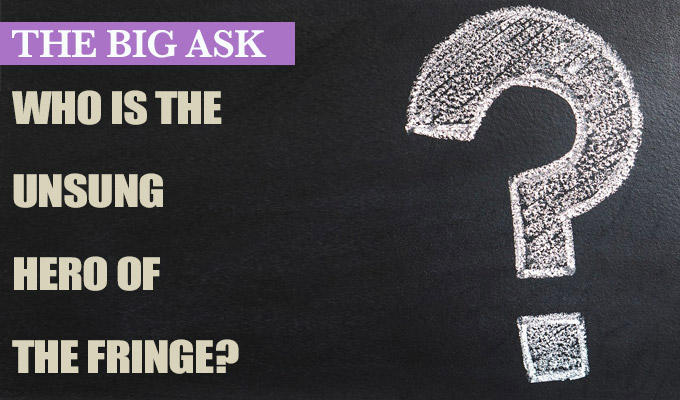 Who are the unsung heroes of the Fringe?
Drag queens - because we don't sing, we lipsync. Georgia Tasda, Georgia Tasda Means Business, CC Blooms, 22:30
Anyone working for free or paid below minimum wage at the fringe. It's bad enough being a flyerer sometimes but at least you get paid. There are so many people who come to the Fringe and are exploited for work because of naivety and love of the arts while big companies and the university make huge amounts off of overpriced shit beer. Struan Logan, Struan All Over the World, Counting House: Attic, 18:05
Every partner or friend of every comedian that listens and absorbs all the bullshit we impart for a month before, the month of and the month after the Fringe Justin Moorhouse, Northern Joker, Gilded Balloon, 19:00
John Fleming, because he is always curious about comedy and with his blog he gives a chance of exposure to everyone (the weirder the better). It is a pity that he won't be in Edinburgh this year. Luca Cupani, Luca Cupani: God Digger, Underbelly: George Square, 17:20
There are many candidates. The tech people who build everything, make it all work while trying to train people who have never used a lighting desk and simultaneously stop a fire in another venue are my heroes. The tech team at The Underbelly is the one I know the best and they are great. They also build everything from scratch and then take it all down which is a massive operation which no sane person would undertake. Richard Soames, Let's Make a Movie, Underbelly Buttercup, 15:55
Whoever runs Mother India Restaurant. What a place! What a hero! Ian Smith, Ian Smith: Craft, Underbelly: Buttercup, 17:15
The people who actually live in Edinburgh and who put up with us. And the emergency services, I'd imagine. Lisa Klevemark, Lemons, The Place, 12:30
The Crepe Van. Without the 4am crepe, the fringe doesn't work for me. Thank you sweet Crepe Van.Brett Goldstein, What Is Love Baby Don't Hurt Me, Pleasance Beneath, 19:00
Audience members. I've never had a text from a comedian asking me to attend a low-selling show so the audience don't feel self-conscious. Garrett Millerick, Sunflower, Tron, 17:00
The barstaff it's like every type of bad customer you could have on a weekend constantly appearing for three weeks coupled with people who are 'artistes' poor sods. Che Burnley, Elvis Was Racist?, Bar Basis, 21:30
The critics! Like vice squad officers who nightly shower off the toxicity of all the vile pornography they've had to watch, for a whole month critics are immersed in an insane clamour of a thousand egos, while simultaneously having to sublimate their own and yet having to wrestle like Van Gogh in the very recesses of their creativity to find new ways to slag off shows they don't really understand. They should sue for post-traumatic stress! Charmian Hughes, Charmian Hughes - Bra Trek, Counting House Attic, 15:35
Tessa Waters. This year she is 'officially' my mentor but she has been a rock for me and so many others in the past. Damien Warren-Smith, Garry Starr Performs Everything , Underbelly Cowgate, 20:10
Flyerers. People look at them like they want to be there getting ignored. They are doing a job. Ashley Haden, We all Die C*nts, Harry's Southside, 20:45
Mervyn Stutter actually has a great philosophy and tries his best to get new acts into his shows. Barry Ferns, Barry Loves You, The Tron, 21:00
The person who lives in the flat directly above a bagpiper's pitch. I think it's pretty obvious why. Lloyd Langford, Lloyd Langford: Why The Big Face?, Banshee Labyrinth Cinema Room, 22:00
The guys who run the discount bric-a-brac shop on South Bridge. Where else would we all get our blu-tack for posters, weird telescopic screwdrivers for props or excessive amount of bongs for entirely legal purposes. Stanley Brooks, AAA Stand-up at Underbelly, Underbelly Cowgate, 18:20
The people picking up litter because it's stunningly clean for a city that should by all accounts look like the midpoint of the video for Earth Song. Lee Apsey, CSI: Crime Scene Improvisation, Underbelly, Bristo Square, 15:35
Gregor McKinaly, bar man at The Hive. This will be my sixth year performing at The Hive and Gregor has been nothing but a delight - even though he's had to put up with me moaning, complaining and drinking! Ali Brice, Ali Brice's Lemonade Stand, The Hive, 14:30
Phil Kay. Phil Kay. Phil Kay. The man so nice I have to name him thrice. Chris Betts, Chris Betts Vs The Audience, Bob's Blundabus, 17:20
I think the people behind the Free Fringe because if it wasn't for them, I and many other comedians, could never afford to put shows on at Edinburgh. PBH and everyone have always been good to me so hats off to them. Rich Wilson, Still Relevant, Sneaky Pete's, 18:15
James 'Duck' White. He looks after his flyerers so well and builds a community. He makes my Fringe so much less stressful. I started as I flyerer for him and now he looks after my shows. I'd be lost with out him. He's always cheerful. Alison Spittle, Worrier Princess, gilded balloon, teviot, Balcony, 17:15
Anyone who has ever let out their property for under triple market rate. I've never met one, but I've heard they exist. Ahir Shah, Ahir Shah: Duffer, Cabaret Voltaire, 14:15
It's a toss-up between Yehudi Menuhin and David Frost. Menuhin attempted to stage the first Free Fringe shows in the 1950s as a spin-off from the Official Festival, and David Frost staged the first late night cabarets with TV names in the 1960s, and attracted the TV. (I've read a bit too much about the history of the Fringe, sorry.)Scottish Falsetto Sock Puppet Theatre: Superheroes, Gilded Balloon, 22:30
Christian Brighty. He's a maniac who loves flyering and somehow sells out every show he markets for on the strength of his personality and youthful good looks. The problem is audiences are then disappointed that they are not on a date with Christian Brighty. I spend at least the first ten minutes of my show having to break this to people. After the walk-outs there's normally quite a nice atmosphere, however. Luke Rollason, Luke Rollason's Planet Earth, Monkey Barrel Comedy Club, 14:30
Audience members of free or pay what you want shows who put paper money in the bucket. You're supporting artists in a direct way who don't have production companies and parent's money to lean on. Well done you. Alexander Bennett Housewives' Favourite, Waverley Bar, 19:30
The Emirates pilot flying me to Edinburgh because I'm pretty sure he won't be mentioned anywhere else except this Q&A. Anuvab Pal, Empire, Pleasance Courtyard, 19:00
The staff at Piemaker for getting me through the dark days with their tatty dogs. The guy who runs Rockeoke at Opium on Mondays for the same reason. Pretending to be Freddie Mercury is as good a way as any to get over a soul-destroying review. Matt Duwell, Snowflake It 'Til You Make It, Laughing Horse @ Harry's Southside, 22:00
Alex Petty. the man puts in an insane amount of work for very little reward and is a very fair man. Have a lot of time for Alex as I think Laughing Horse is a brilliant thing that Edinburgh would be a bit rubbish without. Richard Wright, Virgin, Just The Tonic @ The Mashhouse, 12:50
Fredd who runs Late and Live. She is incredible. Such an iconic gig and she is constantly there giving the best energy possible. Tom Houghton, The Honourable Tom Houghton, Pleasance Jack Dome, 08:10
The population of Edinburgh who every year have to watch thousands of desperate people invade their beautiful city and have their dreams irreparably destroyed...and have every single bus in the fucking city plastered with a heavily photoshopped Daniel Sloss. Will Dalrymple, Pity Laughs: A Tale Of Two Gays, Just Up The Stairs @ Just The Tonic, 16:05
Ben Target because he is always full of joy and silliness for his audiences and full of comfort and wise advice for his fellow performers.Kieran Hodgson: '75, Pleasance Beneath, 20:15
The techies. My god, the techies. Those endlessly patient, good-humoured and optimistic techies, who have to pull off miracles in a constant pose of sang froid after yet another sketch troupe tells them that, despite not filling in the tech form in June, they'd now like pyros, projection, and a Catherine wheel spinning throughout the gig. Moon, Moon, Pleasance Attic, 21:30
That dog who sits so still by that church. Elf Lyons, ChiffChaff, Pleasance Dome, 18:50
Published: 12 Aug 2018
What do you think?